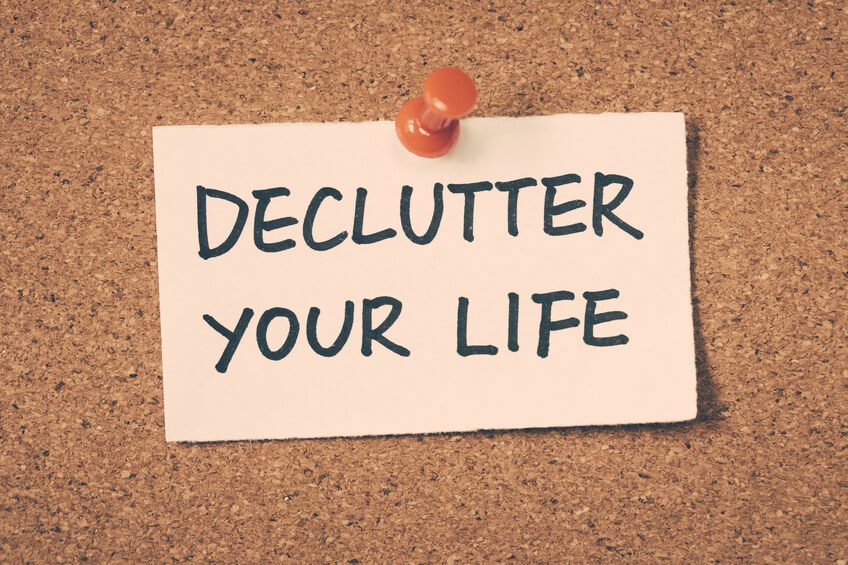 Time to Declutter
Order in Our Home Restores Health and Order in Our Life
One of the best things we can do at the end or beginning of each year, with the greatest positive impact in our health, is to declutter our home. 
Ideally, we make a plan and start from the easiest places to declutter, moving on from there one by one to the most challenging locations.  
My suggestion for this month is that you create time during your week to commit to this activity. Slowly you will not only notice a big change in the energy of your house but also in the harmony between family members.  
Household "toxins" may include: 
Objects you no longer use 

Clothes that you don't like, haven't worn for a long time or don't fit 

Ugly things 

Things that are broken or cracked 

Old letters, notes, stuffed animals and gifts from exes 

Dead or diseased plants 

Old receipts, documents, newspapers and magazines 

Expired medicine / remedies 

Old socks with holes or stains 

Old underwear with holes or stains  

Worn shoes 

Gadgets of all kinds that call you to the past 

Old memories from weddings, baby showers, etc. 

Photos of dead people  

Ashes of a dead family member 

Ceramic or glass ornaments that came as a pair; if one is damaged you get rid of both, otherwise it represents loneliness 
It is interesting to understand the energetic influence of clutter in our lives:  
In the basement and roof, this stuff becomes an overload 

At the entrance, it restricts the flow of life 

Stacked on the floor, it pulls us down 

Above us, it is our headaches 

On the bed, it pollutes sleep 

Spread around the house, it gorges on life, and represents an overload of emotions 
Direct benefits of decluttering your house: 
Health improves 

Creativity grows 

Relationships improve 

Greater capacity for reasoning 

Lightness in spirit and humor 

Abundance and fortune have a better flow into your life  
Questions to help me release old stuff 
Why am I keeping that? 

Does it have to do with me today? 

What will it feel like to release that?
It is very important that during this process we can separate and clarify all the stuff so we can donate, sell, gift, recycle or definitely throw away. 
Consider that everything outside of us is a reflection of our inner state. However, we can work with the material world in order to bring order in our mind. 
Here are some other important considerations to maintain a harmonious house environment. 
Avoid loud noises 

Avoid strong lights 

Avoid extreme colors 

Avoid chemical odors 

Avoid synthetic coatings 

Avoid anything that brings back sad memories  

Complete unfinished projects

Cultivate positive energy in your home
While you create order in your home, watch the movements happening in yourself. As we clean our physical home, we also put our minds and hearts in order! Don't get attached to anything. If you start to detach yourself, a tremendous release of energy will happen within you. The energy that was involved in attachment to things now can bring new beginnings for a more harmonious life.  
Keep me posted on your wins! Connect with me on social media and tell me your story!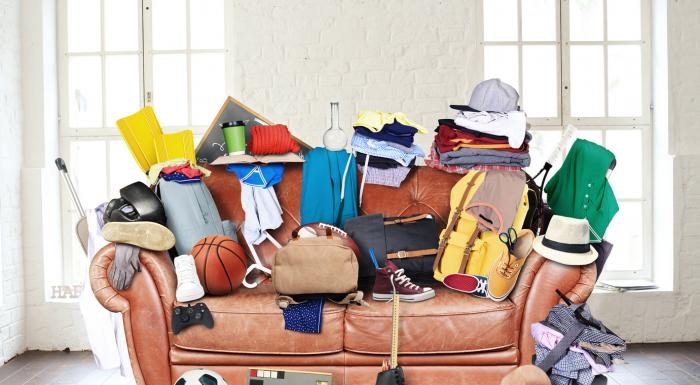 Una de las mejores cosas que podemos hacer para el fin de año que tiene un impacto positivo en  nuestra salud es ordenar nuestra casa. 
Idealmente, haremos un plan y comenzaremos desde los lugares más fáciles de ordenar hasta los  más desafiantes. 
Mi sugerencia para este mes es que puedas CREAR tiempo durante tu semana para  comprometerte con esta actividad y poco a poco notarás no solo un gran cambio en la energía de  tu casa sino también en la armonía entre los miembros de la familia. 
LAS TOXINAS DOMÉSTICAS SON: 
Objetos que ya no usas 

Ropa que no te gusta o que no has usado durante mucho tiempo o que no te queda Cosas feas 

Cosas rotas o agrietadas 

Cartas viejas, notas, peluches y regalos de tus ex 

Plantas muertas o enfermas 

Recibos / periódicos / revistas viejas 

Remedios/medicinas vencidas 

Medias viejas con agujeros o manchas 

Ropa interior vieja con agujeros o manchas 

Zapatos gastados 

Cosas de todo tipo que te llaman al pasado 

Viejos recuerdos de bodas, baby showers, etc.

Fotos de muertos colgadas en las paredes 

Cenizas de un familiar muerto 

Adornos de cerámica o vidrio que vinieron en pareja, si uno está dañado, deshazte de ambos, de  lo contrario, llamas la soledad 
Es interesante comprender la influencia energética del desorden en nuestras vidas: 
➖ En el sótano y el techo, las cosas se vuelven una sobrecarga 
➖ En la entrada, restringen el fluir de la vida 
➖ Apilados en el suelo, nos derriban 
➖ Por encima de nosotros, son dolores de cabeza 
➖ En la cama contaminan el sueño 
➖ Repartidos por la casa, se atiborran de vida, representan una sobrecarga de emociones Beneficios directos de ordenar su casa: 
La salud mejora 
La creatividad crece 
Las relaciones mejoran 
Hay más capacidad de razonamiento 
Ligereza de espíritu y humor 
La abundancia y la fortuna fluyen mejor en tu vida 
¿Qué preguntas puedo hacerme para ayudarme a liberar cosas viejas? 
¿Por qué me quedo con eso? ¿Tiene que ver conmigo hoy? ¿Qué se sentirá al liberar eso? 
Es muy importante que durante este proceso podamos separar y aclarar todas las cosas para  poder donar, vender, regalar, reciclar o definitivamente tirar a la basura. 
Ten en cuenta que todo lo que está fuera de nosotros es un reflejo de nuestro estado interior, sin  embargo, podemos trabajar con el mundo material para poner orden en nuestra mente. Aquí hay  otras consideraciones importantes para mantener un ambiente armonioso en la casa: 
Evite los ruidos fuertes 

Evite las luces fuertes 

Evita los colores extremos 

Evite los olores químicos 

Evite los revestimientos sintéticos 

Evita todo lo que te traiga recuerdos tristes. 

Completar proyectos sin terminar. 

Cultiva energía positiva en tu hogar. 
Mientras creas ORDEN, observa los movimientos que ocurren en ti. 
Mientras limpiamos nuestro hogar físico, ¡también ponemos en orden nuestra mente y nuestro  corazón! 
No te apegues a nada. Si comienzas a desapegarte, se producirá una tremenda liberación de  energía dentro de ti. 
La energía que estaba involucrada en el apego a las cosas ahora puede traer nuevos comienzos a  una vida más armoniosa.
¡Mantenme informado sobre tus victorias! ¡Encuéntrame en las redes sociales y cuéntame tu  historia!