Thanks to a new marine reform law passed in April, foreign-flagged luxury yachts can now legally charter and stay up to a year in Costa Rican waters. The milestone ruling comes after significant support from travel company Origen Escapes, who has over 20 years of specialized experience handling all aspects of world-class megayacht itineraries from logistics to captain and crew needs.  
"Yachting provides unlimited access to Costa Rica's hundreds of beaches, bays, coves and islands. The roughly 800-mile-long Pacific coastline is considered one of the richest ecosystems on the planet," said Ofer Ketter, co-founder of Origen Escapes. 
Home to five percent of the world's biodiversity within only 0.03% of the earth's surface, Costa Rica offers unparalleled access to nature. Both land and sea are famous for their abundance of tropical flora and fauna.
"Wildlife encounters are at the essence of a visitor's experience to Costa Rica," added Ketter. 
Travelers now have the opportunity to choose from a global portfolio of fully-loaded luxury yachts that would best serve their needs. With a growing number of luxury marinas from Papagayo to Golfito, Origen Escapes offers bespoke land and sea itineraries that explore Costa Rica's most spectacular wonders with ease and efficiency. Here's their list of top spots to anchor in the country. 
Writer: Nora Walsh
Originally published June 7, 2021
See the article in the international digital magazine, click here.
Cocos Island
Named one of the ten best scuba diving spots in the world by PADI, Cocos Island is a UNESCO World Heritage Site home to a rainforest and protected marine park where you can spot swim among hammerhead sharks, giant manta rays, moray eels, sea turtles, and dolphins. After a visit in the mid-90s, Jacques Cousteau declared the small volcanic isle "the most beautiful island in the world." 
Divers shouldn't miss the 260-foot Everest dive site, a unique seamount abounding with corals, mobula rays, grouper, big tuna fish, silky sharks and schools of hammerhead sharks. Deeper still, The Wall (a 1500-foot wall-break) contains species adapted to complete darkness including the ancient-looking jellynose fish, goosefish, and the prickly shark.
For the ultimate underwater adventure, plunge 1,500 feet beneath the surface in a deep-sea sub. Origen Escapes has access to vessels capable of carrying a pilot and two passengers on two dives per day to discover the ocean's hidden depths. Submersibles offer a 360-degree field of vision to explore the most dramatic undersea landscapes and extraordinary pelagic creatures. Every dive is filmed and the footage is shared with marine biologists at the University of Costa Rica and leading oceanographers and scientists.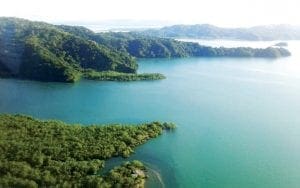 Osa Peninsula
Head to the cerulean waters of Caño Island Biological Reserve and Drake's Bay to discover an underwater playground of caves, cliffs and reefs. Its marine area is one of the best diving and snorkeling spots sheltering such species as green sea turtles, humpback whales, spotted dolphins, bottlenose dolphins and spinner dolphin megapods. Travelers have the opportunity to cruise the open ocean and swim with superpods of more than 3,000 spinner dolphins on the way to the warm, tropical waters of Golfo Dulce. Spinner dolphins are named for their ocean acrobats—breaching, spinning and twisting multiple times in the air in just one jump. 
One of only four tropical fjords on the planet, Golfo Dulce is also the only place in the world where populations of both northern and southern humpback whales come to breed. Here, travelers paddle impressive mangrove forests filled with bird and sea life. When the daylight vanishes, they float in warm waters glittering with bioluminescent microorganisms that sparkle like stars in an oceanic firmament. It's a truly magical experience. Land excursions are no less thrilling. Guests horseback ride through the humming rainforest to rappel a 100-foot waterfall into a swimming hole, and climb a 200-foot strangler Fiscus tree for impressive bird's eye views stretching across the jungle to the ocean.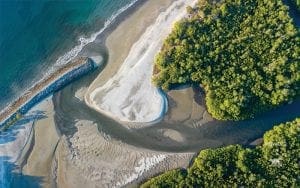 Gulf of Papagayo
Located in the province of Guanacaste, the Gulf of Papagayo is a hot spot for diving as it offers some of the Pacific Ocean's most interesting marine diversity. Besides being a UNESCO World Heritage Site due to its unique geological characteristics, the Santa Elena Peninsula is famous for its rich marine life. Cruising the Bat Islands archipelago it's not unusual to see sailfish, giant pacific manta rays, whale sharks, and bull sharks, while divers head to the beautiful Catalina Islands to ogle over giant pacific manta rays, tip reef sharks, sea turtles, dolphins, eels, and puffer fish. 
Papagayo offers access to a range of custom adventures from scenic helicopter flights over cloud-tickling volcanoes and whitewater rafting through wild landscapes to surfing mapped-out break points with an expert guide. In rural villages, travelers connect with the friendly "Tico" locals for an up-close look at Costa Rica's countryside culture and folklore. 
Upon the culmination of a Costa Rican itinerary, travelers with Origen Escapes can continue cruising farther south to explore the coastlines and islands of Panama and Ecuador, or board a private flight for a seamless connection home.