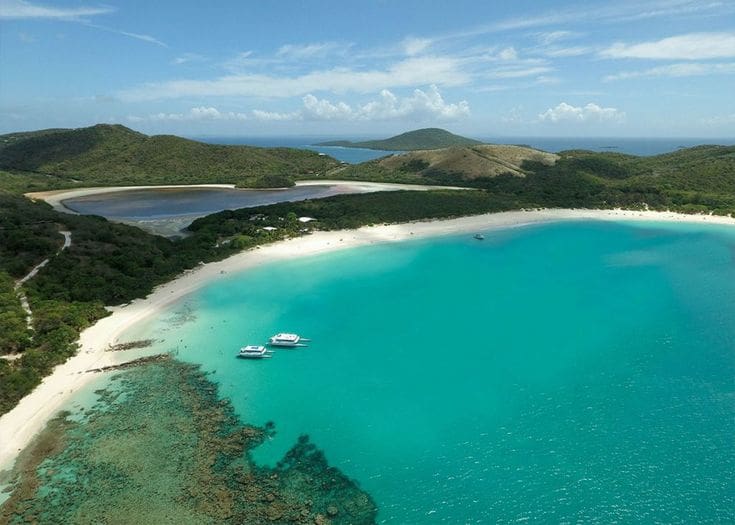 I kick off my flip flops and wade knee-deep into the water for a quick jump onto the 25-foot motorboat, La Tica Linda III. It's being held in place against the small incoming waves by our guide, Eddie, while Captain Oscar keeps the anchor line tight.
Once on board we make our way to the bow to begin our half-day private tour. There's plenty of room for the six of us. I opt for full-on, blatant and blinding sun in order to get the optimal amount of exposure possible, while my red-headed and slightly translucent-skinned friend, Amy, takes the shadiest spot just in front of the center console.
Eddie, who is immediately likeable with his big smile and jovial manner, gives us a brief introduction. His English, while delivered with a thick accent, is near perfect and it is immediately clear to us that he intends to have as much fun on this day as we do. Captain Oscar already has the boat on a slow cruise out of the bay and I find myself with an offering of fresh fruit and an ice cold beer in hand. 
This is a boat day … like a holiday or one of those personal care days you take from work when it's totally acceptable to have a "shower beer" at 8 a.m. The only thing I am required to do on this day is relax and enjoy myself. This day is well deserved and needed.
We start by cruising around the Bahia Culebra and taking in the beauty of the Papagayo Peninsula. Near pristine, calm water beaches extend out to the clearest blue and emerald waters. Eddie baits and throws a few fishing lines in for a bit of trolling in hopes to catch a little something extra for our beach barbecue later. 
So perfect
It is not long before we've got a nice tuna on the line, which my friend Dave is given the honor of reeling in. Perhaps the tuna is what drew the pod of dolphins to the bow to playfully guide the boat. It's all too perfect! So perfect we suspect a professional relationship or deal exists between our crew and the marine life of the area. Like, how well do they all actually know each other? Probably pretty well since this is what they all do every day.  
After a thorough tour of the area, Captain Oscar picks a beautiful spot of reef in between beaches and we jump in to enjoy a bit of snorkeling where we see puffers, turtles, eels and even an octopus. Gave me the heebie jeebies a bit, that last one — graceful and mesmerizing alien!  
After a thorough underwater exploration, we load back into the boat, now with earned appetites and off to a nearby beach. There we check out some caves, paddle on standup paddle boards and just relax in the sand while Eddie grills up one of the best lunches the lot of us have ever had! We savor marinated and grilled chicken, chorizo, perfectly grilled veggies and a tasty and refreshing potato salad!  
Shortly after lunch, with full and content bellies and close to five hours' worth of sun, salt water and sand on us, it's time to enjoy a slow cruise back to the beach where we started. The boisterous conversation and energy that started the trip has been replaced by a content quiet as we all lay back and silently take in the scenery and enjoy the occasional misting of water as the boat bounces.  
I personally contemplate why I do not do this more often and make a deal with myself to make this a new habit. We're already booked for the same day, next month.