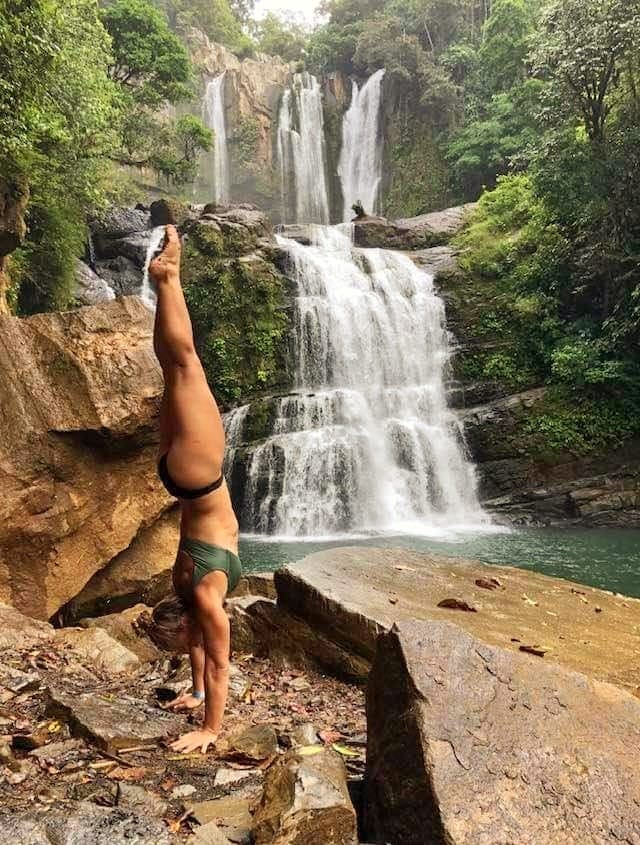 Costa Rica is renowned for its incomparable waterfalls, which spill from dizzying heights into cool pools where you can swim, take photos and even leap from the cliffs if you dare.
Costa Rica is also known for its horseback riding — gentle mounts, experienced guides and no end of terrains to get in touch with your inner cowboy.
And there is perhaps no place here that offers both with such a stunning destination as the Nauyaca Waterfall between Dominical and San Isidro.
The adventure begins at Don Lulo's, a horseback tour operator on the main highway. Visitors are taken down a steep road to the trailhead, where they are matched up with horses. 
The first stop on the four-kilometer trail is a house with an outdoor dining area where a snack is served — for example, fried corn patties, fruit, muffins, juice and coffee. You will eat lunch here on your return from the waterfall; ours consisted of stewed chicken, potatoes, rice, beans, tortillas and salad. 
But the main event is the waterfall, Nauyaca, which means "venomous snake." It's a two-tiered waterfall, with a narrow top fall that's 45 meters high and cascades into a small pool. The bottom fall is 20 meters, but it's spectacular, spilling over a wide cliff face and into a big, swimmable pool.
I noticed that one of our guides took a big rope and disappeared into the thick of the cascade, climbing the rock face sideways. I wondered what he was doing, and shortly afterward he reappeared, holding the now-anchored rope in one hand and offering the other hand to me.
Yes, he wanted me to jump off the waterfall. But first I had to climb through it, completely blinded by the pounding water, holding onto the rope and/or the guide's hand, as he instructed me where to put my feet.
We emerged on the other side and I could see again. Now it was a simple matter of climbing a bit higher. Well, not a simple matter — it was steep and scary. The guide held my hand like a little child, telling me to be careful, as if I needed to be told.
There's one ledge that's about 25 feet high, another about 30 feet. Take your pick. 
The cool, deep pool beckons below. All you have to do is jump.
Taryn found the perfect location for another handstand pose. This local teacher has made handstands in over 20 countries during her travels.