Skybound: Flying Costa Rica's Airstrips
Photo above: Co-piloting this recent flight departure from Liberia was Kyle Berger, a Costa Rican native now working with Air Canada in Toronto. Photo: Luis Felipe Murillo Castillo
Options for air travel to, from and around Costa Rica may be more varied than many visitors and newcomers realize. This relatively small, but popular tourist and relocation destination is home to four international airports, plus 14 smaller airstrips available for domestic flights only.
Located 20 kilometers west of downtown San José, Juan Santamaria International Airport was named for the national hero who died fighting the notorious American filibuster William Walker. It has been the primary Costa Rican airport facility since construction was completed in 1958. In 2016, the airport serviced 4.6 million passengers, averaging nearly 1,300 customers daily.
Slow to grow
Daniel Oduber Quirós International Airport, named for the Costa Rican president who served from 1974 until 1978, is commonly referred to as "Liberia International". Eleven kilometers southwest of Liberia, this airport hosts travelers visiting the western region of the country, including the Pacific coastline.
Originally named Llano Grande, Liberia's airport changed its name when it became certified for international travel in 1995. Public response was hesitant initially and growth was slow. In 2006, a project expanding the tarmac and terminals was completed and the floodgates opened. In 2016, the airport hosted 1.2 million passengers, about 2,500 per week.
Tobias Bolaños Airport in Pavas was named for Costa Rica's first licensed pilot, who paved the way for aviation in the country. Primarily used now for chartered flights and international freight excursions, it has declined in popularity to 32,000 travelers in 2017, less than one-quarter of the traffic it experienced just eight years earlier.
Limón International Airport reopened in 2006 after being out of operation for nearly 20 years. A certified international airport, it currently services only the Caribbean coast of Costa Rica, with four weekly flights to San José.

These small airstrips probably helped preserve
the country's biggest asset: its natural beauty.
Roadways alternative
Most of Costa Rica's domestic airstrips were constructed before the turn of the century as a solution to problematic road conditions at the time. Completed prior to the significant influx of tourism and construction to accommodate new residents, these small airstrips probably helped preserve the country's biggest asset: its natural beauty.
Puerto Jiménez Airport is the busiest domestic-only airport facility, servicing Golfo Dulce, Drake Bay and Corcovado National Park. In 2014, the most recent year for reported data, the airport was used by 36,000 passengers.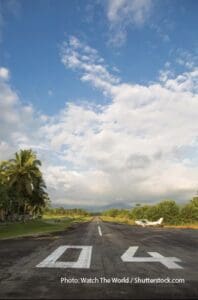 La Managua Airport de Quepos is the second most popular domestic airstrip (34,000 passengers last year), with Quepos and Manuel Antonio the primary destinations for its customers. The asphalt airstrip is just three kilometers inland from the Pacific Ocean, providing memorable landings and takeoffs.
The Ministry of Public Works and Transportation recently began an overhaul of the increasingly popular Quepos airport. The three-month project will add parking for light aircraft, detailed security fencing and an improved stormwater drainage system. These improvements, at a cost of about $2,500,000, will comply with the new safety and security requirements established by the International Civil Aviation Organization.
Tourist favorites
The Playa Tamarindo airstrip, the third most frequented domestic airport, is a private enterprise 43 kilometers southwest of Liberia, with flights daily to that city and to the capital. A vacation/surfing destination, 27,000 people used the Tamarindo facility in 2017, the most recently published statistic. Despite fluctuating numbers in recent years at all other domestic airstrips, Tamarindo's customer usage has risen consistently over the past 18 years.
La Fortuna Arenal is another private airstrip, named after the Arenal Volcano which, until recently, was the most visited site in Costa Rica. The airport has daily flights to Quepos, Liberia, Tortuguera and San José. Nearly 13,000 passengers used this busy airport in 2017, a 60% increase from the previous year.
Nosara is home to a government-owned asphalt airstrip servicing the southern Guanacaste region. The strip is just three kilometers inland from the Pacific Ocean. With daily flights to and from San José, it accommodated nearly 7,000 passengers in 2014.
Eight kilometers north of the Panama border, San Vito de Java Airport (aka Coto 47) services the community among the oil palm plantations. Its asphalt strip, open to the public, offers two Sansa flights a day.
Los Chiles Airport in Alajuela is just three kilometers south of the Nicaragua border and 100 kilometers northeast of Liberia. A new asphalt airstrip here offers new, easy access into the country's capital.
A smattering of other airstrips throughout Costa Rica includes sites in Tambor, Islita, Palmar Sur, Puerto Viejo and Neily. The conditions range from new tarmac to literally grassy strips with no amenities. Tortuguero, for example, has little more than a grass strip and a shed full of fuel tanks, but it services 12,000 customers a year.
Carrillo Airport is located five kilometers west of Playa Samara in southern Guanacaste. Its grass airstrip begins at the Pacific shoreline, sloping eastward, with a 200-foot rough-hewn "spillway" at the end for extended landings. There is a covered shelter with a scale, occasionally used to weigh luggage before boarding. There are no nearby amenities.
Public buses run in and out of Carrillo airport twice a day, except on weekends, when there is no service. A drop-off point for the surfing meccas Malpais and Santa Teresa, it gives us a romantic glimpse at what domestic air travel was like throughout this country not so very long ago.