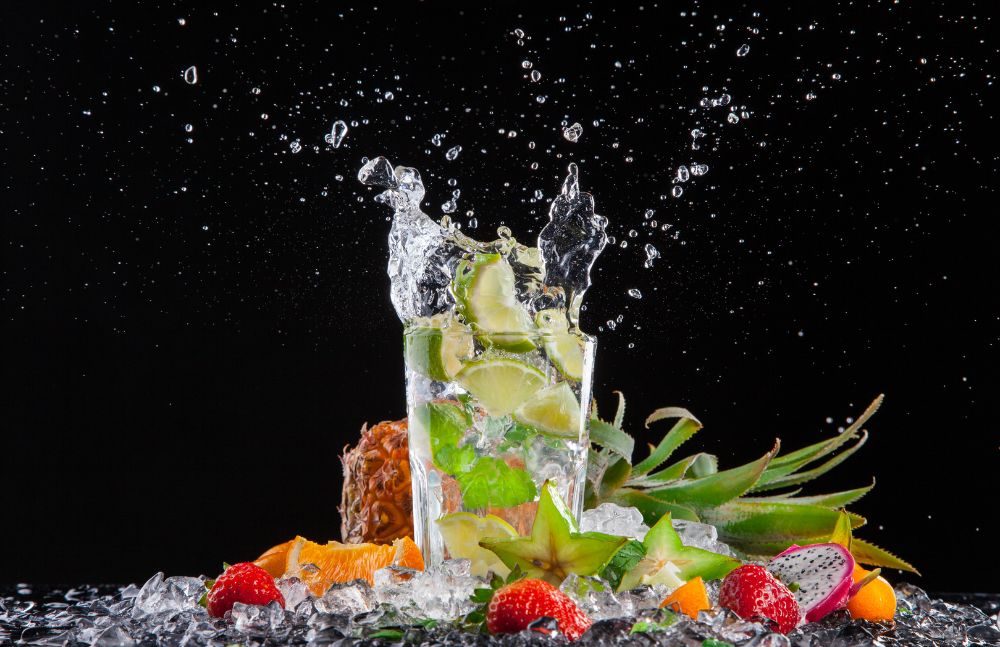 The mojito, a classic Cuban cocktail, is a refreshing and flavorful drink that has become a popular choice for parties and social gatherings. With its combination of sweet, sour and minty flavors, the mojito is a perfect choice for warm weather or any occasion that calls for a refreshing cocktail. But, making a truly great mojito requires a bit of know-how and attention to detail. 
In this article, we will provide you with tips and tricks for making the best mojito you have ever tasted. Whether you are a seasoned bartender or a home mixologist, this guide will provide you with all the information you need to make the perfect mojito every time.
Mojito history
The mojito is a classic cocktail that originated in Cuba. It was a popular drink among the working class, especially among sugar cane workers, in the late 19th century. The traditional mojito recipe consists of five basic ingredients: rum, sugar, lime juice, mint and soda water. The drink was initially called "El Draque" after Sir Francis Drake, a British privateer who invaded Cuba in the late 16th century. Over time, the drink evolved into what we know now as the mojito.
Popular variations
Over the years, mixologists have come up with various twists on the traditional mojito recipe. Some of the popular variations include:
Strawberry mojito: This fruity version of the mojito includes muddled strawberries along with the traditional ingredients.
Pineapple mojito: Pineapple juice is added to the traditional recipe to give it a tropical twist.
Coconut mojito: This version of the mojito includes coconut cream along with the classic ingredients.
Blueberry mojito: Muddled blueberries are added to the traditional recipe to add a sweet and tangy flavor.
Choosing the perfect ingredients for a refreshing mojito
The importance of fresh ingredients
The key to a great mojito is using fresh ingredients. Make sure you use fresh mint leaves, freshly squeezed lime juice and high-quality rum.
Choosing the right mint leaves
The best mint leaves for mojito are fresh and fragrant. Look for leaves that are bright green, without any signs of wilting or browning.
Which limes are best?
When making a mojito, it's best to use fresh limes that are ripe and juicy. Look for limes that are heavy for their size and have glossy skin.
Choosing the right type of sugar
The two most commonly used sugars in a mojito are granulated sugar and simple syrup. While granulated sugar is traditional, simple syrup is easier to dissolve and blend into the cocktail.
How to properly muddle mint leaves for the best mojito
Tools and equipment required for muddling
To muddle mint leaves, you will need a muddler, a mixing glass or shaker, and a strainer. You can also use a wooden spoon or the back of a spoon in a pinch.
Step-by-step guide to muddling mint leaves:
Add fresh mint leaves to the mixing glass or shaker.

Add sugar or simple syrup to the glass or shaker.

Use the muddler to gently press and twist the mint leaves, releasing their oils.

Add freshly squeezed lime juice and rum to the glass or shaker.

Fill the glass or shaker with ice and shake well.

Strain the mixture into a glass filled with ice.

Top with soda water and garnish with a sprig of fresh mint.
The importance of using freshly squeezed lime juice
How to properly squeeze limes
To get the most juice out of your lime, roll it on a hard surface before cutting it in half. Then, use a citrus juicer or your hands to squeeze the juice into a measuring cup.
Benefits of using freshly squeezed lime juice
Freshly squeezed lime juice adds a bright, tangy flavor to your Mojito that cannot be replicated by bottled juice. It also contains more vitamin C and antioxidants than bottled juice, making it a healthier option.
Choosing the right rum for your mojito
A good mojito recipe relies heavily on the rum you choose. The type of rum you choose can add distinct flavors and aromas to the cocktail. Here are some of the most commonly used types of rum for mojitos:
White rum: This is the most common type of rum used in Mojitos. It's clear, light-bodied, and doesn't overpower the other ingredients. White rum is perfect for those who want a classic, refreshing Mojito.
Gold rum: This type of rum is aged for a short period and has a slightly darker color than white rum. Gold rum has a more complex flavor, with hints of vanilla and caramel. If you're looking for a Mojito with a deeper flavor, gold rum is a good choice.
Dark rum: Aged longer than gold rum, dark rum has a richer, more complex flavor that is perfect for Mojitos with a more pronounced rum taste. It has a dark color and a strong flavor profile.
How to choose the right rum for your taste
When choosing a rum for your mojito, it's essential to consider your personal taste. If you prefer a sweeter cocktail, white rum might be the best option. If you want a more complex flavor, try gold or dark rum. Remember that the quality of the rum you choose will directly impact the taste of your mojito. Don't skimp on the rum; choose a good quality bottle for the best results.
Tips for achieving the perfect balance of sweetness and sourness
A good mojito should have the perfect balance of sweetness and sourness. Here are some tips to help you achieve the perfect balance:
Measuring ingredients for perfect balance
It's important to measure the ingredients precisely to get the right balance. Use a jigger or measuring cup to measure the rum, simple syrup and lime juice. A good balance is one ounce of rum, one ounce of simple syrup, and one ounce of lime juice.
Common mistakes to avoid
One of the common mistakes people make when making mojitos is using too much lime juice, making the cocktail too sour. Ensure to use the right amount of lime juice to avoid overpowering the drink. Another mistake is using too much simple syrup, making the cocktail too sweet. Keep the sweetness in check by using the right amount of syrup.
The secret to creating a perfect mojito garnish
A good mojito garnish adds an extra touch of flavor to the cocktail and makes it look visually appealing. Here are a few tips to help you create a perfect mojito garnish.
Choosing the right garnish
The classic mojito garnish is a sprig of fresh mint. However, you can get creative with fruit garnishes like lime, strawberry, or raspberry. Choose a garnish that compliments the flavors of the mojito.
How to prepare and arrange garnish
When using a mint sprig, lightly crush it in your hands to release the essential oils before adding it to the cocktail. Add the garnish to the drink by sliding it down along the inner side of the glass. This technique ensures that the garnish is evenly distributed throughout the drink.
Serving suggestions and variations of the classic mojito
A classic mojito is a refreshing cocktail, but there are many variations you can try to mix things up. Here are some serving suggestions and popular variations of the classic mojito.
Classic serving suggestions
Serve your mojito in a tall glass filled with ice. You can add soda water for some extra fizz. Garnish with a sprig of fresh mint and a slice of lime.
Popular variations of mojito
Strawberry mojito: Add three or four fresh strawberries to your mojito before muddling. This variation adds a fruity twist to the classic cocktail.

Pineapple mojito: Add a few chunks of fresh pineapple to your cocktail shaker before muddling. The pineapple adds a tropical flavor to the mojito.

Coconut mojito: Use coconut rum instead of white rum and add a splash of coconut cream. Garnish with toasted coconut flakes.
Experiment with different flavors to find your perfect mojito variation. Cheers! 
In conclusion, the key to a great mojito is using fresh ingredients, proper techniques, and attention to detail. By following the tips and tricks provided in this article, you can create a refreshing and flavorful cocktail that will impress your guests and leave them wanting more. Whether you prefer a classic mojito or a variation of this famous cocktail, the principles outlined in this guide will help you achieve a perfect result every time. So, go ahead and grab your shaker, muddler and ingredients, and get ready to make the best mojito you have ever tasted!
FAQs
Can I use bottled lime juice instead of fresh limes?
Using bottled lime juice is not recommended, as fresh lime juice is essential for the perfect balance of sweet and sour flavors in a mojito. Bottled lime juice is often preserved with preservatives and lacks the fresh, natural taste of freshly squeezed limes.
Can I use any type of rum for a mojito?
While any type of rum can be used for a mojito, it is recommended to use a light rum or white rum for the best taste. Dark rums may overpower the other flavors in the drink.
Do I have to use white sugar for a mojito?
While white sugar is the most commonly used for mojitos, other types of sugar, such as brown sugar or honey, can be used for a unique flavor profile. However, it's important to note that using different types of sugar may affect the balance of sweetness and sourness in the drink.
Can I make a non-alcoholic version of a mojito?
Yes, a non-alcoholic version of a mojito, known as a "virgin mojito," can be made by omitting the rum and increasing the amount of sparkling water or soda. The other ingredients, including mint, lime juice, and sugar, remain the same.