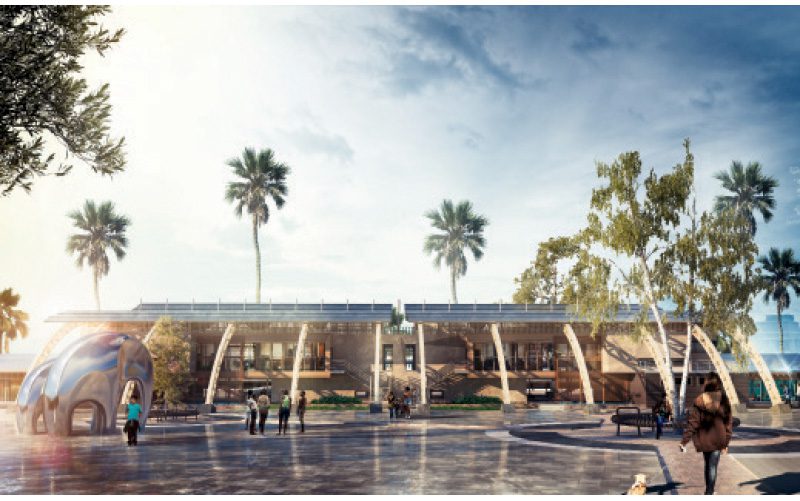 Limón Revitalized – Beginnings of the best yet to come
Limón Revitalized – Beginnings of the best yet to come.  In launching its new CR Biz mini-magazine with the Sept/Oct 2018 cover story, "Limón Rising", Howler looked at the port city's brightening horizons as Costa Rica catapults into the big leagues of international shipping. With the world-class Moín mega-container terminal inaugurated on February 28, new worlds of opportunity are coming into clearer view for the Limón area and entire Caribbean coast.
Besides pumping much-needed capital into the local economy, the $1.1 billion state-of-the-art Moín facility will add about 150,000 jobs and some $3 billion to the country's Gross Domestic Product. From its current global ranking near the bottom of the barrel for quality international shipping terminals, Costa Rica is positioned to become a port and logistics leader in Central American and the Caribbean.
New worlds of opportunity are coming
into clearer view for the
Limón area and the entire Caribbean coast.
Costa Rica's third economic engine
The oft-beleaguered Limón province is turning a corner towards unprecedented vibrancy. Its status is imminent as Costa Rica's third most powerful economic engine, behind Guanacaste as a tourism mecca and the San José metropolitan area as a business and commerce hub.
In addition to revitalizing Limón as a community and boosting Costa Rica's international stature as trade and logistics force to be reckoned with, the Moín Container Terminal (MCT) presents an opportunity that rarely comes along in anyone's career or lifetime. For those involved with the project, it's the chance to participate in the development of an entire region of the country … one that has been marginalized or essentially forgotten, which is how many perceive the Caribbean area.
Kenneth Waugh, General Manager of APM Terminals, the company spearheading the construction and operation of the terminal, sees tremendous potential for socioeconomic benefits throughout Limón province. In public statements, he has been optimistic about growth opportunities through the development of new businesses, services and industries in the region.
Specifically, plans are in place to build a large free zone, as well as other smaller ones with logistics centers, warehousing and light assembly manufacturing.
The prospect of billions of private sector dollars being invested in the Caribbean coast's reawakening over the next decade has been likened to Guanacaste's outlook 25 years ago, right before Liberia's international airport started operating.
New life comes with new projects
Along with the Moín port facility comes new road construction in the area, paving the way for a significant tourism upturn. Currently, the hospitality sector in Limón province accounts for only 1,400 hotel rooms out of nearly 50,000 in the entire country (3 percent), mostly accommodations with 2-star or lower ratings. Meeting the future demand, thousands of new guest rooms will be required in both resort and business hotels that meet international standards.
Significant investments in residential and commercial property are also coming Limón's way. New housing construction estimates call for at least 250 class-A homes, condominiums and apartments to be built in and around Limón during each of the next five years, then 400 per year after that.     
Commercial property developers can anticipate influxes of new professionals and business owners by the thousands. Investment is needed to build class-A premises for supermarkets, commercial centers with convenience stores, bank branches, restaurants and retailers in the personal care sector. Premium office space is now virtually non-existent in Limón, so a real estate boom can be expected for medical offices, legal and insurance firms, regional corporate headquarters call centers and much more.
With the MCT project already kickstarting so much activity in these ambitious new directions, the future possibilities for Limón's economy revving into high gear seem limitless: from cruise ship concessions, chandlery and security to transportation, engineering and mechanical support to training and education.
Below is a sample of already-announced projects. Capital and partners are being sought, and in some cases, expert service providers:
Casino City Caribe – $400 million
Mixed-use tourist development north of Moín
Includes three hotels with 264 rooms, three casinos and 219 apartments
Two convention and cultural centers also planned, plus wellness center, heliport and marina, with beach access
Tangara Limón Village – $35 million
Mixed-use, oceanfront development just 10 minutes from the new port and less than five minutes from downtown Limón
Includes proposed Marriott-branded hotel, ballroom/meeting space for 300, retail shops, office space and private condos, all with unspoiled ocean views and easy beachfront access
Marina and Tourism Reception Center – $100 million
Yacht club project developed on state property near the old Limón dock
Includes hotel, shopping center, restaurants, heliport, amphitheater and docks
Free Zone La Francia – $20 million
Urban infrastructure development on 124 hectares
Includes the construction of roads, lots for industrial buildings, drainage, treatment plants and rainwater mitigation lagoons
Cancun-Style Hotel Zone – $40 million
Public-private initiative to develop Caribbean hotel zone on 500 hectares of coastal property south of Limón

Costa Rica's New Mega Port
Limón's new  MCT Project will not only compete head-to-head with Panama Canal ports but also provide backup to Panama ports in high demand periods. In addition, MCT will provide "breakdown" support to vessels serving regional ports with smaller maritime capacity. It will remain Nicaragua's outlet for exports to the U.S. east coast and the Caribbean.
Built and operated under a 30-year concession by APM Terminals, a division of the Dutch shipping firm Maersk, MCT offers important efficiency improvements to the Limón region for imports and exports. Initially it will be able to accommodate Post-Panamax size container ships, four times larger than Costa Rica's current maximum capacity. In future phases of development, Limón's container terminal will be equipped to handle the world's largest ships, the New Panamax 13,000 TEU (half-containers).
Combined with the new $1 billion container port, other projects — already under construction or planned — add up to $5 billion of new investment in the Limón region:
Elevated access road – $72 million
Reventazón hydroelectric plant – $1.2 billion (inaugurated April 2016)
New AMEGA intermodal port – $1 billion
New international airport $700 – $1 billion
Expansion and modernization of Ruta 32 – $500 million
Railway improvements –  $450 million
Petroleum port – $100 million
New cruise ship terminal and renovation of Limón center – $100 million plus