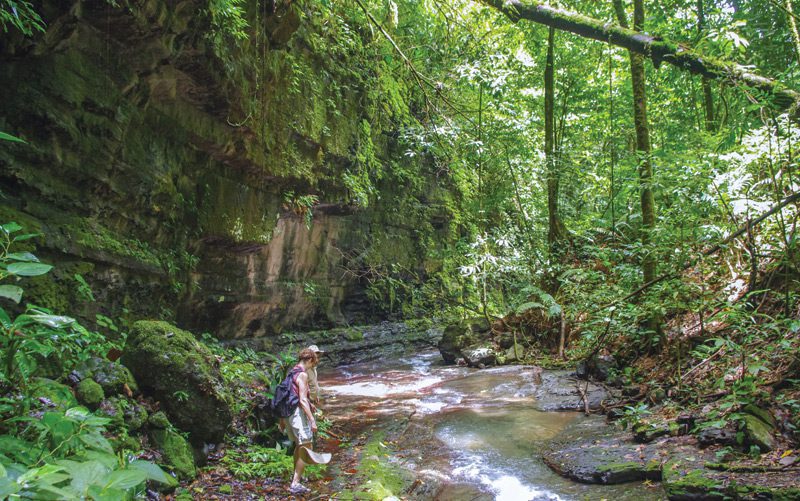 La Cangreja National Park, just a Short Drive from San José
La Cangreja National Park, just a Short Drive from San José: Costa Rica's national park system, now consisting of 26 parks around the country, did not have a single site in the province of San José until 2001. That year, researchers discovered a new endemic species of tree in the myrtle family (similar trees include guava, clove and eucalyptus), now named plinia puriscalensis. This finding in the southern Puriscal region was the impetus for creating a new park covering more than 2,500 hectares of the existing protective zone around La Cangreja mountain. With the mountain so-named by the natives due to its resemblance to a crouching crab, La Cangreja National Park was established in 2002 in the northwestern section of San José.
Why visit?
La Cangreja protects tropical forests with 44 species of native plants and many types of animals and amphibians. Notably, more than 300 bird species have been recorded, including an increasing number of scarlet macaws in the years since several were reintroduced to this area. But perhaps the greatest reason to visit La Cangreja is for the serenity and solitude. Despite being closest to the Central Valley in distance, it is one of the least visited parks in the country. The trails are well kept and extensive, covering everything from a hike to the 1,300 meter summit of La Cangreja itself, to walks along the Rio Negro with natural swimming holes and waterfalls. The park is so rarely visited that the rangers sometimes offer guided walks as a reason to get out and roam around the trails themselves.
Perhaps the greatest reason to visit
La Cangreja is for the serenity and solitude.
Nearby are the towns of Mastatal and Zapaton. If you are interested in permaculture and sustainability, a day visit or even a multi-day courses can be arranged with one of Costa Rica's pioneers of eco-living at Rancho Mastatal: ranchomastatal.com. In fact, a second park entrance is right up the road from Rancho Mastatal. Your hosts there are also experts at vegetarian cooking and have produced a cookbook with many traditional recipes incorporating local ingredients. Up the road towards the indigenous village of Zapaton is La Iguana Chocolate, owned and operated by a family who has spent 30 years converting its property for organic farming and chocolate production. Visit www.laiguanachocolate.com
When to visit
So why does La Cangreja have so few visitors? The main reason is that it is difficult to get there during many times of the year. The road from Santiago de Puriscal is mostly unpaved, and prone to landslides and blockages during rainy season. Sometimes it is best to drive to the park coming inland from Parrita.
Going to and from the park takes you back in time, as the surrounding regions are some of the most underdeveloped in San José province. From November to March, and even June and July, the scenery can be extremely beautiful. Crystal clear water to swim in, along with peace and solitude, are yours to enjoy just a couple hours from San José.
So if you want to see a part of Costa Rica off the normal tourist path, learn about permaculture and sustainability, eat some organic chocolate, or just walk, birdwatch or take pictures in an unspoiled, uncluttered area, take a trip to La Cangreja National Park.