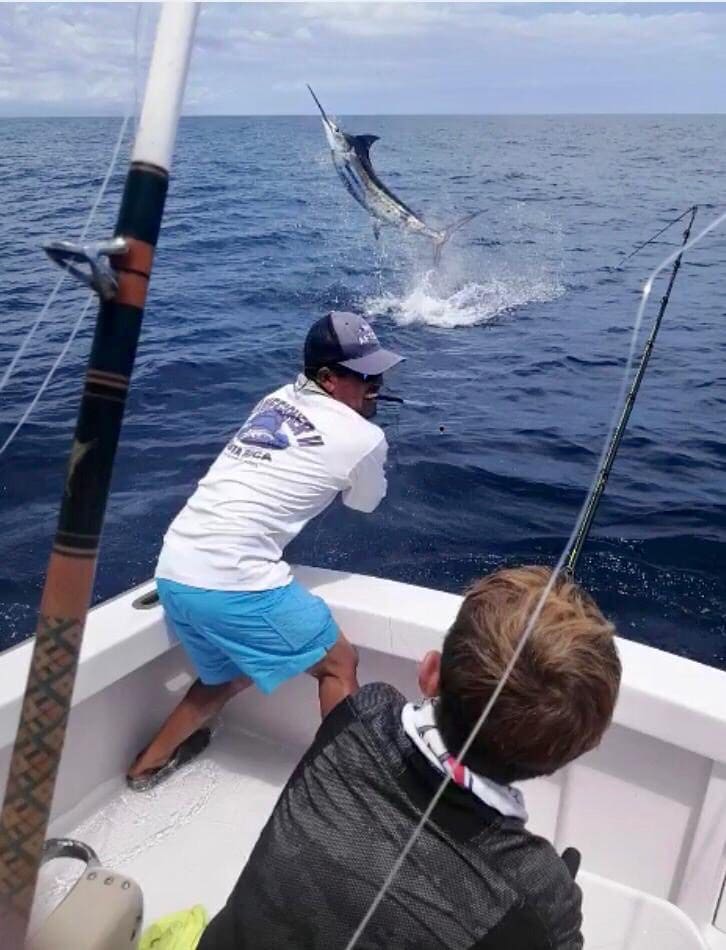 This is no fish tale; it is the tale of a family. In 1987, Captain Richard Chellemi was hired to captain a brand new custom-built sport fisher christened Gamefisher II out of the Marina Flamingo. It was one of three beautiful Gamefisher boats: fiberglass on wood construction made in San José, Costa Rica. 
After only a few years, the boats were up for sale, a serendipitous turn of events which allowed Richard and his wife Melissa to take over the charter business that they continue to own and operate 32 years later. The Gamefisher II was hauled out and given a major refit in 2008. Some new features were added to make her even more comfortable and a more efficient fishing machine.  
It is extremely rare to find a sportfishing charter boat with a crew that works together so well and has stayed together for as long. Captain Chellemi's first mate, Junior Bustos Abarca from Potrero, Guanacaste, held that position in the cockpit for 20 years. The Gamefisher II team began to earn its reputation in the national and international sportfishing community as one of Costa Rica's most sought-after charter fishing outfits.  
Two decades ago, 15-year-old Diego Lopez showed up to help wash down the boat. A few years later he became second mate for Junior. Diego was a quick study and a natural. Shortly thereafter Captain Chellemi handed the helm over to Captain Junior and the cockpit became Diego's. All of their years spent working and fishing together is the reason why the Gamefisher II crew members work together like a fine-tuned machine. They are teachers to sportfishing newcomers and skilled professionals to seasoned veterans.  
Some fun facts
Most sailfish caught in one day: 69

Biggest marlin caught: estimated weight 1,000 pounds 

Most marlin caught in one day: 9 blue marlin, fishing out of Potrero in the Presidential Challenge Flamingo Rodeo Tournament in August 2020 — a fact that deserves its own story 

Most famous person who fished on Gamefisher II: Johnny Cash and wife June Carter Cash
The crew on the Gamefisher II has collaborated with marine biologist and underwater cinematographer Rick Rosenthal, a four-time Emmy award winner in producing documentary films for the BBC Blue Planet Series and PBS Winds of the Papagayos, Hunters of the Sea Winds, Dark Side of the Ocean and Superfish. Through this experience the crew members have a greater understanding of marine life. which helps them to practice and teach sustainable, responsible fishing. They take pride in sharing the experience with others.
Contact Info
CR # 8828-2287
USA # 904-410-1041
Email: info@gamefisher2.com
PRESS RELEASE
FOR IMMEDIATE DISTRIBUTION
Gamefisher II Wins Presidential Flamingo Virtual Fishing Rodeo
The world's first truly virtual fishing tournament sees overwhelming success
Flamingo, Costa Rica: The Presidential Flamingo Virtual Fishing Rodeo, Presented by Marina Flamingo and Powered by CaptApp, represented a truly unique step forward into the world of tournament fishing. Due to the ongoing coronavirus pandemic, tournament organizer Joan Vernon turned to Capt. Joe Crawford, founder of CaptApp, a popular
sport-fishing data tracking application. Thanks to the app's unique properties of date-stamped video capture, among many others, this year's Presidential Flamingo Fishing Rodeo was truly virtual in nature: Vernon worked from her home in the Florida Keys while Crawford was in Costa Rica; communication among the teams was accomplished via Zoom and WhatsApp. Boats were able to fish out of their respective home ports and reported their releases and game fish catches via the CaptApp application each afternoon upon returning to port, where the videos were verified and scored accordingly. The 2020 event saw 21 boats participating. With a focus on fun, family fishing, there were 18 lady anglers, eight juniors and 18 families participating this year.
Aside from the outstanding participation levels amid an ongoing health crisis, the other good news was the red-hot fishing, especially right off Flamingo. The Gamefisher II, a perennial favorite captained by Junior Bustos, led the way with an amazing nine blue marlin releases on Day One alone. Most of the marlin were released by junior anglers, Joseph Irish, Jr. (age 11) and Joe Molloy (age 9). The kids allowed their fathers to catch one marlin each as well. The team scored 5,200 points for the two-day tournament. Vernon says, "They are such close friends that when the scores for top junior showed a tie, they refused to go by the time of last release to break the tie, so they will share the glory of first place between them." Keep in mind that these marlin were caught trolling conventional tackle in the open ocean, not around a FAD using live bait. The Flamingo fishery in the summer is hot-hot-hot!
Day Two saw the Pacific Fly, a 42-foot Maverick owned by Scott and Alix Kozak and fishing out of Marina Pez Vela in Quepos, make their move. The duo turned in 16 sailfish releases to move into second place for the tournament with a total of 2,000 points; Scott was Top Male Angler and Alix was the Top Female Angler for the event. Landing in third place was the Trifecta, fishing out of Marina Los Sueños with Capt. Brandon Waldon at the helm, scoring 1,000 points.
The top inshore boat, also fishing out of Flamingo, was Yellowfin III with the Suarez family aboard. Fourteen-year-old Allan Suarez was the second-place junior boy and his sister, eight-year-old Catalina, was the top girl junior angler.
Vernon thanked all the participants as well as the tournament's Presenting Sponsor, Marina Flamingo. Construction continues on this very important project, which is slated for 175 boat slips and dockage for boats from 35 to 125 feet in length. Plans also call for commercial buildings with restaurants, local shops, and eventually, a condominium development. Completion of Phase I is expected within the next two years; the marina will serve as an important economic driver and cornerstone of the Flamingo community.
The dates for the 2021 Presidential Flamingo Fishing Rodeo are August 6-8 so make plans now to attend. For more information, please visit www.preschallenge.com.
21 BOATS/18 WOMEN/8 JUNIORS/18 FAMILIES
TOP OFFSHORE BOAT: GAMEFISHER II 5200 POINTS – HOME PORT      POTRERO/FLAMINGO, COSTA RICA, CAPT. JUNIOR BUSTOS
ANGLERS: TOM & JOE MALLOY
JOE IRISH SR. & JR.
TOP INSHORE BOAT: YELLOWFIN, 266 POINTS, SUAREZ FAMILY, FLAMINGO, COSTA RICA
TOP LADY ANGLER: ALIX KOZAK-PACIFIC FLY– 600 POINTS – MARINA PEZ VELA, QUEPOS, CR
TOP MALE ANGLER: SCOTT KOZAK – PACIFIC FLY– 1400 POINTS-MARINA PEZ VELA, QUEPOS,CR
TOP JUNIOR BOYS:  JOSEPH IRISH, JR(11 years old)/JOE MOLLOY(9 yrs old) – 2100 POINTS EACH –GAMEFISHER II– FLAMINGO, COSTA RICA
2 ALLAN SUAREZ(14 yrs old), YELLOWFIN – 80 POINTS, FLAMINGO, CR
TOP JUNIOR GIRL
1.CATALINA SUAREZ (8 yrs old)-    186 POINTS – YELLOWFIN – FLAMINGO, CR
TOP FAMILY:
TIE – MOLLOY/IRISH FAMILY – 2600 POINTS EACH – GAMEFISHER II, POTRERO/FLAMINGO, CR
CaptApp LONGEST FISH MEASURED WITH THE CAPTAPP MEASURING TAPE:
TUNA: WETASS II 57 INCHES – FLAMINGO, COSTA RICA
LONGEST MAHI: FIREFLY 53 INCHES – LOS SUENOS, COSTA RICA
LONGEST WAHOO: GOOD DAY 41 INCHES- MARINA PEZ VELA, QUEPOS, CR
MOST CUBERA RELEASES: GO FISH – LOS SUENOS, COSTA RICA
MOST ROOSTERFISH RELEASES: CHLOE FRIJOLE, MARINA PEZ VELA, CR
For more information, visit preschallenge.com or email info@ preschallege.com.