Dare To Make A Difference
Spanish text below. Texto en español a continuación
(Photos courtesy of SIFAIS)
Located in the impoverished community of La Carpio, Heredia, you'll discover a settlement of nearly 50,000 people, made up of Costa Ricans, Nicaraguans, and people of other nationalities.
Nestled in that neighborhood are the operating facilities of a group called the SIFAIS Foundation. Financed by various organizations and individuals, it provides free socio-educational services through volunteers in communities severely impacted by economic poverty and social segregation.
SIFAIS offers educational activities with the intent of restoring enjoyment in the lives of participants. Learning is encouraged in ways that revitalize people and organizations through critically important social inclusion.
The foundation's interactions with members of vulnerable communities have proven beneficial in breaking through common negative stereotypes and disregard. Demonstrations of great talent and a desire to excel have been an outcome. 
Between the Seams 
As part of the SIFAIS learning platform to enrich the lives of thousands, Entre Costuras (Between the Seams) has an education component geared to women.
This program proved to be a fortunate discovery for young, enthusiastic entrepreneur Isabelle Eppler, while researching companies to produce her fabric creations. 
"I visited the facility and immediately sensed the vibe — a fun, positive atmosphere where the people were happy," 
Isabelle recalled.
Having moved from Switzerland in 2017 and settled in Tamarindo, where she enjoys surfing and the friendly Costa Rican culture, Isabelle was ready to pursue her business ambitions.
"I've always been creative, yet my career path led me away from what I really enjoyed," she said.
Isabelle started making bags for fun and selling to friends in the community. Her next step was to start searching for a factory in Costa Rica that offered good-quality products and favorable working conditions. This led her to SIFAIS, where she was immediately impressed by the Entre Costuras program and convinced it was an ideal fit.
"I got to meet all the ladies who were to be involved in making my product and heard the variety of stories that brought them to this junction in their lives," Isabelle told us.
Making a difference
"These workers are from severe poverty, with seemingly no hope. But participating 
at SIFAIS, they get to experience an enthusiastic learning, working environment. My friends are being an asset in their community. That's the fire that inspires me … engaged with a project that IS making a difference."
Fittingly, "Dare to make a difference" is the motto that Isabelle came up w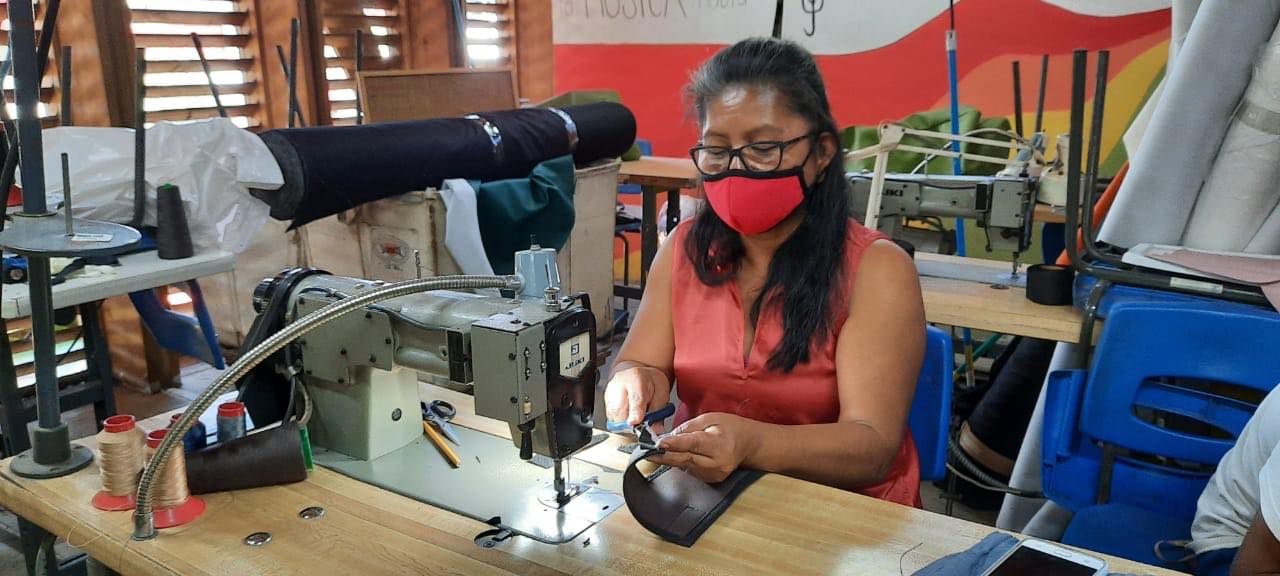 ith when founding her Maila Surfbags line in 2019. 
"I didn't want to be just another brand flooding the market with bags made somewhere in Asia with unknown conditions," she stated.
Maila is Hawaiian for "girl who loves water" and describes Isabelle exactly.
You can view Isabelle's surf and yoga bags online and at some local outlets. If you're a consumer who supports excellent community-empowering programs while shopping consciously, then consider Maila products. Be assured they were created by women whose lives have been changed for the better by SIFAIS.
Isabelle Eppler, designer, business entrepreneur

WEBSITE LINK
Me atrevo a hacer la diferencia
Una fundación con un programa orientado hacia las soluciones.
Situado en la empobrecida comunidad de La Carpio, en Heredia, se encontrará con un asentamiento de casi 50.000 personas, formado por costarricenses, nicaragüenses y personas de otras nacionalidades.
En ese vecindario se encuentran las instalaciones operativas de un grupo llamado la Fundación SIFAIS y está financiada por varias organizaciones e individuos y proporciona servicios socio-educativos gratuitos a través de voluntarios en comunidades gravemente afectadas por la pobreza económica y la segregación social.
SIFAIS ofrece actividades educativas con la intención de restaurar el goce en las vidas de los habitantes, fomenta el aprendizaje de manera que se revitaliza a las personas y a las organizaciones mediante una inclusión social de importancia crítica.
Las interacciones de la fundación con los miembros de las comunidades vulnerables han demostrado ser beneficiosas para romper con estereotipos negativos y la indiferencia. Además, los resultados han sido demostraciones de gran talento y el deseo de sobresalir.
Entre costuras
Como parte de la plataforma del aprendizaje de SIFAIS para enriquecer las vidas de miles de personas existe el programa "Entre Costuras" que tiene un componente educativo dirigido hacia las mujeres.
Este programa demostró ser un descubrimiento afortunado para la empresaria joven y entusiasta Isabelle Eppler, que buscaba empresas que produjeran sus creaciones textiles. 
Isabel recordó lo siguiente: "cuando visité las instalaciones inmediatamente sentí la energía, un ambiente divertido y positivo donde la gente estaba feliz." 
Tras mudarse de Suiza en el año 2017 y asentarse en Tamarindo, donde disfrutaba del surf y de la amigable cultura costarricense, Isabelle estaba dispuesta a perseguir sus ambiciones empresariales.
"Siempre he sido una persona creativa, pero mi carrera profesional me alejó de lo que realmente disfrutaba", dijo ella.
Isabelle empezó a hacer bolsos para divertirse y venderlos a sus amigos de la comunidad. Su siguiente paso fue empezar a buscar una fábrica en Costa Rica que ofreciera productos de buena calidad y condiciones de trabajo favorables, esto la llevó a SIFAIS, donde quedó inmediatamente impresionada por el programa de" Entre Costuras" y convencida de que era lo  ideal.
"Conocí a todas las mujeres que iban a participar en la fabricación de mis productos y escuché la variedad de historias que las trajeron hacia ese momento en sus vidas", nos dijo Isabelle.
Haciendo la diferencia
"Estos trabajadores provienen de una pobreza severa, sin esperanza alguna, pero al participar en la fundación SIFAIS, tienen la oportunidad de experimentar un ambiente de aprendizaje y trabajo muy entusiasta. Mis amigos están siendo un miembro valioso de sus comunidades, y esta es la llama que me inspira… comprometiéndome con un proyecto que está haciendo la diferencia."
Adecuadamente, "atrévete a hacer la diferencia" es el lema que ideó Isabelle al fundar su línea de Bolsas de Surf llamada Maila en el año 2019. 
"Y no quería ser una marca más que inundara el mercado con bolsos hechos en algún lugar de Asia con condiciones desconocidas", declaró.
Maila es una palabra hawaiana que significa "chica que ama el agua" y describe a Isabelle perfectamente.
Puedes encontrar las bolsas de surf y de yoga de Isabelle en línea y en algunos puntos de venta locales. Si usted es un consumidor que apoya a excelentes programas de empoderamiento comunitario mientras compra de manera consciente, entonces considere los productos de Maila y tenga por seguro que fueron hechas por mujeres cuyas vidas han cambiado de manera positiva por la fundación SIFAIS.