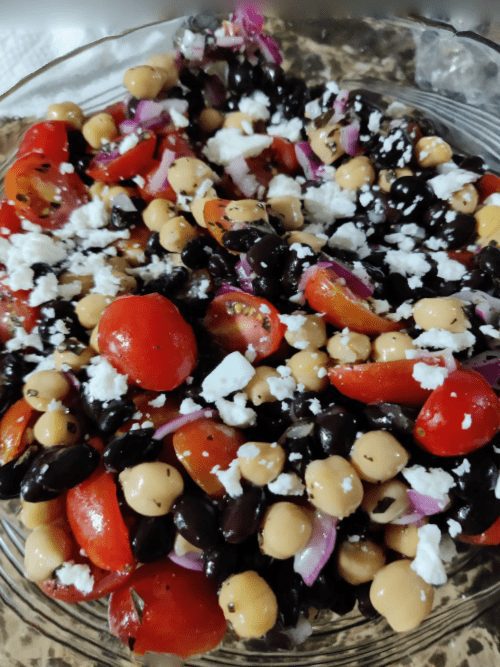 A healthy and satisfying salad made with protein-packed chickpeas and black beans, mixed with fresh veggies and a zesty dressing.
Thank you Sharon L. Jordan for sharing. From the Cooking In Costa Rica Facebook Group
Ingredients
for 4 servings
2 cans black beans, drained and rinsed
2 cans chickpeas, drained and rinsed
½ red onion, chopped
20 cherry tomatoes, halved
½ cup fresh parsley (20 g), chopped
½ cup fresh mint  (15 g), chopped
¼ cup olive oil (60 mL)
¼ cup apple cider vinegar(60 mL)
¼ cup lemon juice  (60 mL)
salt, to taste
pepper, to taste
feta cheese, crumbled, to taste
Preparation
In a large bowl, combine the chickpeas, black beans, red onion, cherry tomatoes, fresh parsley, and fresh mint.
In a small bowl, mix together olive oil, vinegar, lemon juice, salt, and pepper.
Pour over the salad and toss to coat.
Top with crumbled feta cheese.