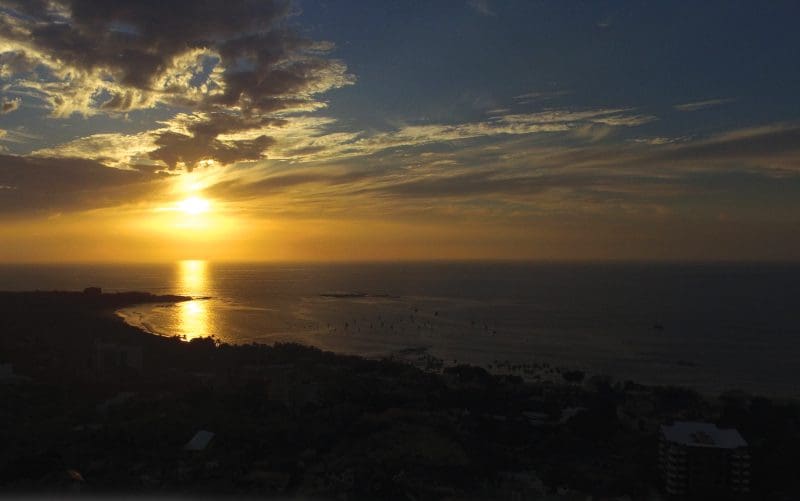 Costa Rica is a nature lover's dream, with an astounding percentage of the world's biodiversity and a thriving eco-tourism industry. The nation of pura vida also contains a certified Blue Zone, namely one of those regions around the world where residents routinely enjoy atypical health and longevity. (Costa Rica's Blue Zone is in Nicoya, where living to 100 years old and being active is nothing uncommon.)
WHEN IN TAMARINDO A FUN ADVENTURE IS SAILING ON THE MARLIN DEL RAY (BOOK HERE)
Is it the diet heavy in "the three sisters" — squash, corn and beans? The drinking water heavy in calcium? Strong social networks and a plan de vida, or purpose to life that keeps a sparkle in the eyes and a pep in the step? 
The answer is all of the above, and more. Costa Ricans, in general, embrace a healthier lifestyle than folks are used to in the United States and … and … ok, healthier than the United States. 
Many people make the trip to Costa Rica specifically to adopt a lifestyle based on health and fitness. I know I did, twice.
I first moved to Costa Rica in 2011 after selling everything I owned and quitting my job in the States. My goals were to get in better shape, slow down, and, ideally, not croak of a stress-related heart attack by 40 years old. 
Different time and place
Back then, Tamarindo, where I settled, was a much different town. The epicenter was the notorious (-ly fun) Bar One perched on the top floor of Plaza Tamarindo, overlooking the streets below like a wink from a drunken pirate.  
Having returned to Costa Rica last November, close to 10 years later, I'm still enjoying my journey of becoming a healthier, better version of myself.
But, this time, Tamarindo seems to have matured with me. The town's vibe now revolves around far more than the fiesta nightlife. Instead of Bar One tempting us, White Lotus has taken over the space. This "fitness studio and health bar" dispenses vegetable juices and spin classes instead of bad decisions in a glass.  
To me, it signals a cultural shift. I see a real healthy revolution underway, no doubt accelerated by our collective refocus on health during a global pandemic.
It's also proven to be good business. Just look at the Rythmia Life Advancement Center, a resort specializing in ayahuasca ceremonies not far from Tamarindo, where "93.26% of our guests report a life-changing miracle during their stay," according to its website. I can almost imagine that one schlub who wouldn't stop complaining about mosquitos and weak wi-fi that screwed up the center's 100% track record. 
Joking aside, I have several friends who attended and rave about their powerful experiences there. I'd even be open to attending an ayahuasca ceremony IF I could work up the courage that my skull wouldn't crack open and ooze melted crayons as I go running off into the jungle naked. (Which is sort of the whole point, I guess.)
However, that diversity of wellness is one of the things I truly love about Tamarindo. No matter what sport, adventure or activity you're into, you'll find an opportunity, as well as a whole tribe of people who are doing the same. 
Defined by surfing
Surfing is front and center in that tribal order. Even though I'm not a surfer myself, I think people forget how crucial the connection between Tamarindo, Robert August and the film Endless Summer II was for establishing the way of life around the world. Surfing still is — and always will be — what defines Tamarindo, and anyone who's paddled through the waves for a session knows what an amazing workout it is! 
Bringing it back to more pedestrian endeavors in Tamarindo, if you're a fan of the martial arts, Hero Academy offers world-class jiu jitsu (respect to rollers!), kickboxing and boxing classes. I've been taking boxing classes at the Revive Wellness Center in Langosta under Coach Marwan, and the technical training is amazing.
That facility also has a cozy but perfectly equipped gym, or you can opt for the more bustling Tamarindo Fitness Center to pump some iron. Of course, there's no real need to join any gym (until the rainy season) with such a beautiful beach right at our doorstep. You'll see people exercising, playing beach volleyball, kayaking, paddleboarding, or just walking their dogs every sunrise and sunset. If you're good in the water and want to brave the waves, you can even jump in with the Vamos Ocean Racers!
If basketball is your thing, just show up to the court by the skatepark in the early morning and you'll probably see Caribbean Steve swishing jump shots, and pickup games are always sweaty and spirited. 
For those who are into mountain biking, Tamarindo's unmarked backcountry roads are like nirvana, and runners take from the trails to pound the pavement every morning, too.
Take it down a notch and breathe deeply with yoga on the beach brought to you by Virginia or Fabiola on alternating days, or at one of Tamarindo's many nurturing yoga studios and classes.  
Healthy food the rule
When it's time to refuel, I'm encouraged to find that healthy, organic and locally sourced food has become the rule, not the exception in Tamarindo. My go-to is the Tierra Bendita café in the morning, Falafel for dinner, and Vida Bowls any time of day, where the proprietor, Natalie is a true health advocate. 
Of course, you probably have your personal favorites in Tamarindo like La Bodega, DragonFly, or Pico. And a visit to the Saturday or Thursday markets brings a cornucopia of natural foods and products to enrich your life.
But the best part of Tamarindo's transformation to a health mecca is the sense of community it fosters. I've met such wonderful, interesting, and positive people on my journey to a more vital life. No matter what your fitness kick may be, remember that staying active, laughing a lot, and lowering stress levels are just as important to your health as the reps, kilometers, and hours you invest. 
It's not just about adding years to your life but about adding life to your years. In Tamarindo, Costa Rica, you're in the perfect place to do both!