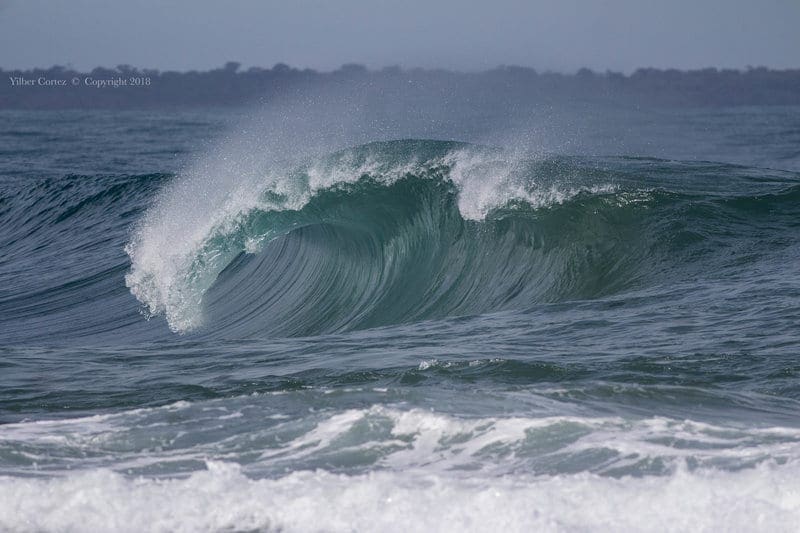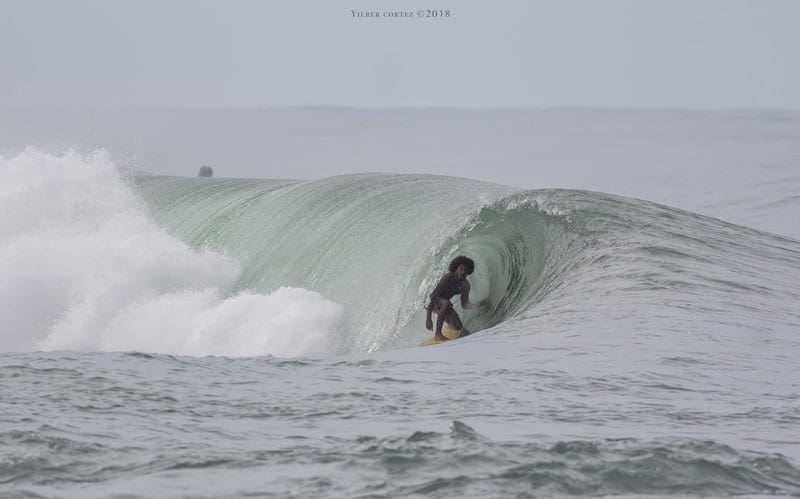 Braving Salsa Brava
Salsa Brava is a surf spot that is not for the faint of heart or those lacking advanced-level skills. It is renowned as Costa Rica's most perilous break, attracting challenge-seeking surfers from around the world. Located in Puerto Viejo de Talamanca on the vibrant southern Caribbean coast, Salsa Brava will either reward you with one of the juiciest barrels of your life or spit you out and slap you down over razor-sharp coral reef. 
How to Get There 
The drive from San José to Salsa Brava takes around four and a half hours via Highway 32. You can also take a Sansa flight to Limón, then drive the remaining 57 minutes south to Puerto Viejo. It will be apparent where the wave is when you are viewing the beach a couple hundred yards in front of Lazy Mon Beach Bar.
Even experienced surfers break boards, bones, and spirits here.
Where to surf 
Salsa Brava is a predominantly right reef break that sometimes also breaks left. It's a treacherous break over shallow urchin-covered coral reef. Be forewarned that this is no place to surf unless you truly know what you are doing. Even experienced surfers break boards, bones, and spirits here.
While this wave can be all-time epic, it is actually very fickle. Especially when it's good, you can expect all the local surfers to be out, and it is in your best interest to be respectful and wait your turn in line. This powerful wave can be double-overhead and rides can range between 50 and 150 meters. It is critical that you watch where the locals paddle out and follow suit through the narrow channel to avoid getting racked on dry reef. 
Local companies 
Puerto Viejo is home to a delicious selection of restaurants and cafés, cute boutique hotels and eco-cabinas. You will also find surf camps, yoga retreats, Spanish learning opportunities, and an exciting collection of adventure and nature tours and activities. 
Lazy Mon at Stanford's, Tasty Waves Cantina, Stashu's Con Fusion, Koki Beach, and Lidia's Place are a few highly recommended places to eat and drink. Hotel Banana Azul, Samasati Retreat and Rainforest Sanctuary, Azania Bungalows and the Tree House Lodge are four places in particular that are sure to make your time in the Puerto Viejo area sensational and comfortable. 
Swell Surf Shop and Surf Rentals and Tours, both just a few hundred meters from the break, can help you with all of your surfing needs. While Salsa Brava is not for beginner or even intermediate surfers, there are several other friendlier breaks nearby.
SPANISH
Desafiando Salsa Brava
¡Aquí, hasta los surfistas experimentados se quiebran huesos, quiebran tablas y espíritus! 
Salva Brava es un lugar que no es para los que les hace falta un poco de valentía o esos que carecen de habilidades de un nivel avanzado. Es conocido como el punto de surf más peligroso de Costa Rica, atrayendo a surfistas de todo el mundo que buscan desafíos. Está ubicada en Puerto Viejo de Talamanca, en la vibrante costa del sur del Caribe, si visita Salsa Brava esta lo recompensará con uno de los tubos más sabrosos de su vida o lo expulsará o lo golpeará sobre un afilado arrecife de coral.
¿Cómo llegar? 
El viaje de San José a Salsa Brava toma alrededor de cuatro horas y media por la autopista 32, o puede tomar un vuelo de Sansa a Limón y luego conducir los 57 minutos restantes hacia el sur hasta Puerto Viejo. Será evidente dónde se encuentran cuando vea las olas de la playa a unos cien metros al frente del bar Lazy Mon Beach.
¿Dónde surfear?
Salsa Brava tiene un rompe olas del lado derecho predominante, donde se encuentran los arrecifes, pero  a veces también rompe hacia la izquierda. Tiene un rompe olas traicionero sobre arrecifes de coral poco profundos cubiertos de erizos. Por eso, tenga en cuenta que este no es un lugar para surfear a menos que realmente sepa lo que está haciendo. Incluso los surfistas experimentados quiebran tablas, huesos y espíritus aquí.
Estas olas pueden ser las más épicas de todos los tiempos, pero en realidad son muy inconsistentes. Cuando las olas están buenas, puede asegurar que todos los surfistas locales estarán ahí y es de su mejor interés ser respetuoso y esperar su turno en la fila. Las olas puede tener el doble de altura por encima de su cabeza y el recorrido puede tener un rango entre 50 hasta 150 metros. Además, es crítico que observe por donde los locales reman hacia dentro y siga el angosto canal qué hay para prevenir ser raspado por las rocas y el coral muerto. 
Empresas locales
Puerto Viejo es hogar de una deliciosa selección de restaurantes y cafés, adorables hoteles boutiques y eco-cabinas. Usted también encontrará campamentos de surf, retiros de yoga, oportunidades para aprender el español, y aventurarse en una selección de tours y actividades relacionadas con la naturaleza y la aventura. 
Lazy Mon at Stanford's, Tasty Waves Cantina, Stashu's Con Fusion, Koki Beach, y  Lidia's Place son solo algunos de los lugares más recomendados para ir a comer o para ir por algo de beber. El Hotel Banana Azul, el Samasati Retreat and Rainforest Sanctuary, el Azania Bungalows y el Tree House Lodge son los cuatro lugares que podrán hacer que su tiempo en los alrededores de Puerto Viejo sea sensacional y confortable. 
Ambos Swell Surf Shop y Surf Rentals and Tours, están a solo algunos metros de las olas y lo pueden apoyar con todo lo que necesite relacionado al surf. Aunque Salsa Brava no es para principiantes, o tan siquiera para surfeadores intermedios, hay varios otros lugaras con olas más amigables en los alrededores que valen la pena visitar.