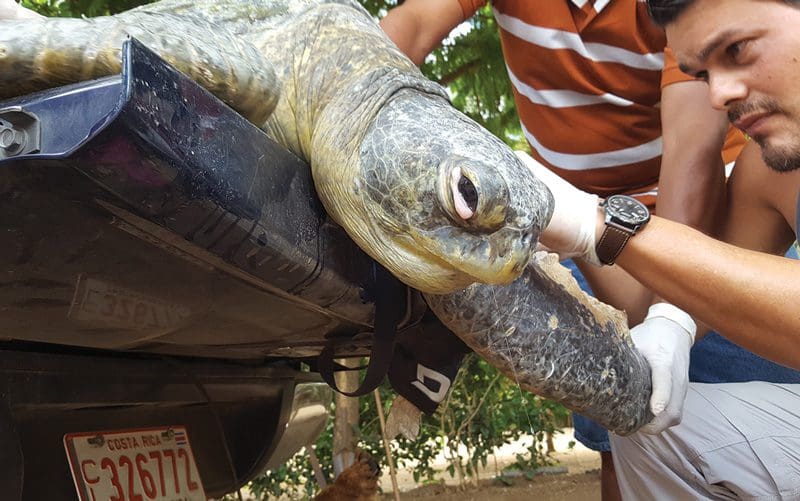 Wildlife Rescue: Turtle in Trouble
Wildlife Rescue Turtle in Trouble: As some Howler readers may be aware, my final year of veterinarian training was focused on wildlife rescue before I established my current practice in Guanacaste. I was interested in that specialty area for the simple reason that it includes a wide variety of large and small animal species, with enough diversity that I would not have to narrow my choice of practice options at that time.
We were amazed at how fast and easily
she was able to swim,
and she must have felt the same relief!
This early experience with wildlife management cases was at the London Royal Zoo in England and at the University of Torino in Italy. It turned out to be very helpful and influential once I had made the decision to set up the first veterinary hospital in this area of Costa Rica: Hospital Veterinario Cavallini.
Since 2007, some of our work has been devoted to programs supporting wildlife cases. Most common wildlife are monkeys, found with injuries or other conditions and brought to our hospital for treatment. Some recover fully in our care and are released back into their natural habitat. Others are transferred for extended rehabilitation at rescue centers such as Sibu Wildlife Sanctuary or Nosara Wildlife Refuge. Previous Howler articles have highlighted the important efforts of SalveMonos and their wildlife rescue efforts, our primary source of support for cases involving monkeys and other small mammals.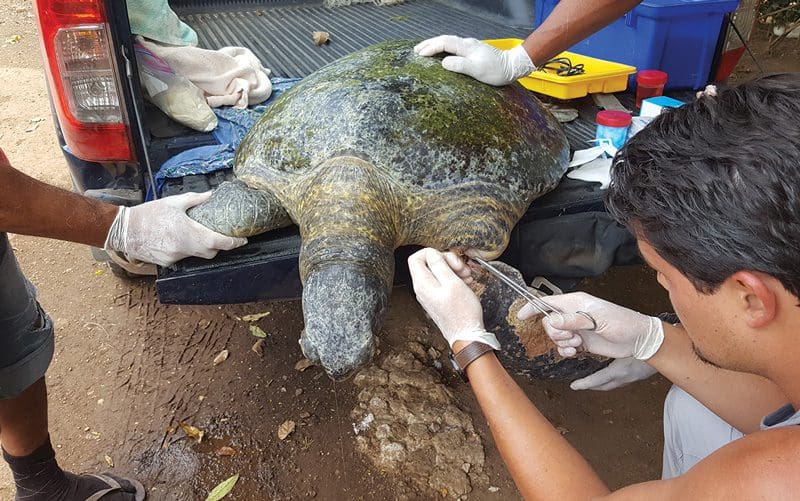 It has also been our privilege to handle other remarkable wildlife cases of ocean creatures, such as turtles and dolphins. The most recent example was a green sea turtle brought to us by a client and friend, Robin Berger from Mermaids and Sailors, and Mr. Marco Briceño. This turtle had a serious infection caused by a piece of nylon fishing line caught in her fin. We had no idea how long she been in this condition or the pain and distress she must have suffered.
After receiving initial emergency treatment with appropriate disinfectant and medication, our turtle patient was transferred to our Dog Hotel facility en route to Playa Grande. There, she was placed in a salt water pool and kept under observation. Ultimately, we decided to amputate the damaged fin. According to the veterinary medical literature, this procedure offered good chances of a favorable outcome.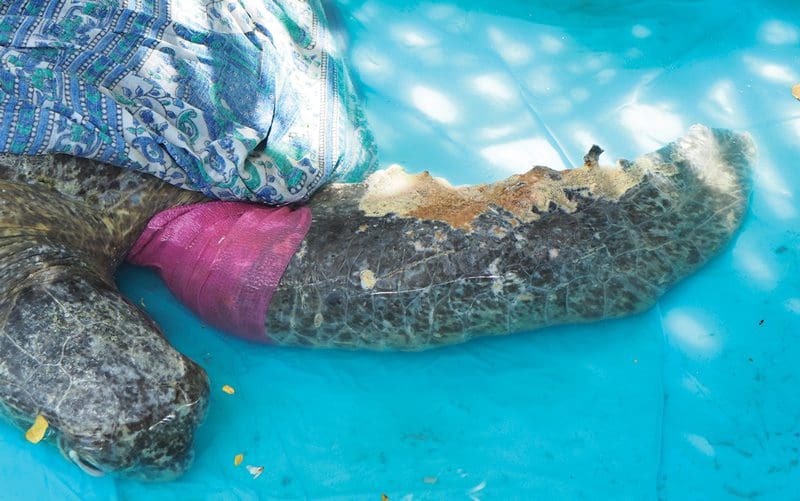 After performing the turtle surgery of a fin amputation surgery, we provided medication and monitored the turtle's condition once again. But feeding her was not easy, and that became our main concern. Therefore, we decided to put our recovering patient back into the ocean. Mr. Briceño made arrangements for everything needed: a boat, volunteers to help and diving equipment in case the turtle was unable to swim when she returned to the water.
Fortunately, this precaution proved unnecessary. We were amazed at how fast and easily she was able to swim, and she must have felt the same relief! The weight of her missing fin was around 7 kilograms compared to 2 kilograms for a normal fin.
This incredible case was gratifying and enjoyable for everyone involved. We are thankful to all the people in the community who came together in support.