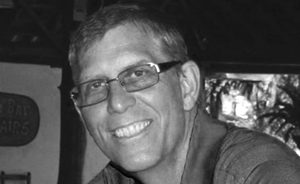 What were you doing in 1996?
I am proud to announce that the Howler Magazine has achieved the milestone of 25 years of publishing. This has been quite a journey, as David Mills will tell you. And after my purchase of the magazine in 2016 and carrying the torch he lit, I can certainly relate as a part of this journey.
In the words of Robert August, "The Howler has always been a great part of our community."
The history of the Howler is deep, and it has been a staple in the community over this time period. As it grew from its inception of a four-page copy paper edition to its current state, the publication has covered so many things in Costa Rica and the communities it serves. 
David Mills started it all in 1996, seeing the need for a Tamarindo-based community publication. He knew how important it was to have something that telegraphs all the interesting things surrounding the people who live and do business in this vibrant place. A publication with that kind of people-centered content is literally a backbone of a community. Having that voice and being that voice is part of what makes a community. Publishers around the world have always known this, and created publications within their surroundings.

But for Howler's story to still be unfolding after 25 years is what makes it special. Many publications in Tamarindo have come and gone over the years. It certainly is not easy to create this production every month, but it is a labor of love. The creation and work that goes into this is monumental. I know how important it is to be able to express what Costa Rica is all about. To be a part of bringing people from other places around the world to our reality, virtually, and allowing them to plan their travels here is so rewarding! Costa Rica is on many people's bucket list.
I am often stopped by people who tell me they have every one of the past Howler issues. You cannot believe how happy that makes me, knowing that the printed product has been kept by our readers and not thrown away. 
Starting a year ago with the May 2020 e-magazine, we have taken the Howler to a digital platform. The response from outside our borders has been tremendous. The reach we have is growing, and showing the world through our articles and the video content the rich details and nuances of what Costa Rica offers. It is so important that we remain relevant and continue inviting and encouraging people to visit here, as many other countries are vying for the tourist dollars. 
Every month I get email, texts and calls from readers telling me how much they enjoy the Howler. I receive requests from around the world for more information, and also help with issues relating to living or traveling in here. Our reach to the world is broad, and It is much easier for me to list the countries that don't engage with us than the multitude that do. I look at our reach map and even see readers in Latvia, Moldova, Monaco, Dubai, Madagascar, and more, extending to every continent. 
In 2020 and 2021 we launched a regional print edition of Howler for Jacó and also Guanacaste. These are more of community-based publications and regionally delivered. They have been well received. Even though these are smaller versions of the 100-page magazine we published in the past, they are growing and people are keeping copies.
I want to take a moment and thank those who have supported Howler and continue to support us. I have had clients let me know that they are in with us, always, because they realize how important it is to have the magazine's continued presence in our community. And yes … to Robert August's statement — it is a part of the community. 
The Howler is grown up.
The Howler itself will remain a digital publication, and as you can see the title line has changed to HOWLER INTERNATIONAL Costa Rica to the World. 
Our list of publications is growing. 
The quarterly Spanish edition is developing a great following. We found that it was important to include the whole country of readers in the community Howler is part of. 

The regional Jacó and Guanacaste magazines are the offspring of the Howler that are currently in print. 

Our expansion in the next few months will add regionals in the Arenal, South Pacific, Central Valley and the Caribbean areas. 

Launch of our digital version is bringing articles to life in narrated and video publications.

Private magazines for hotels and real estate businesses have been well received. This is a great opportunity for them to have their own publication and engage their clients in a new way.

Coming soon — HOWLER TV. I will not reveal any more about this right now. But be assured it is something that will be very exciting!
I am very grateful to my associates who are so dedicated to their work. Also a big thank you to the multitude of writers and photographers over the years who have contributed wonderful articles and photos that are the backbone of the Howler.
I want to thank the Jacó and Guanacaste communities for their support. We exist because of our supporters and those who realize that a voice like this is important. It's something that puts us in the eyes of the world and draws them to us. 
Thank you for your continued support!
Here's to the next 25 years.