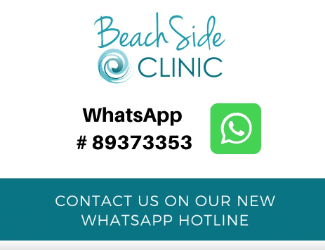 Dr. Andrea March 15, 2020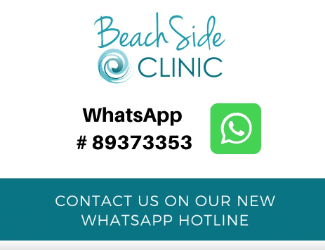 3/17/20:
At Beach Side Clinic we understand how stressful these days of self-quarantine and social distancing can be. That's why we created the BSC WhatsApp 24-Hour Hotline, giving you direct access to one of our physicians who can guide you on the best options to deal with your medical concerns.
* In the case of an emergency please contact us by phone at 2653-9 911 or 2653 5053
Here's how it works:
1. Download and Install WhatsApp if you don't already have it on your phone
2. Create a new contact for BSC Hotline with this phone number 506 89373353
3. Text your questions to that contact anytime you need guidance or medical advice 4. Or click on this link https://wa.me/50689373353
5. Allow us 30 minutes to reply
---
From Dr. Andrea Messeguer of Beachside Clinic
March 15, 2020.
Dear community,
Our commitment is to take care of people's health, your health; therefore, information on the current situation of Covid-19 in our area is of vital importance.
Today it was officially reported that Costa Rica has 35 confirmed cases of Covid-19 infection, and we know that in our community we have a confirmed case, but we also have several possible cases that are about to be confirmed or ruled out pending the results. And they are not in the same locality, we are talking about Conchal, Tamarindo, Langosta and Flamingo; of cases we are aware, without taking into account that other medical centers are can be identifying more people or those that directly consult the CCSS.
What we are experiencing as a country and as a planet is real, the virus is real and its contagion too. While it is true that most infected people will survive the disease without complications, people who are going to have severe disease can be very close to us, like our parents. Remember that the most vulnerable for severe disease are people over 60 years old, and people with underlying medical conditions; that in this country a large percentage of people over 60 years of age have some underlying medical condition. And it is them that we want to protect, the people who will need hospitalization, those who will end up in an intensive care unit, and those who may die from it.
We need to understand that social distancing / isolation measures are NOT vacations, don't look for spaces for parties, gatherings, outings with friends, days on the beach or play-dates for children. On the contrary, it is a call to stay at home, to limit external social interaction for a few weeks other than our family nucleus, to continue practicing strict hygienic measures, to avoid contact with sick people, but above all to slow down the frequency of dissemination of this virus, flatten the spread curve. And this can only be achieved by abiding by what is indicated by the authorities.
We have several example countries that at first did not consider that the process was going to be extensive or worrisome, that it was just another infection more that they would recover from, they did not keep the requested measures. And now they cannot respond adequately, the health systems are collapsed, the number of sick and severely ill people exceeds the capacity of the health system to take care of all of them appropriately and many people are dying because they do not have the necessary resources of infrastructure, equipment and human resource to serve everyone with the extensive needs they demand.
I confess that as a doctor I am very concerned about the situation, and as a daughter and mother too. I don't want my family to be in the situation where doctors in hospitals must decide whether to take care of my relative or another younger person because they can only manage one of them in intensive care unit. I highly respect my colleagues in the CCSS who face and will face these difficult decisions and who are requesting people to do their part. Although it is true that most people who get it will have a mild illness and will recover without long-term consequences, if all the people who are going to have a severe illness get sick at the same time, the health system will not to be able to respond adequately and it would collapse, causing more deaths from inability to respond with limited resources.
Please, without panicking, without creating hysteria, be aware, come to your senses, this is real, it is happening, and it is happening to all of us. Let us act with individual and family responsibility so that the situation is manageable for the country. Practice social distancing, stay at home as much as possible, go out only for what is necessary, if your child's school is closed, it is NOT for vacations, it is for prevention. One of the schools in the area is already dealing with this infection, and it is up to all of us to respond to flatten that curve. Wash your hands with proper technique, do not have contact with known people who are sick. If you are sick stay at home and consult your doctor. Cough and sneeze with the correct technique, hydrate yourself, get enough sleep, eat properly, take care of your children and educate them about this pandemic. Remember that children can be infected and not show symptoms, but they can spread the infection. Protect yourself in order to protect the most vulnerable, to give a better opportunity of response to the health system, but also protect yourself to protect us, the health personnel, who are more exposed than anyone at the moment.
Beach Side Clinic remains fully committed to the healthcare of our community, we continue to provide 24/7 healthcare, and will continue to do so. We remain at your disposal, we have very strict protocols for care and protection, as well as disinfection. We are ready to continue taking care of your health. We are even preparing ourselves with a medical office outside the main building of the clinic, which during this pandemic will be designated for the care of patients with respiratory diseases suspected of this infection, according to our expectation it will be available this week. Until then, considering all the guidelines for isolation, protection and disinfection, one of the rooms of the clinic is exclusive for the attention of these patients. We recommend that if you need our services and it is not for an emergency, if possible, make an appointment, so your waiting time is minimal. And we ask that you please come with as few companions as possible, respect the social distance. Likewise, we remind you that we provide house calls in appropriate cases, the doctor goes to your home or your hotel to provide medical care, in the same way we can send you your treatment.
Please also note that the Ministry of Health enabled the 1322 telephone line to report if one considers having a possible Covid-19 infection. Beach Side Clinic has all its personnel trained to adequately identify possible cases and proceed with the report to the Ministry of Health and coordination of the steps to be followed.
Best regards,
Dra. Andrea Messeguer