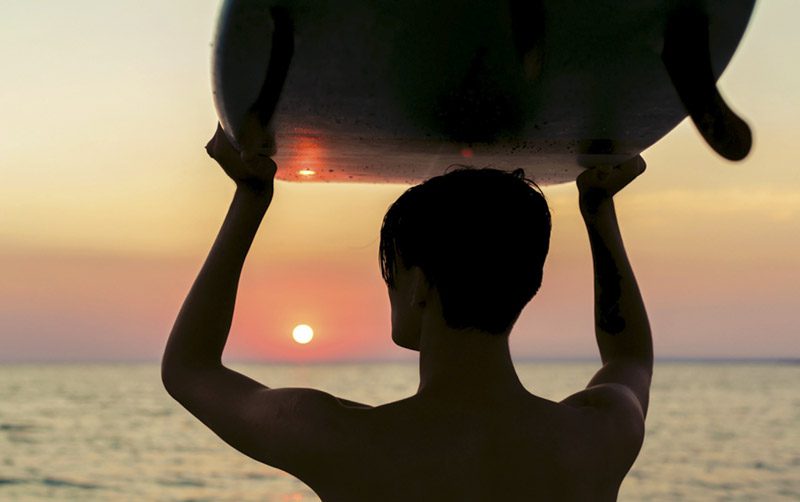 August Odysseys – It's your board, man. I'll make whatever you like.
I recently accepted an invitation back to the place where my formative years were spent, Huntington Beach, California, for a very special reason. The18th annual induction ceremony of the Surfboard Builders Hall of Fame took place Oct. 21, 2017 at the International Surfing Museum. This year, the selection committee had decided to honor me (Robert August) along with six other board builders from around the world. These inductees aren't just guys who have shaped a couple of boards in their lives. They are guys (like myself) who have devoted pretty much their entire existence to building boards for fellow wave-riders.
The ceremony was fantastic! Each board builder had a close friend talk about his history, how he got started, how he got involved in the industry, and where he is today. It was nice to reminisce about my history as a 20-something-year-old kid making my first surfboards with the inspiration of my dad, Blackie August. In 1965, I started working with Jacob's Surfboards, where I perfected my craft. Then, as the story goes, this passion evolved into creating my own brand in 1974: Robert August Surfboards.
After hand-shaping more than 43,000 surfboards over the years, I'm starting to get pretty darn good at it (wink, wink). I've always loved the look on people's faces when they see their brand-new, glossy surfboard for the first time and are hesitant to even put wax on it. I've made boards for fat guys, skinny guys, and everything in between. I really enjoy working on an individual level to build the perfect shape for each person's specific purpose. From time to time, people will ask me for a unique tail or odd artwork and I'll tell them, "It's your board, man. I'll make whatever you like."
Even after all these years, I've never made a ton of money doing the board shaping thing. But I sure do find a legitimate sense of fulfillment when I'm completely covered in surfboard foam and resin at the end of the workday.