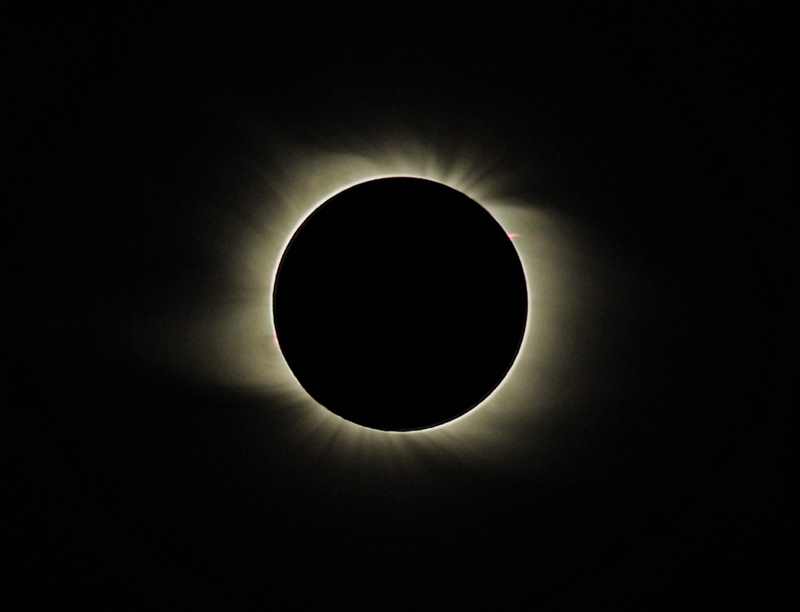 What To Expect – 2017 Solar Eclipse
What:
North American Solar Eclipse, partially visible from Costa Rica
When:
Monday August 21, 2017
Total duration – 2 hours, 17 minutes
Starts at 12:04 pm (high noon)
Maximum coverage of sun occurs at 1:17pm
End of Eclipse at 2:22pm
How to Watch:
PROTECT YOUR EYES at all times! At no point when viewing a partial eclipse is it safe to look at the sun without protective eyewear or special filters on your camera. The sun's UV radiation can burn the retinas in your eyes, leading to permanent damage or blindness. Just a few seconds of exposure to direct sunlight carries this risk.
Common forms of eye protection include special eclipse glasses, filters available from some optical suppliers and welder's goggles can be worn. The following are NOT SAFE: sunglasses of any kind, color film, medical x-ray film, floppy disks and smoked glass.
August 21, 2017 brings for some, a once-in-a-lifetime event – a total eclipse of the sun that crosses the entire continent of North America. These are rare. While occurring on average about every 18 months in different parts of the world, there has not been one like this over the United States in over 100 years.
A total eclipse of the sun occurs when the moon gets in between the sun and the earth, blocking out the sun for a precious few minutes. This one will last slightly more than two minutes if you are in the right spot, somewhere in Missouri. The totality duration varies by a few seconds as the eclipse travels from Oregon to South Carolina. Outside the track of totality – a line only about 70 miles wide – depending on location, observers can see a partial eclipse .
In Costa Rica, 35 per cent of the sun will be blocked, slightly more if you are watching from somewhere in the northeast part of the country. Still, it's a fascinating and spectacular phenomenon you should try not to miss. This is what partial eclipse watchers in Costa Rica can look forward to.
If you miss the total or partial eclipse in 2017, do not worry. The next three eclipses are in the Americas: 2019 and 2020 in South America (2020 is over Patagonia… a must see!) and 2024 back-crossing Mexico and the United States.
Go see a total eclipse ideally, anytime, anywhere you can. It is, for many, a life-changing experience. I have seen people cheer, laugh, kiss, break down and cry after watching one.
In response to the first eclipse I witnessed, at the tip of Mexico's Baja peninsula in the early 1990s, this is my famously published quote: "I do not know whether to have a cigarette or just roll over and go to sleep." Go!