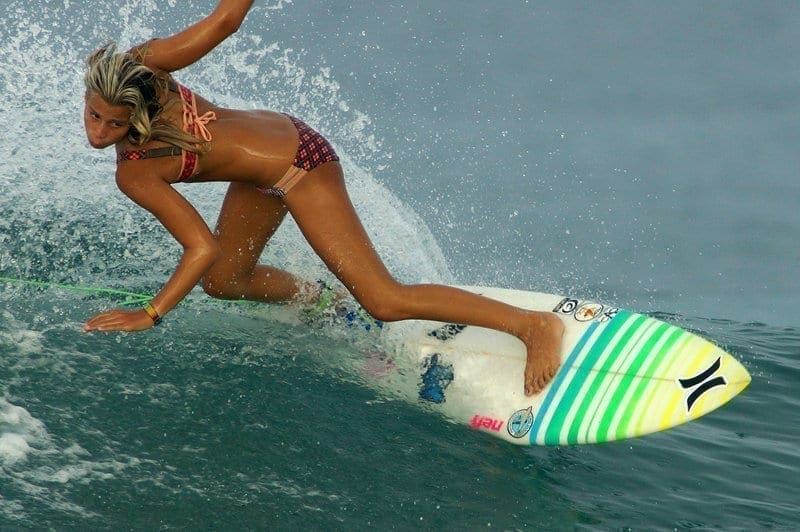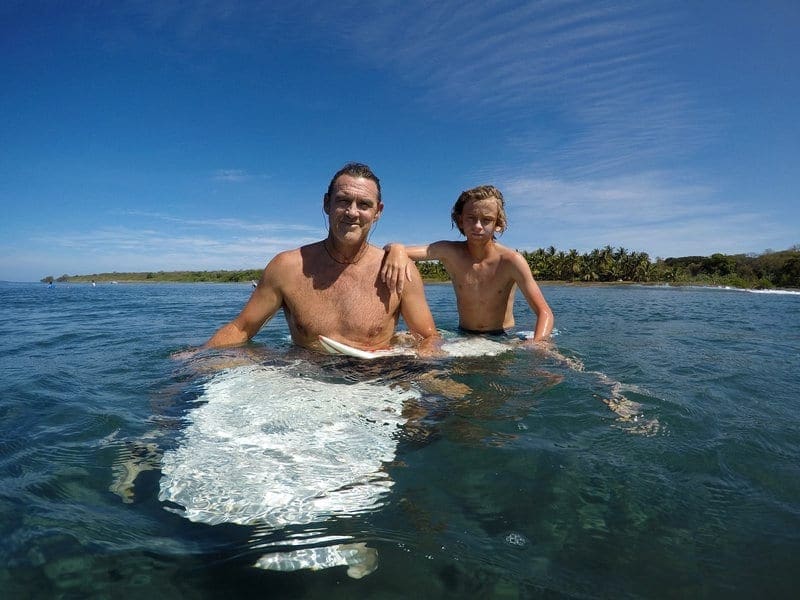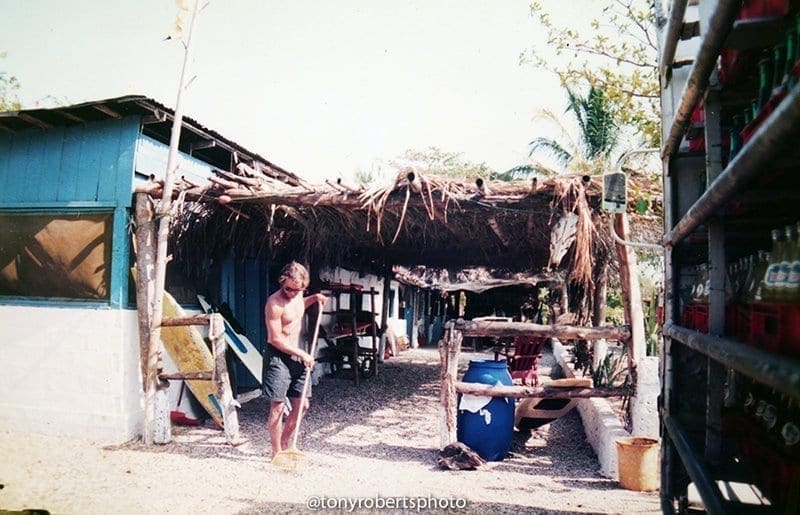 Tony Roberts — otherwise known as "TR" — is a lifelong surfer, skater, artist and musician, whose passions manifest in his body of work as a photographer and filmmaker. He specializes in product photography, interior and exterior settings, portraiture and framed prints, but is perhaps known mostly for his water sports action work. 
TR's photo and video angles are of an engaged nature, always capturing peak moment action from a unique perspective. This comes from the decades he has spent adapting to commercial, editorial and creative prerequisites. 
Roberts brought the wide-angle, skate-style surf action watershot to the world in the late 1980s and early 1990s. This was accomplished during his time as a staff photographer for Surfing magazine, supported by his native Santa Cruz, California crew. He was named one of the top six water photographers of all time by surfimages.com
He was named one of the top six water photographers of all time by surfimages.com

Tony has over 20 full-length video titles to his credit, including classics O'Neill "O'Zone" and Santa Cruz "Speed Freaks." He continues producing cutting edge content for his own YouTube channel, "Real Surf Stories." There you can enjoy constantly updated TR treasures, from classic movies of yesteryear to fresh videos he and his team are perpetually producing.
Having lived for three decades in Central America and the Caribbean, TR is the go-to guy for locations, and also logistics for industry company shoots and events coverage. As owner and founder of Real Surf Trips, he organizes private surf/shoot packages with surfers from all over the globe. 
This thriving business is the culmination of Tony's lifetime of traveling, surfing and shooting the globe. His talents reflect decades of full-time knowledge and experience with the formulas to capture the best waves on earth. He is known for being notoriously hard-working with a unique regimen for photography and video creation and production. 
TR's deep friendships with local families and communities at the best surf spots in Latin America and the Caribbean are another success factor. Those working with him as guides and hosts at all Real Surf Trips locations offer surfers of all levels a rare and valuable opportunity to experience these amazing destinations in an intimately special way. 
Participants go home with their trip memories captured in magazine-quality photos and HD video for customizing as an edited movie.
What Others Say About Tony
"Having the freedom and perspective of traveling, of not conforming to everything that's going on around you is really important, and I think Tony's got that."
— Jeff Hornbaker
"On a day to day basis TR can go out there and smoke you. That's what's so cool, he really cares about our job as pro surfers, and his dedication to his job as photographer."
— Flea Virostko
"He is always there in the moment. Tony is super keen. He's got that feel for that crazy little moment. Just always there … so sharp."
— Tom Carroll
Photo Credit : Photos: Tony Roberts
Video Links :
Tony's newest video

TONY ROBERTS PHOTO CAPTIONS
(stand up board) I consider myself more of an artist than a reporter, which is actually a valuable attribute for commercial photography. When someone wants that engaged element they call me due to my involvement and technical prowess in the topics I shoot, be it surfing, music, portraiture or even products. I want to tell the story in a way that makes the viewer feel involved. This was a shoot for Roxy with Sony recording artist Debi Nova during a sunset paddle out to the island off Tamarindo.  (go to www.howlermag.com/howl to put this puzzle together.)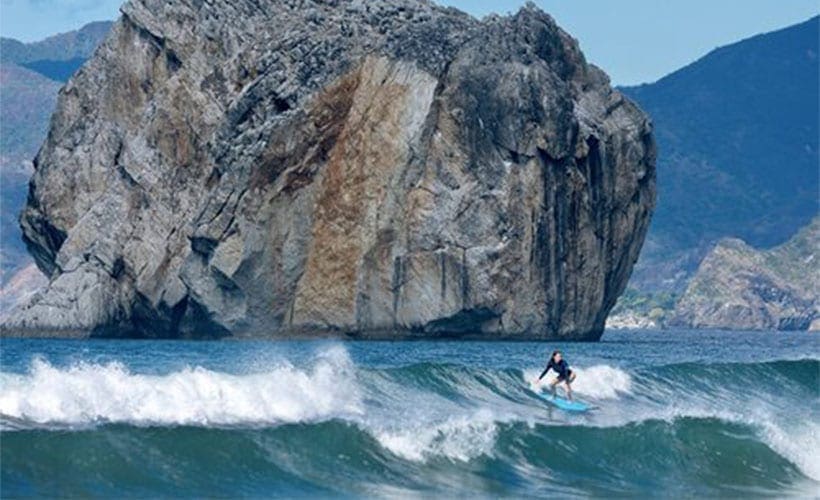 (witches rock) I get asked why it is that my images look so unique, even at the most photographed spots. Many ask, "what do you shoot with?", thinking it's the camera. I do use the best equipment out there but I always respond, "It's not the arrow— it's the indian." I believe that most photographers just capture images as they pass by. My approach is the opposite. I like to imagine it in my mind first, then create it. I have been producing every day non-stop for over four decades. I have more practice, experience and results. Combine that with my way of seeing things and that will set my images apart.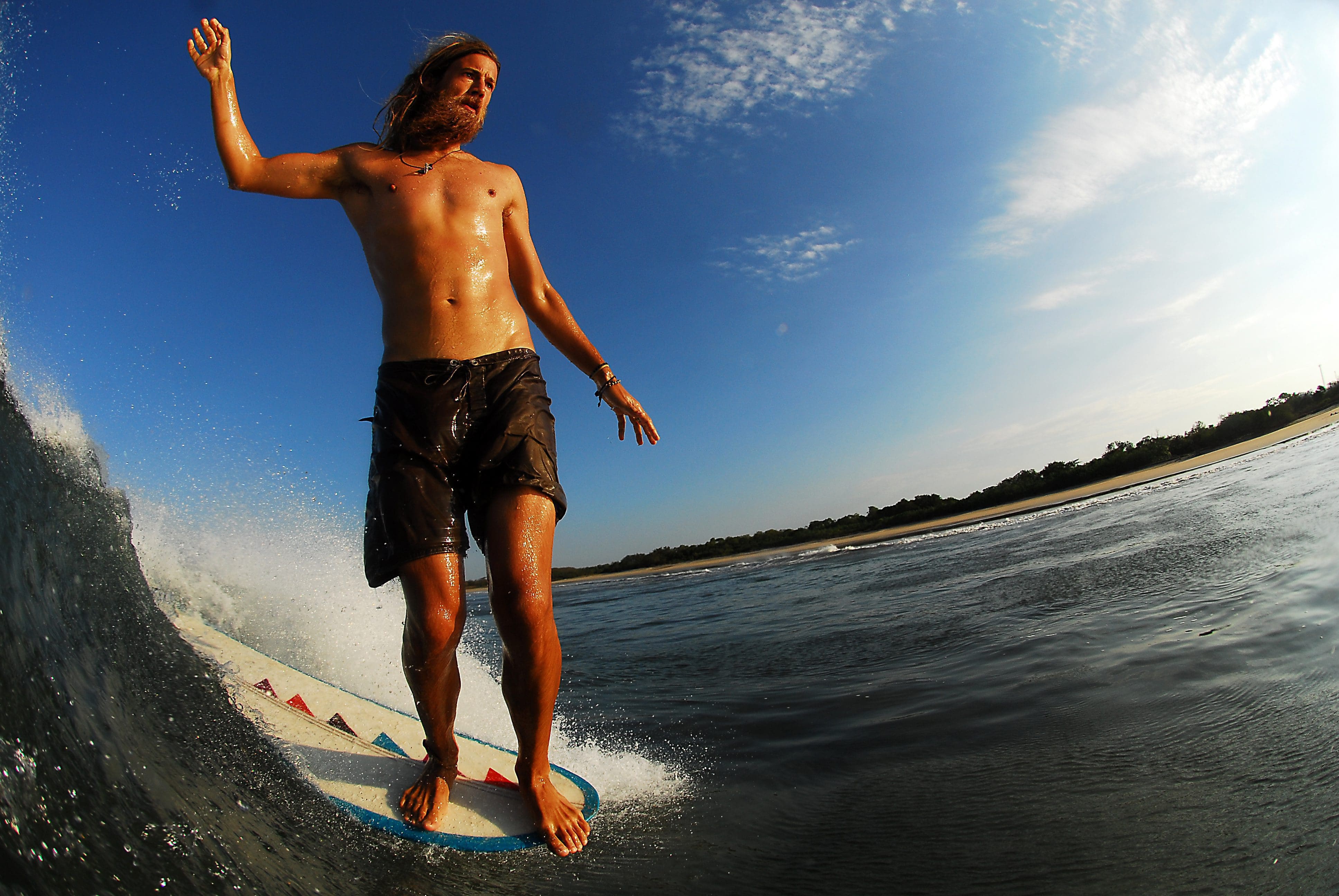 (man surfer) I was photo editor of several magazines and am very critical about what makes an excellent image. If one of the dozen criteria is not met, it cannot be considered excellent in my opinion. This sunrise image of Chris Del Moro at Avellanas checked all the boxes.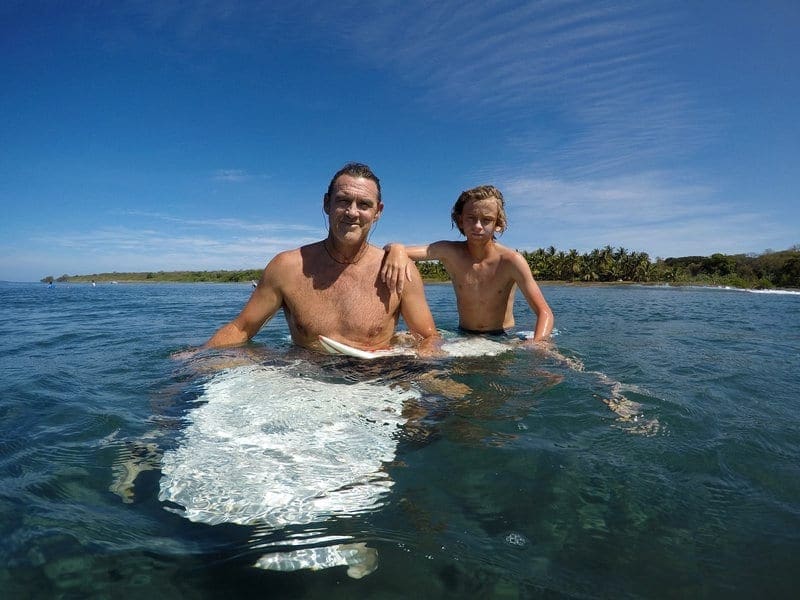 (father/son) Amazing portraiture is capturing a subject's true essence in its element. A lot of the photographer's personality will come out in the final product. It requires a lot of trust to get people to be natural. Often when people pose for a portrait they change their body language for the camera. Usually a great portrait requires a lot of forethought, but this one was quite spontaneous. Sam and Tommy August and I were chatting between sets and I could not help but notice what a timeless moment this was. I said, "Hey guys, I'm gonna shoot a portrait." I lifted the camera and bang!  
(Tamarindo Beach) I wanted to capture a Waikiki vibe for Guanacaste's most popular tourist beach Tamarindo. I I crossed the river just before sunset on this shoot with "Wingnut" [of Endless Summer surf movie fame] for a different perspective.
(Rachel cutting a wave) I love Rachel Presti's body language in this shot, showing perfect symmetry and balance with the wave.
(underwater power) The contrast of the raw ocean power with Autumn Hayes' delicate duck dive captures one of those rare and amazing balances of opposites.