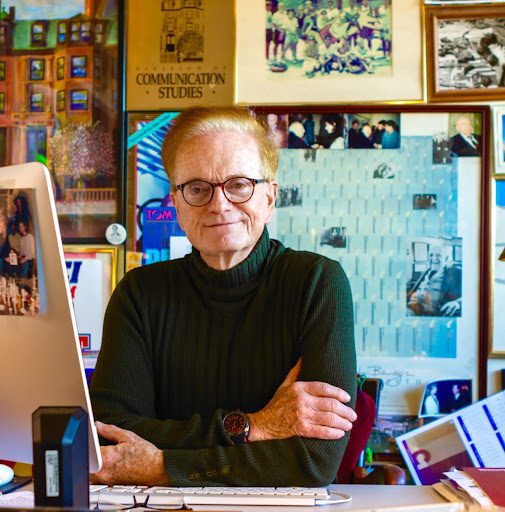 Dr. J. Gregory Payne is a preeminent international authority on diverse topics related to political communication, public diplomacy, health communication, media, ethics, leadership, negotiation, crisis and risk communication, and political and social movements. 
We are pleased to feature these responses to interview questions that Howler's Turner Mojica asked about pivotal events shaping Dr. Payne's career and perspective on storytelling.
*************
I was at the Ambassador Hotel when Robert Kennedy was killed. And that was a kind of turning point for me. I was a kid and a Republican at the time. I loved his speeches and he used to love being with the students. And he talked about the group of people in South Africa during apartheid. He said, "Each time one person stands up for an idea, you set forth a tiny ripple of hope that can sweep down the mightiest walls of oppression". So that had a distinct ring to my ear and whether it be Kent State or any movement, it does matter what one person does, because any movement has started with one person.
I was infatuated with journalism and I had a brand new portable tape recorder, which was a big deal back then, in 1963. And I think that's when I became very fascinated about storytelling.
I think we've seen that throughout the 60s when Kent State occurred, the President's Commission said it was the most divisive time in American history since the Civil War. And I think you know, I saw at that point where even though the students who were killed were honor students and a lot more like me than, you know, Jane Fonda and Abbie Hoffman. And I think that's one thing that piqued my interest because the more I found out about them, I got to know the parents very well. They were tragically just at the wrong place at the wrong time. 
Then as today, you have people who distort the truth and distort the objectives of objective reality of what occurred by focusing on fear and hate. And we had that in the 60s. I think we have that today. I think we live in an even more dangerous time than we did in the 60s. People say, well, as bad as the 60's. 
So I think democracy itself is at stake. I think that the major thing is what Emerson [College] is all about — storytelling, but having stories that reflect the facts. Sometimes those facts don't agree with my ideology or my belief. But I do have a firm belief in the power of facts, and there are such things as facts that we could agree upon. 
I think the one thing we constantly have to deal with is stories that are based on facts that are trying to move forward, that are trying to be inclusive, that are trying to engage people to find commonalities against what I would call the dark forces of deceit, deception, and lies — that motivate us not by hope, but by fear. And we're on the brink of seeing which of those forces is going to triumph. 
In today's world, where anybody who has a camera is a "journalist," everybody can speak their mind. Free speech does not mean that you can hate people, and that you can scream fire in a crowded theater. And I think that's where there's confusion today. So the key is ethical and vibrant communication based on critical thinking.
I also believe that programs that promote dialogue and civic engagement are that step forward, and I hope that we get a chance soon to expand in Latin America, in particular Costa Rica. universities like ULACIT [Latin American University of Science and Technology], UCI [University for International Cooperation] and the Earth Charter International, have the kind of messages that are in harmony with what we have going here at Emerson College.
The Osa Peninsula area is my favorite part of Costa Rica, so I happily accepted an invitation in December 2020 to visit Puerto Jimenez with a group of friends. 
My trip highlights, shared with insider tips, are meant to encourage Howler readers to plan your own getaway to paradise. I'm already looking forward to my next Osa adventure.
Our first full day in the peninsula began with a boat trip on the Pacific Ocean to see aquatic wildlife and sea birds. The adventure did not disappoint. Before long, the boat was surrounded by hundreds of dolphins, which swam by the boat for a long duration. We also saw sea turtles, a manta ray and many birds. 
That night, our group took a bioluminescent kayak tour. Immediately after setting out, we saw the gorgeous blue-green lights in the water where the plankton hit the paddle. Above us was a sky full of stars and below us, the entire sea lighting up from our paddles and hands in the water. It was pure magic … the magic of nature that is! 
See this article in the magazine
About Dr. J. Gregory Payne
Dr. J. Gregory Payne is a frequent source for print and electronic media outlets, including USA Today, The New York Times, The Washington Post, The Boston Globe, Los Angeles Times, Chicago Tribune, Newsday, CNN, Fox News, Sky News, MSNBC, Arab News, BBC, ABC, CBS and NBC (television and radio). 
Payne is Chair of Emerson College's Department of Communication Studies, the first of its kind in the United States. He is the Co-Director of the Emerson Blanquerna Center for Global Communication, and received an "Honoris Causa" from the Blanquerna School of Communication and International Relations, University of Ramon Llull, Barcelona in 2019, for his lifelong distinguished academic and professional career.
He is the co-author of Tom Bradley: The Impossible Dream, Mayday: Kent State, and the play Kent State: A Requiem. He has authored academic and popular articles and book chapters for publications worldwide. He has also lectured internationally on topics related to political communication, public diplomacy, health communication, media, ethics, leadership, negotiation, crisis and risk communication, and political and social movements.
Payne has directed numerous global public diplomacy projects for governments, corporations, NGOs and community groups. He is the co-founder of the Saudi American Exchange, the first grassroots, people-to-people public diplomacy effort in the wake of 9/11, honored at the inaugural Clinton Global Initiative and the Middle East Public Relations Association. 
Payne has served as speechwriter for Sec. of State Hillary Clinton, Senator Robert Dole, Los Angeles Mayor Tom Bradley, former Boston Mayor Ray Flynn, Queen Noor of Jordan, Prince Faisal of Saudi Arabia, as well as numerous CEO's and heads of organizations internationally. He has consulted with the U.S. State Department, the U.S. Department of Defense and U.S. Department of Treasury, City of Boston, City of Los Angeles, National Republican Institute, National Institute of Health, Atomic Energy Commission and U.S. Centers for Disease Control & Prevention (CDC), Bechtel, Fidelity Investments, Watson Pharmaceuticals, U.S. Department of Veterans Affairs, Formula One, among others.