Sala Garbo: Where Indie Film Buffs Flock
Sala Garbo: Where Indie Film Buffs Flock.  When Sala Garbo opened its doors in 1977, the goal was to give San José moviegoers a taste of independent film culture. Conceived as a venue for homegrown and international independent movies, the theater was founded by Nicholas (Nico) Baker, together with artists Carmen Naranjo, Samuel Rovinski, Sergio Ramírez, Antonio Iglesias and Óscar Castillo. More than 40 years later, Sala Garbo remains synonymous with vanguard alternative cinema, feeding people's passion and curiosity for films that scare, scandalize or move their emotions.
Having become sole proprietor by the 1980s, Baker expanded Sala Garbo's single-dwelling structure to incorporate the Lawrence Olivier Theater and Shakespeare Bar, the latter as a gathering place before and after showtimes. The integrated artistic premises thrived until 2015, when new legal requirements for disabled accessibility in buildings forced Baker to close the theater and bar. Although films could still be shown in the remaining original space, business declined dramatically before Sala Garbo was shut down altogether in April 2017. The previous summer, Nico Baker had died at age 83, but not before collaborating with other family members in asking his granddaughter, Isabella Mesalles Baker, to get involved as his successor.
Sala Garbo is all about the
art of cinema and not the
gross box office profits.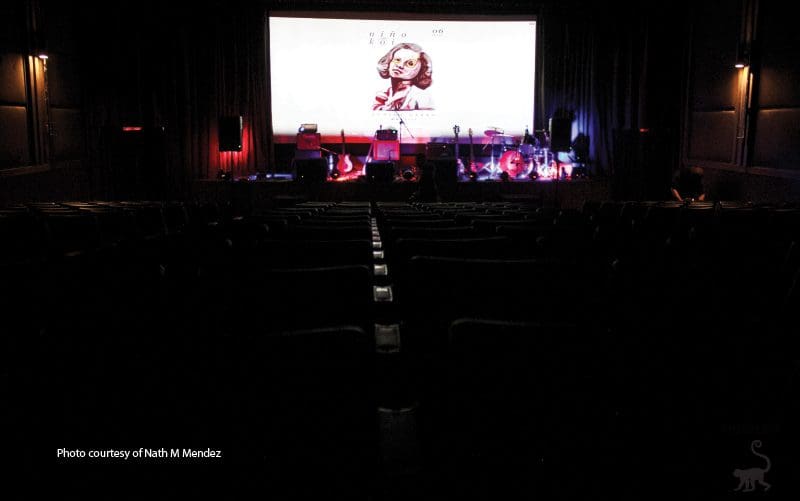 Fortunately, Isabella agreed and was up for the challenge of restoring Sala Garbo to its former vibrancy. With Nico's cinematic passion in her blood, she had spent the previous seven years in London pursuing masters degree studies in theater production. Returning home to Costa Rica with a mission to revive Sala Garbo was only natural.
Isabel had every intention of preserving her grandfather's legacy of showing independent and classic films. Meanwhile, the theater needed a hefty cash investment in upgraded digital film projection equipment, as well as longer-term plans for staged-in remodeling of the three Sala Garbo spaces.
Wider focus
Adopting a broader focus for last year's reopening than her grandfather had pursued, Isabel envisioned a common ground for local artists, filmmakers and musicians to call home. To that end, she opened Sonido Garbo to showcase local bands, and also embraced the need and opportunity to feature stand up comedy and other weekly shows. Rental space is also available at Sala Garbo for organizers of concerts, comedy shows and theater performances.
Otherwise, Sala Garbo offers something for everyone seeking a unique movie experience in San José, any day of the week. Stop by Monday for the weekly showing of a "Cine Arte Garbo" classic film. On Tuesday, enjoy a "Nico Baker Memorial" tribute to one of the theater founder's favorite flicks. "Cine Terapia" (Movie Therapy) on Wednesdays puts the spotlight on particular directors each month with showings of their films. "Garbo Serie B" Thursdays are dedicated to B-movies, while classic erotic films are reserved for "Krinégrafo" on Sundays.
True to its longstanding tradition of cinematic achievements that may be weird, quirky or unsettling and almost always intriguing, Sala Garbo is all about the art of cinema and not the gross box office profits. It may be where you first meet Pedro Almodóvar or Stanley Kubrick, but it's much more than that. It is a center of culture that is constantly evolving into a bastion for the next generation of Costa Rican artists. Whenever you visit San José, don't miss Sala Garbo.
Sala Garbo
Avenida 2, Calle 2.  San José
Check out the daily schedule at www.salagarbo.com