Pucci: the Family Behind Costa Rica's Greatest Photography
It's not unusual that the children of a successful businessman go to work for the family business. But it's highly unusual when that business arose from a hobby — and when everyone in the family exhibits world-class talents in a field that requires a high level of creativity, artistry and technical skill.
Meet the Puccis, a family partnership that would come to dominate the landscape of Costa Rican nature photography. The iconic publishing company evolved from the boyhood bonding of two brothers, Giancarlo and Sergio, enjoying outdoor adventures with their father, Juan José. Together, they have produced the most celebrated coffee-table photo books in the country, including the best-selling "Costa Rica From the Air."
Giancarlo Pucci, 41, remembers going on camping trips in the Costa Rican wilderness his entire childhood with his father and his brother.
"My dad always had a camera, and there were tripods everywhere, film in the fridge," Giancarlo said. They would return to San José and gather groups of friends to look at Dad's new pictures, projected on a wall. "I remember being amazed by the things that an eye can catch through a camera."
Sergio Pucci, 39, also remembers these outings well, saying his father "had a group of friends that was very adventurous," and adding that in those days, it "was very rare" for people to visit exotic places all over Costa Rica.
"I remember my dad, being a heart surgeon, he was always working a lot and with a lot of things on his mind," Sergio said. "And on the weekend when we went on these adventures, his mood would really change. He was the happiest I saw him when he was in nature."
All of the photos in these books are taken by the Puccis, and both and Sergio have been named photographer of the year by the Costa Rican Photography Club, and have been recognized several times for picture of the year.
All three of the Puccis have participated in individual and collective photo exhibits in various countries. And Sergio was honored by one of the most prestigious photo awards in the world, the BBC and London Natural History Museum's "Wildlife Photographer of the Year Photo Contest," for a photo of an arribada of sea turtles.
"This is not very common," Juan José said. "We get along very nicely, and when we go out, the three of us, we enjoy taking pictures together. It's not very common because we have families and everything, but we go out together and we spend a wonderful time."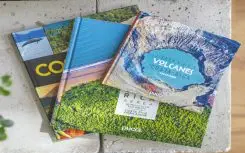 A father's passion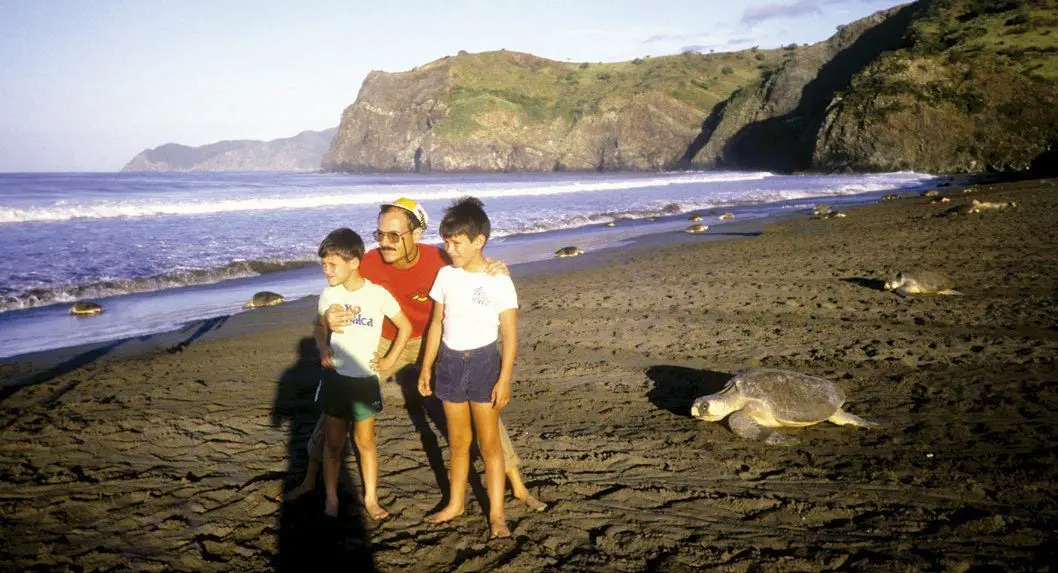 Juan José, 68, was born in San José and earned his medical degree from the University of Costa Rica. He was a heart surgeon at Hospital México in San José for 35 years, until his recent retirement.
"My work was real difficult, the responsibility and the stress," he said. "I started with my senior colleague on heart transplants in this country more than 25 years ago. It was very intense work, and we were the biggest unit in all of Central America. We did thousands of open-heart operations."
His weekend escapes into the wild with his friends and his sons became his therapy.
"When I had my camera in my hand and I was walking somewhere, I was totally disconnected," he said. "It was like meditation for me. So it has been important for my mental health."
But Juan José was not content to take random snapshots of his weekend outings. Photography was only a hobby to him, but he wanted to excel at it. He read photography books avidly, and he searched libraries and bookstores to find photo books depicting Costa Rica.
And then there were three
So what was older brother Giancarlo up to all this time? He also studied business at UCR, with a major in marketing, and spent a year in Sweden getting a master's degree in a program called Strategic Leadership For Sustainability.
"But I wasn't a photographer, I didn't have a camera," Giancarlo said. "And maybe seven years ago after many years of working in business-oriented positions … it got to a point where I felt I needed something more meaningful, and not that I wanted, but that I needed a change, a career change, a life change."
Giancarlo's improbable muse turned out to be trees.
"I used to live in Guanacaste, so if I saw a corteza amarilla, a bright yellow tree, the colorful bright flowers really caught my attention," he said. "I was chasing these trees all over Guanacaste, not only corteza amarilla but any new color that I saw. If I saw one on a mountain, I would go there, climb over fences, ask people what is that tree, why is it called that?"
Giancarlo would tell his father and brother, who were living in San José, that they should come and photograph these trees.
"I think it was a bit of frustration of not being able to capture those moments, and then just a need to share those beautiful, incredible trees, that I bought a camera and started taking pictures," Giancarlo said. "Of course I had the advantage of two mentors at home, so that accelerated my learning curve."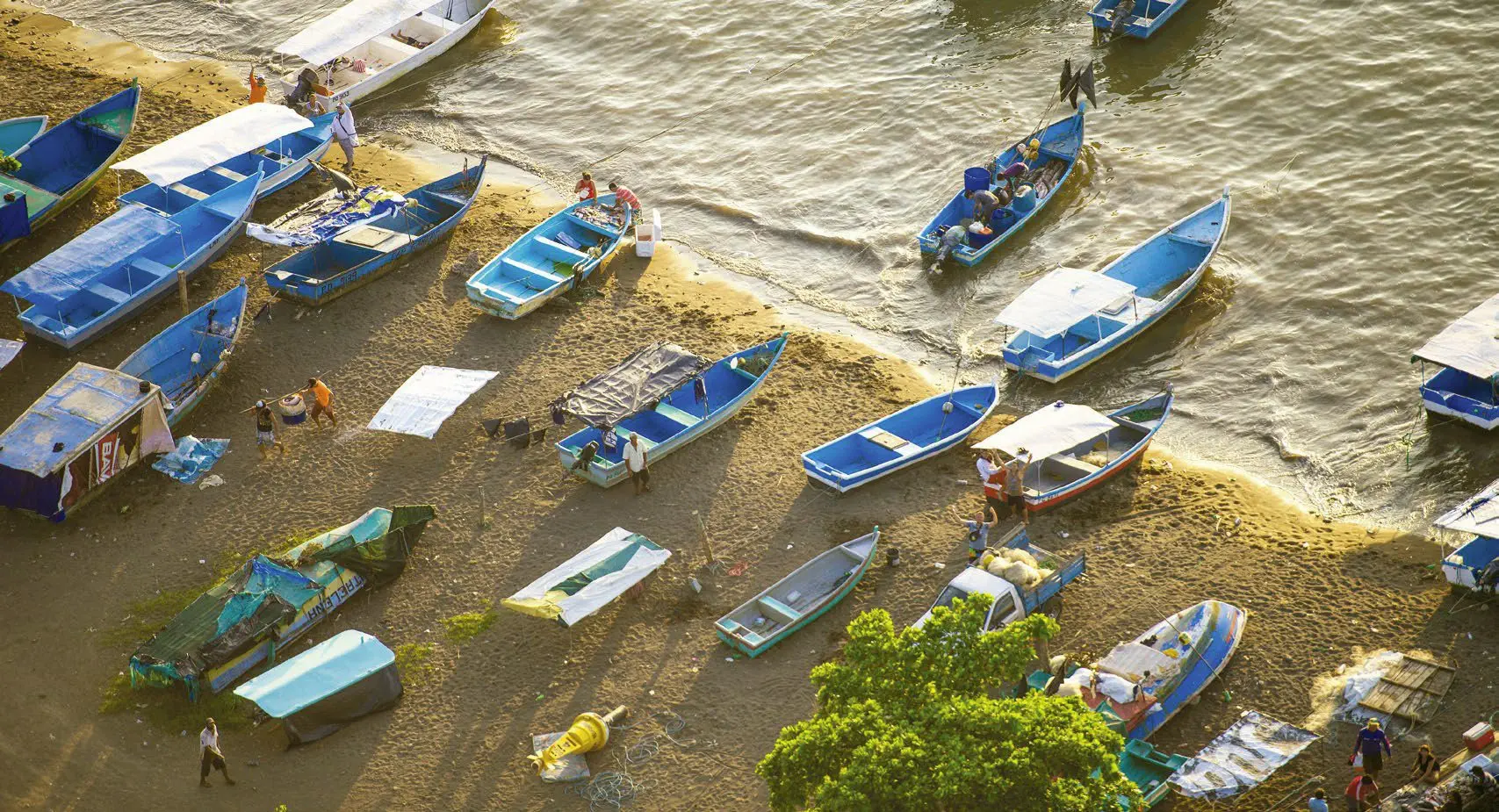 Out of this arose "Magical Trees," published in 2010, with photos mostly taken by Giancarlo, and others from Juan José and Sergio.
Sergio said the three family members had never foreseen that they would end up being a team of photo book publishers. "It was very nice in that sense, the progress," he said. "My dad first did a book by himself, then I joined him, then my brother joined. But it was never something planned, it just happened organically."
Giancarlo said of "Magical Trees," "When I published the book I was also clear I wanted it to be not just another project, but something that had an impact." He started an organization called the Magical Trees Foundation, dedicated to reforestation and environmental education, supported by 100 percent of the profits from the book.
"The foundation's purpose to be a reconnection bridge between people and nature," he said. "It's become more than a foundation — it's more of a movement, with more than 3,000 volunteers who have passed through, and many, many companies that support it."
"Magical Trees" was followed in 2016 by a similar book, "Magical Forests," that also supports the foundation. And along the way the Puccis also came out with a book called "Tierra Viva: Costa Rica Volcanoes."
Eye in the sky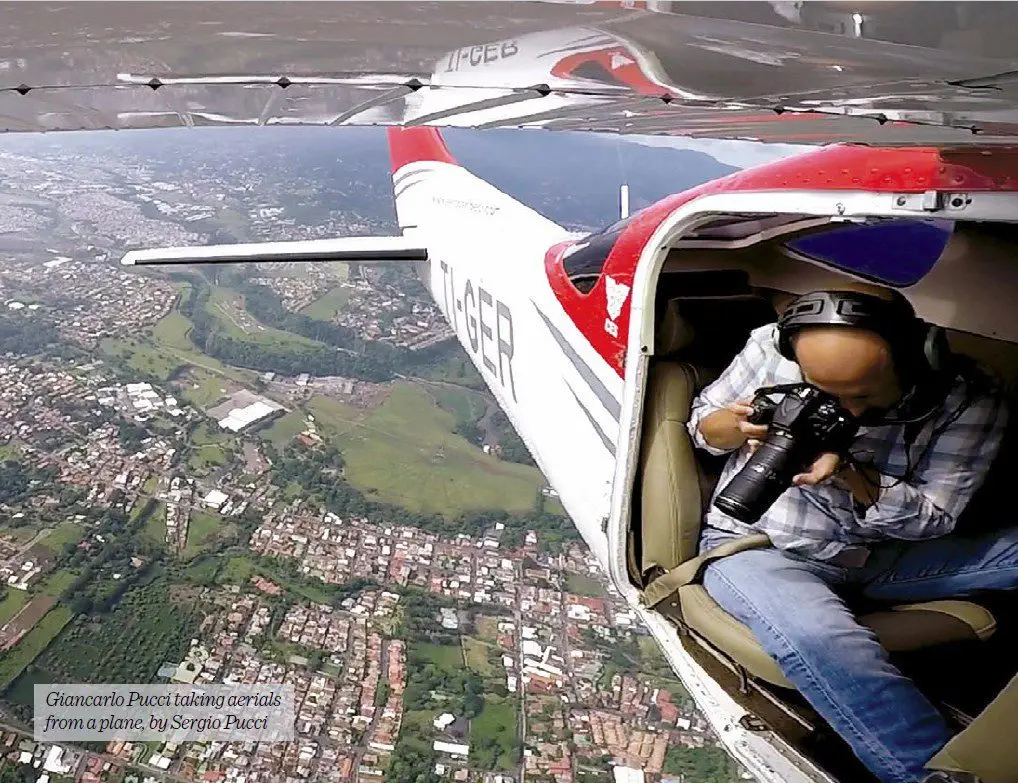 But the family's greatest hit would come from the sky. Sergio had the idea of doing a book of aerial photography — even though both he and his father had a fear of flying. Sergio said he hates flying but Giancarlo loves it, and he knew that his brother's enthusiasm for the idea would allow them to take it much further.
Their father bowed out of the project, at least the photography phase. "I don't like to fly in those things," Juan José admitted. "And I felt that they were so passionate with this, and it was time to do something without the father."
The brothers started chartering small aircraft, including helicopters and ultralights, and eventually logged some 75 to 80 hours in the air.
"I really am afraid of flying, even in a commercial big plane," said Sergio, "so flying these helicopters and ultralights and autogyros … every time until today, I'm very scared. Right before flying I'm tense and nervous."
To make matters worse, they had to remove the door of the aircraft to shoot an unobstructed photograph, and sometimes the plane had to turn sideways to get the right angle.
"We remove the door and you go right next to the door, one leg is out of the plane, you have to lean out," Sergio said. "Some of the time we do it with a harness, and I have to acknowledge that sometimes we didn't, we just use the safety belt, or we would improvise something, like tie something."
Juan José joined the project to assist with the photo selection — and sometimes to serve as referee, when the brothers disagreed on which photos to use.
"We had something that we call dynamic tensions — sometimes we have to choose among a lot of pictures, and sometimes it's not easy," Juan José said. "So sometimes if they were alone, the tension was a little bit higher. When I participated, probably it was a little bit easier. But I try not to work as a father, just as someone that has a little bit more experience."
The result, "Costa Rica from Above," is a stunning collection of photos that show off Costa Rica's beauty from an entirely new perspective — volcanoes, rain forests, waterfalls, cities, even whales. Published in December 2014, it has become the best-selling photography book in Costa Rican history. It's 300 pages, 10.5 x 10 inches and sells on Amazon for over $100 in hardcover, $50 in paperback.
And by the way, there's a sequel coming in December 2017: "Costa Rica from Above: Landscapes in Time."
"We wanted it to be more than just a cool book," Giancarlo said of the first version. "We were intentional about what's the purpose of this book. It was about recovering our capacity to be amazed by our country."
For more info: Visit the Puccis' website at www.photographyincostarica.com
What's your process for taking a great photo? 
Juan José: When you're more mature you start to pre-visualize, you start to see things before you are looking at them with your eyes. You have to do your homework. That means knowing a lot about the place before you go, which is the best time of the year, a lot of stuff like that.
"And then you just have to be lucky because nature plays a big part. But you have to be there, you have to go, you have to do whatever to be in the place you want to be. … You have to love what you do….
"The camera is not the most important thing, the most important thing is the photographer. You don't have to have a great, very expensive camera to take great pictures. What you really need is to have a lot of patience and be there no matter what. … And you have to have the sensitivity, you have to have a lot of imagination and creativity to do new things."
Sergio: "In my opinion there's two key things. One is to know that light is everything. Light, light, light. That's key because it determines when you shoot something. And then the other thing is to try to connect with the place or the public that you're shooting, like from a sensibility point of view….
"It's important to take a moment to feel the place first, to breathe and be present for a moment before you start shooting, because that's a moment where you can connect, and that will guide you to shoot from the right angles and make the right technical decisions to capture the essence of what you're shooting. There's infinite ways of shooting something, so you don't want to just do it randomly."
Giancarlo: "I would categorize it in two different approaches to the same question. One, a lot of pictures are planned with the perfect moment, or the moment of the most potential at a specific place. And that is exciting, to dream with that moment, sort out of the logistics, try many times and eventually being at a moment where it feels very special in terms of lights and what's happening….
"The other approach takes you to the same moment, but it's unplanned. And with aerial photography it happens a lot. Maybe you take 35, 45 minutes to get to where you're going, but on the way there's many things happening that you didn't think about. Maybe you cancel the original plans with the flight because you run into something amazing….
"I would definitely say you have to have an intention on why you're taking that picture, and also on what that picture is saying. It's not just a moment, it's not just capturing something, but it's what that picture can say to somebody. Different people can interpret a picture differently, but be intentional about that picture."