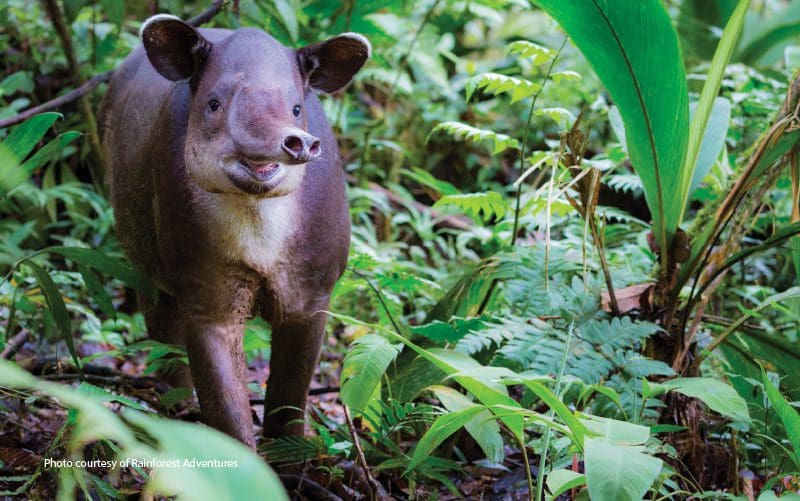 Protecting One Species at a Time
Protecting One Species at a Time.  The theme of Earth Day 2019 is "Protect our Species." With over 500,000 wildlife species in Costa Rica, it is vital to keep the biodiversity alive and thriving in this Central American isthmus.  Thanks to the preservation efforts of Rainforest Adventures since its opening, some in partnership with scientists around the world, biodiversity protection is an ongoing daily practice at the company's two private reserves. Educational tours encourage visitors to become sustainable travelers and take these practices and observations beyond Costa Rica's borders.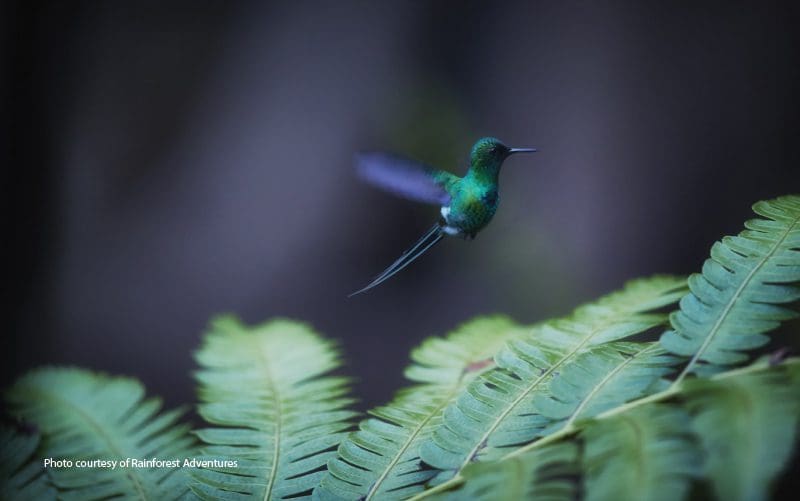 Wildlife research and protection initiatives at Rainforest Adventures' park sites encompass many discoveries of rare species or allow the study of species never studied in their natural habitat. From a diverse variety of birds and mammals to reptiles and amphibians, these animals are protected and cared for with love at Rainforest Adventures.
Educational tours encourage
visitors to become sustainable travelers.
Caribbean Coast – Braulio Carrillo
Bairds tapir (Tapirus bardii)
For 12 years, Central America's largest land mammal has been observed and protected at this Rainforest Adventures location. The first spotting was a female, in 2007, and since then naturalist and scientists have noted at least six babies (three males and three females) born and raised in their natural habitat. The tapir is the namesake of Tapirus Lodge and visitors regularly see tapirs in the main area of the park.
Coronated tree frog (Triprion Spinosus)
This rarely seen amphibian has become a popular favorite at Rainforest Adventures through the efforts of Stanley Salazar. For the last three years, Salazar, who is passionate about amphibians and reptiles, has studied and improved reproductive conditions for the coronated tree frog at the private reserve. The results have amazed and delighted participants to see this rare amphibian on the night tours offered onsite.
Yellow-eared toucanet (Selenidera spectabilis)
Park guide Reimer Palma's observation of a yellow-eared toucanet nest during a birding tour proved to be a scientific breakthrough. This inadvertent discovery in 2017 enabled Alan Rodríguez, a naturalist, and Dr. Luis Sandoval, an ornithologist, to undertake unprecedented observations of two yellow-eared toucanets nests. Never before have researchers been able to identify the nesting and parenting behaviors, as well as chick development, of this beautiful bird.
Green thorntail hummingbird (Discosura conversii)
The discovery of a green thorntail hummingbird nest by park guide Daniel Torres in 2001 led to more groundbreaking research at Rainforest Adventures. Description and scientific notes were done by ornithologist Julio Sanchez. Again, these observations of nesting, parenting and chick development for the brightly colored fowl were the first of their kind.
Pacific Coast – Jacó
Scarlet macaw (Ara macao)
This bright red avian is a fan favorite at Rainforest Adventures' Jacó site. The company, along with Costa Rican and international environmental authorities, has actively protected nest areas within the park and neighboring properties.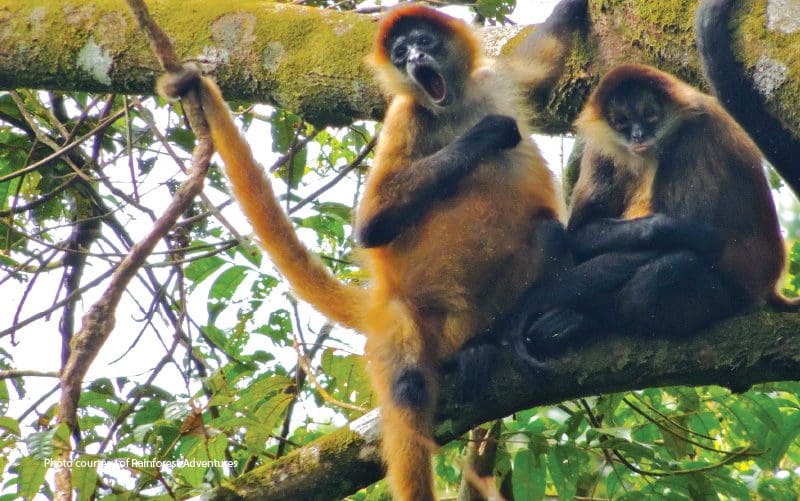 Geoffroys spider monkey (Ateles geoffroyi)
Listed as "endangered" on the International Union for Conservation of Nature's Red List of Threatened Species, the Geoffroys spider monkey is another crowd pleaser at Rainforest Adventures' Pacific park. Habitat protection efforts have provided a unique opportunity to observe the troop's growth through the years.
To see for yourself these and other rare and spectacular creatures, visit Rainforest Adventures. Support and be part of the company's efforts to protect our species.