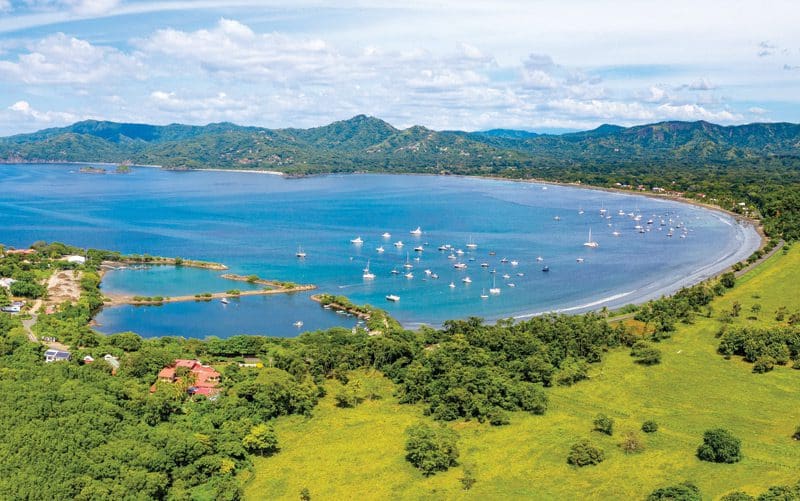 Now and Then: Flamingo and Mar Vista
Playa Flamingo Now and Then, make Mar Vista today: Playa Flamingo and the surrounding areas have been popular destinations for years, but many things have changed over time to make one of its neighborhoods, Mar Vista, what it is today.
For decades, Costa Rica had been a coveted locale for surfers, but with the release of "Endless Summer II" in the 1990s, which featured well-known Tamarindo resident Robert August surfing nearby Witch's Rock, this area was put on the map for wave seekers. Surfers from around the world now visit Roca Bruja (the Spanish name for Witch's Rock) to catch some of the best waves in the country. From Playa Flamingo, just a short 25 minute drive, this unique surf spot named for the witch-like howling wind around the gigantic rock is a legendary destination.
Access to education in the area
has become more and more important.
Years ago, getting to the coast was not an easy feat. Though there was once a short airstrip right in Playa Flamingo for private charter access, Liberia's commercial airport was small and not commonly used until the mid 1990s. Today Daniel Oduber Quirós International Airport is the sixth busiest in Central America, with over one million passengers flying in and out annually. The drive from Liberia used to include plenty of bumpy dirt stretches and an occasional river crossing, until recent paving and bridge building. Mar Vista is conveniently located less than an hour from the airport, with a smooth drive the whole way.
Playa Flamingo was always a community centered around boating, with the first privately built marina beginning its operation in 1989, before the existence of the Costa Rican Marine Law. In 2004 it was closed, and the community anxiously awaited approval for a new marina by the National Technical Secretariat of the Ministry of Environment (SETENA). With plans approved for 200-plus boat slips, plus a boutique hotel, marina-front bungalows, a convention center, restaurants and shopping; there is much to look forward to in Flamingo's future.
Access to education in the area has become more and more important with the Flamingo area's population growing. There are now many options for Pre-K to 12th grade schools in the area, including the accredited IB Diploma School, La Paz, located in the Mar Vista project. La Paz is a bilingual school with the goal of integrating students from all income levels and backgrounds with its scholarship program at a convenient location to Mar Vista families. La Paz along with many other education options such as CRIA, Educarte, Tide Academy and The Waldorf School, have helped to create the perfect place to raise a family.
When the development first began on this stretch of coast, there weren't many laws in place to protect the area's natural resources. Since then there have been many efforts to protect the local wildlife, like the establishment of Marino Las Baulas National Park in 1990. This park now protects the endangered leatherback turtles, who come every year to nest on the shores of beautiful Playa Grande. Mar Vista is dedicated to its own eco-friendly practices, including reforestation within the development, and setting aside 30 percent of the area as a reserve.
As the Flamingo area continues to expand and develop, Mar Vista will remain one of the community's leaders for positive, eco-friendly growth.  At an address to be remembered, contact Mar Vista or come by and enjoy anytime.  The beauty never fades and the life you dream about is real.
Want more information about Mar Vista?
contact Gina Briguglio, Telephone: +1 506 8423 4370 or email: info@marvistacr.com
Tell them you learned about Mar Vista Development from Howler Magazine


or submit your inquiry below
Building in Costa Rica HOWLER Articles
---
Building Greener in Guanacaste
Picking the Right Windows
Swimming Pools, Design Construction and Maintenance
Know Before You Buy, The importance of Home inspection
From Dream to Reality
Picking your Dream Property
Storm Protection for Your Home
Roofing 101: Guanacaste Style
Guanacaste Tropical Hardwoods
Going with the flow: Rain Runoff and Erosion
Understanding Tico Plumbing