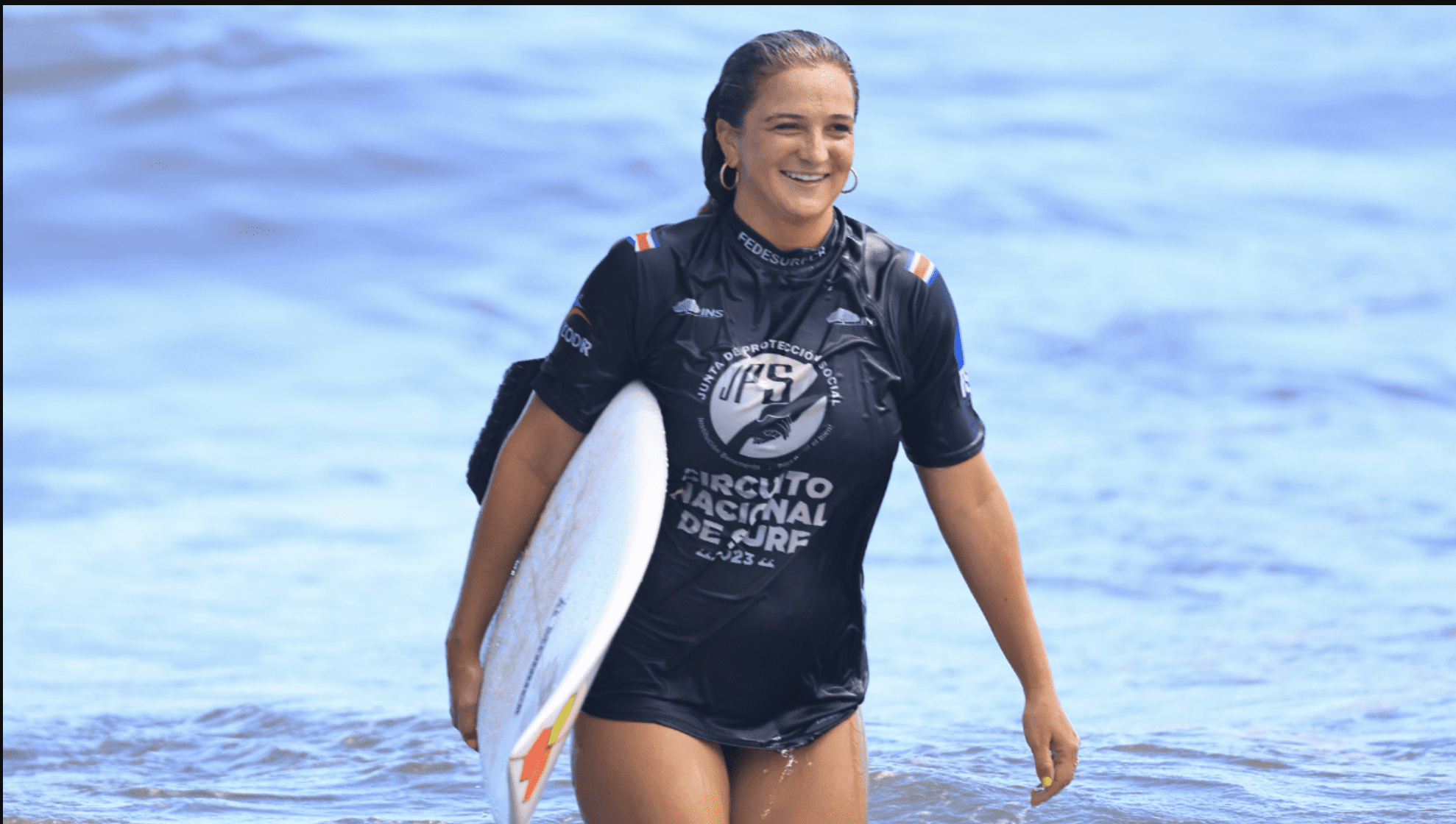 In a weekend with excellent waves, more than 160 athletes and their companions from all over the country visited Dominical de Osa beach, contributing to the local economy and promoting sports and a healthy lifestyle.
The O'Neill Dominical Pro Cup was the fourth stop of the 2023 National Surf Circuit (CNS), presented by the Social Protection Board, Grupo INS and Banco Lafise. It has begun to outline the next national surfing champions, to be defined in Playa Guiones, Guanacaste, site of the final CNS 2023 date on July 22 and 23.
Surfers in 16 categories participated in this event, with the novelty being the launch of the Female Master category, where women over 35 years of age participate. Lisbeth Vindas, 11-time national champion, was the winner of this new category at Playa Dominical.
The Men's and Women's Open categories were won by Samuel Reidy, a local from Dominical, and Coral Wiggins from Guanacaste. Wiggins strengthened her leadership in the women's ranking after taking her second consecutive victory and adding four podiums from four dates.
The final date in Guiones will be when the 2023 champions are crowned.
These are the final results of the 2023 O'Neill Dominical Pro Cup:
Dolphins Male
Mikela Castro 10.67

Ian Brito 9.00

Kelian Brenes 5.93
Dolphins Women
Mikela Castro

Kalena Bryant

Summer Hidalgo

Isabella Vargas
Mini Grommets
Axel Obando 13.66

Koa Bryant 12.9

Dario Vargas 9.77

Jaziel Torres 6.23
Male Grommets
Amets Garai 11.8

Eduardo Rugama 10.97

Nicolas Boos 8.26

Dario Vargas 6.87
Female Grommets
Lucía Cristi Soaje 9.50

Summer Hidalgo 8.13

Mikela Castro 8.13
Boys
Kian Ashara 11.8

Ethan Hollander 11.66

Fabian Rosales 10.47

Eduardo Rugama 7.1
Girls
Erika Berra 11.83

Aine Joy Crilly 6.1

Mikela Castro 4.33

Belen Rojas 3.67
Junior Male
Ethan Hollander 12.87

Noah Arce 12.10

Nadav Attar 11.97

Romeo Marín 10.30
Junior Female
Rachel Aguero 12.17

Erika Berra 4.7

Isabella Ayre 4.7

Zoe Dayman 2.07
Men's Longboarding
Anthony Flores 12.50

Ariel Gonzales 8.00

Diego Naranjo 7.50

Marcell Oliveira 6.10
Women's Longboarding
Lia Diaz 11.17

Cristina Rojas 6.06
Master Female
Lisbeth Vindas 10.17

Leonie Awad 7.30
3. Zephyr Robb 2.83
Male Master
Diego Naranjo 11.83

Gilbert Brown 11.33

Christian Boos 8.2

Juan Carlos Naranjo 7.63
SUP Surfing
Marcell Oliveira 13.17

Juan Manuel Bernini 11.84

Andrés Casafont 6.20

David Sanchez 4.04
Women's Open
Coral Wiggins 10.16

Lia Diaz 6.20

Rachel Aguero 4.83

Lisbeth Vindas 4.6
Men's Open
Sam Reidy 15.06

Jason Torres 14.26

Andreas Schneider 13.57

Andy Chacon 8.27
Reprinted from the Federacion de Surf de Costa Rica
Coral Wiggins from Guanacaste strengthens her leadership and is closer to being a national champion.
Photo by Fabian Sanchez