Multi-level luxury mountain home with panoramic central valley city and mountain views. Exquisite detailing with imported India stone, Chilean wood, and exquisite contemporary design.
Designed to entertain with triple-deck exterior terraces, outdoor jacuzzi, and beautiful landscaped gardens.
Independent guest house offering two bedrooms and a complete bathroom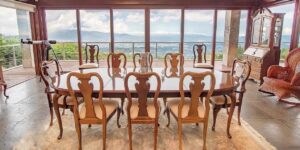 Expansive 7+ acre property in Brava de Heredia within private residential community.
The Heredia Mountain home offers multilevel luxury nestled on a gently-hilled property of 7+ acres with breathtaking views of Costa Rica's central valley. This distinctive mountain getaway home offers multiple integrated social areas in both floors, triple outdoor decks, an outdoor Jacuzzi and an independent guest house. Its unique and contemporary style is part of renowned architect Javier Rojas' artwork. The Mountain Top Home is nestled in massive 29,870 m2 property located 6000ft above sea level within a private residential community with a private location.
Past the main driveway, the main concrete driveway at The Mountain Top Manor guides through the manicured gardens and up to the main entrance of the home. Indian stone detailing and Chilean pine tree covered columns blend to create the contemporary and refreshing design that characterizes the house. Three sets of stone stairs with exotic planters at each side welcome you at their end to a German, double-wide wood door and into the foyer.
The foyer is a central feature of the home with double-height ceilings that, like the rest of the home, ensure plenty of natural light and refreshing mountainside views. In front of the main door is the family entrance that connects to the garage, and to each side a hallway leads to the social and private areas.
The left hallway welcomes guests to the kitchen area of Mountain Top Manor. This is a spacious and integrated area with high ceilings and panoramic city and mountain views, perfect to relax and entertain. The space combines a dining area, TV room and the kitchen. The latter boasts and L-shaped counter that includes a breakfast bar and a practical central kitchen island with a smoke extractor, equipped with German Poggen Phol furniture.
To two of its sides, the TV and dining rooms are located, the first offering glass doors that open to a large terrace with a fireplace. The dining room boasts double-height ceilings and floor-to-ceiling windows that contribute to its ample and comfortable space, and opens to a decked balcony that connects to the terrace.
In this same floor, Mountain Top Manor features an almond wood hallway that introduces the office space boasting Doninelli concrete floors and access to the garden. The wine cellar, with wood floors bordered by stone detailing and an elegant skylight in the ceilings, is perfectly located right before the social area and equipped with fine wood furniture. From here, Mountain Top Manor's social area is accessed through almond wood stairs with natural and indirect lighting that welcome you to a grand area equipped with his and hers bathrooms.
The social area boasts an L-shaped design with a bar and living room that connect to a deck-styled terrace and BBQ area. The area boasts a bar with a wood counter that can sit four people and a dining and living area with stone walls and a cozy fireplace. These are all naturally lit due to expansive windows and accesses to the terrace. Here, the open distribution, decked floor and heated Jacuzzi overlooking the stunning 180 degrees views of the central valley, make it one of the house's most distinguished and pleasant areas.
Back in the foyer, the remaining hallway leads to the private area and master suite. A double-wide door opens to wood floors and high ceilings that characterize this ample room. Glass sliding doors introduce a balcony with stone columns and detailing, incorporating light and landscaped views to the bedroom. Up an attic-styled staircase, the master bedroom offers an open design meditation or reading area. In addition, a double walk-in closet and a bathroom boasting a dual sink and a Jacuzzi with marble veneer are offered.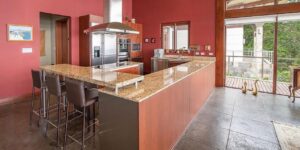 An almond wood staircase connects down to two secondary bedrooms on the lower level. They each boast black concrete floors, garden views and a closet and bathroom. The Heredia Mountain Top Manor also offers a 45m2 guest house with two bedrooms and a complete bathroom.
Apart from the intricate details and heartwarming design, the house is equipped and decorated with the best brands and materials. The bathrooms boast American Standard sinks and granite tops. Euromobilia furniture and granite tops are offered in the kitchen, along with GE Monogram appliances including the BBQ. Finally, Spanish windows and bathroom veneer from Brazil, Colombia and Spain add even more flair to the Mountain Top Manor.
In addition, this beautiful property sitting 1,810 meters above sea level has pipework and electricity ready for two future houses. Mountain Top Manor is located in a private and safe residential and also offers a private soccer field behind the home, in the wonderful area of Barva de Heredia.
CLICK LOGO
Rock Patterson, Coordinator
rock@inlovewithcostarica.com
US Phone 407-535-9939
Lana Taal, Real Estate Agent
Lana@inlovewithcostarica.com
CR Phone 506 8660 2063