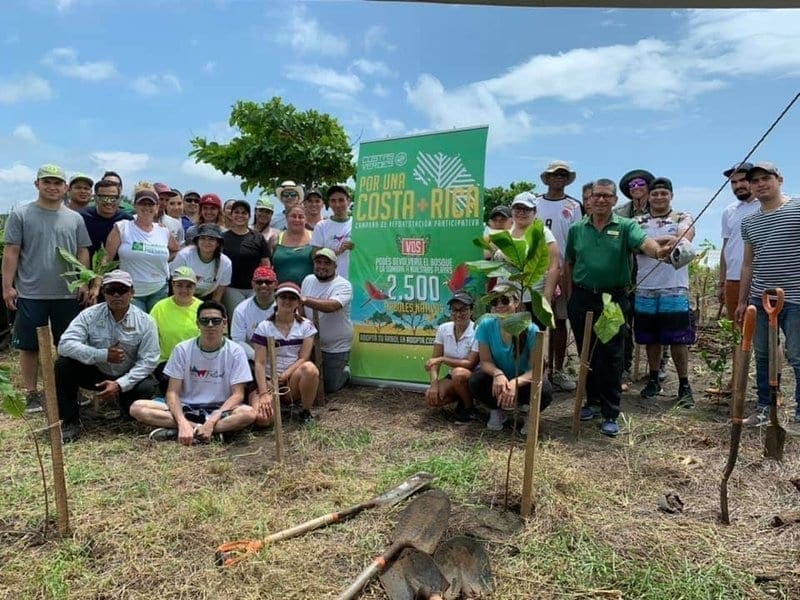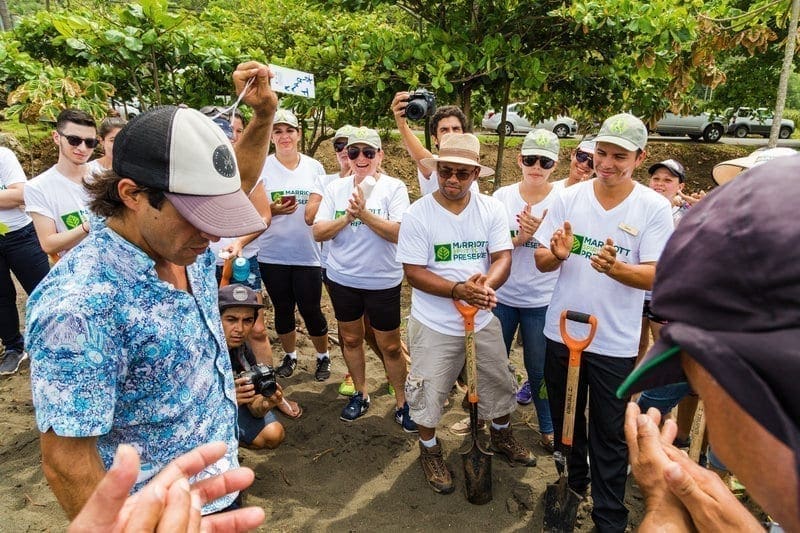 Marriott Hotels
A look towards a greener and supportive future
Marriott hotels in Costa Rica innovate towards increasingly pleasant stays for travelers, framed in a social and environmental sustainability strategy called 360 Serve. This allows them to extend the benefits of their operation to the communities in which they are located.
As part of this commitment in 2020, Costa Rica Marriott Hacienda Belén in Heredia and Los Sueños Marriott Ocean and Golf Resort in Playa Herradura have the goal of achieving 10 hours of volunteer time per associate. This can be accomplished through educational support projects or cultural, environmental and health activities.
Results of such hotel initiatives in recent years include more than 2,800 trees planted on the Pacific coast, support for employability programs, donations to organizations that help vulnerable populations, and support for entrepreneurs in the area.
"We are committed to offering our guests memorable experiences and, at the same time, contributing to the development of our communities and their people," said Dennis Whitelaw, Country Manager Marriott Costa Rica. "If our operation, efforts, and the talent of our associates can positively impact, let's do it."
'If our operation, efforts, and the talent of our associates can positively impact, let's do it.'
The 360 ​​Serve plan is aligned with the Marriott International Goals to 2025 and the United Nations Sustainable Development Goals. It is divided into four areas as follows.
The hotels have collaborated with Chepe se Baña — an organization that provides care to the homeless — by donating cleaning supplies and participating in promotional campaigns. They have also worked with Hogar Bíblico Roblealto, an agency providing shelter and social support to children, in giving educational talks about environmental and cultural topics.
Empower



The hotels have an alliance with Aldeas Infantiles SOS for its Youth Career Initiative program. It encourages young people from the ages of 15 to 24, with limited resources, to learn life and work skills. 
"This program allows young people to increase their employability as well as improve their long-term socio-economic opportunities," added Whitelaw.
In alliance with other companies, more than 100 adolescents have graduated from the program and more than 90 young people got a job.
In addition, the hotels participate in three other empowerment-related programs: 
Me Integro

provides hotel training to people with disabilities. As a result, 31 people with different types of disabilities have been trained. 

Girasoles

has trained teenagers from the Garabito community in hotel tasks and facilitated internships at the Herradura property. 

Challenge Golf

,

since 2005, has been bringing together people with disabilities to develop new motor skills through this sport.
Sustain



In the sustainability area of the 360 Serve plan, Marriott has an alliance with Costas Verdes to plant endemic species of trees and clean Hermosa and Herradura beaches. 
"Since 2018, Los Sueños Marriott Ocean and Golf Resort is the main sponsor of the organization, donating $1 for each resort fee," said Whitelaw. "This alliance has allowed us to plant more than 2,850 trees through volunteers".
Welcome



As a longstanding hotel brand with industry distinction, Marriott embraces inclusion and maintains a strong commitment to making its guests and visitors feel welcome.
For that reason, both hotels signed the San José Declaration in 2018 and every year renew a commitment to promote human rights and equality for LGBTIQl + people. As well, they create safe work spaces and carry out awareness and education actions in this topic.
Also year after year, all associates receive a training in human trafficking prevention.
"Companies play an increasingly critical role in addressing the country's social, environmental and economic problems. This is why we have a unique responsibility and opportunity to create a positive impact and execute a sustainable model where we do business," Whitelaw concluded.
By 2025, some of Marriott International's goals as a global company are to add 15 million volunteer hours, donate at least $5 million to social programs and ensure all of its employees worldwide are trained in human rights.
Photo Credit : Photos courtesy of Costa Rica Marriott Hacienda Belen and Los Sueños Marriott
SPANISH
Hoteles Marriott:
una mirada hacia un futuro más verde y solidario
Los hoteles Marriott en Costa Rica innovan hacia estancias cada vez más placenteras para los viajeros, enmarcadas en una estrategia de sostenibilidad social y ambiental llamada 360 Serve, que les permite extender los beneficios de su operación a las comunidades en las que se ubican.
Como parte de este compromiso, este año Costa Rica Marriott Hacienda Belén en Heredia y Los Sueños Marriott Ocean and Golf Resort en Playa Herradura tienen la meta de lograr 10 horas de voluntariado por asociado, ya sea en proyectos de apoyo educativo, actividades culturales, ambientales o de salud.
La siembra de más de 2.800 árboles en la costa del Pacífico, el respaldo a programas de empleabilidad, donaciones a organizaciones que ayudan a población vulnerable y apoyo a los empresarios de la zona, son algunos frutos de las iniciativas que han desarrollado los hoteles en los últimos años.
"Estamos comprometidos con ofrecer a nuestros huéspedes experiencias memorables y al mismo tiempo, contribuir con el desarrollo de nuestras comunidades y sus habitantes. Si nuestra operación, esfuerzos y el talento de nuestros asociados pueden impactar de forma positiva, hagámoslo", dijo Dennis Whitelaw, gerente país de Marriott en Costa Rica.
El plan 360 Serve está alineado con los Objetivos de Marriott International a 2025 y los Objetivos de Desarrollo Sostenible de las Naciones Unidas, y dividido en cuatro ejes: Cultivar a nuestro mundo, Empoderar a las personas, Mantener operaciones responsables y Todos son bienvenidos.
La colaboración con Chepe se Baña -una organización que brinda atención integral a habitantes en condición de calle- mediante la donación de artículos de limpieza, voluntariado y en la logística de campañas; así como con el albergue para niños en riego social Hogar Bíblico Roblealto, en el acompañamiento de temas ambientales, culturales y el apoyo en el desarrollo de temas educativos, son las iniciativas que han ejecutados los hoteles bajo el primer eje.
En términos de empoderamiento, destaca la alianza con Aldeas Infantiles S.O.S. en el desarrollo del programa Youth Career Initiative, dirigido a jóvenes con edades de 15 a 24 años de escasos recursos, a través del cual se les enseña habilidades para la vida y para el trabajo.
"Esto les permite incrementar su empleabilidad, así como mejorar sus oportunidades socio económicas a largo plazo", agregó Whitelaw.
En alianza con otras empresas se han logrado graduar del programa más de 100 adolescentes y contratar más de 90 jóvenes.
Otros programas en los que los hoteles participan son: Me Integro, Programa Girasoles y Challenge Golf . El primero brinda formación hotelera a personas con discapacidad. Como resultado, se ha logrado capacitar a 31 personas con distintos tipos de discapacidad en edades entre los 16 y los 58 años.
Por su parte, Girasoles ha formado a adolescentes de la comunidad de Garabito en tareas hoteleras y les facilitado pasantías en la propiedad de Herradura; mientras que Chellenge Golf reúne a personas con discapacidad desde 2005 para que a través de este deporte puedan desarrollar nuevas habilidades motoras.
En términos ambientales, la alianza de Marriott con Costas Verdes se traducen en la siembra de especies endémicas y más de 100 limpiezas anuales en las playas Hermosa y Herradura.
"Desde el 2018 Los Sueños Marriott Ocean and Golf Resort es el principal patrocinador de la organización, donando $1 por cada resort fee; esta alianza nos ha permitido sembrar por medio de voluntariados con clientes, comunidad, estudiantes y asociados, más de 2850 árboles", puntualizó Whitelaw.
Marriott como marca hotelera con larga trayectoria y distinción de la industria, abraza la inclusión y mantiene un sólido compromiso con hacer sentir bienvenidos a sus huéspedes y visitantes.
Es por esto que los dos hoteles firmaron la Declaración de San José en 2018 y renuevan cada año un compromiso para promover los derechos humanos y la igualdad de personas LGBTIQl +, así como crear espacios de trabajo seguros y realizar acciones de sensibilización y educación en este tema.
Paralelo, año a año, todos los asociados se capacitan en prevención del tráfico humano.
"Las empresas juegan un papel cada vez más crítico en enfrentar los problemas sociales, ambientales y económicos del país. Es por esto que, tenemos una responsabilidad y una oportunidad única crear un impacto positivo y ejecutar un modelo sostenible donde hacemos negocios", finalizó Whitelaw.
Para 2025 algunas de las metas de Marriott International como compañía global son sumar 15 millones de horas de voluntariado, donar al menos $5 millones a programas sociales y que el total de sus empleados en todo el mundo estén capacitados en derechos humanos.