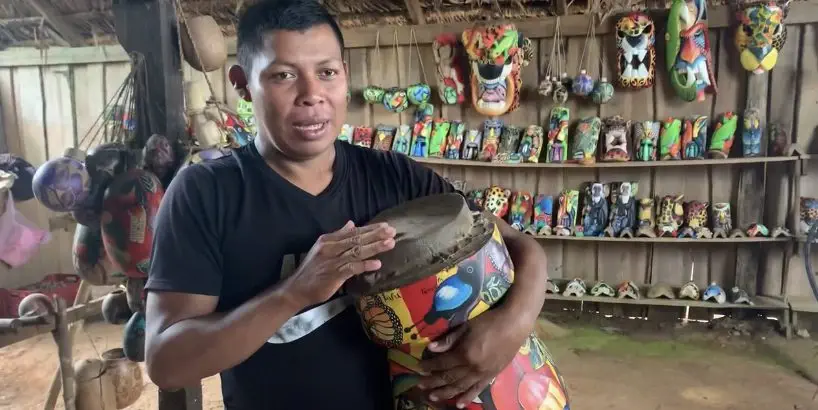 The Maleku are an indigenous group of people living in northwest Costa Rica. It is the country's smallest tribe, numbering only about 650 people. They speak the Chibchan language, but all are bilingual in Spanish.
The forest is everything to the Maleku community. Dago, one of the Maleku elders, said that the forest is their pharmacy, restaurant, chapel, and hardware store. He can show you plants for medicinal purposes; reeds for weaving strong, waterproof bags; gourds to make bowls and cups; and saps for glues. 
However, since their forest has been repurposed and stripped by outsiders, the Maleku people can no longer sustain themselves from what the forest produces. They turned to tourism to raise money for themselves, but the pandemic stopped nearly all income from that.
Dago explained that the way out for his people is not from donations, because they do not want to become dependent on others. He is convinced that their children must have both a Maleku and Costa Rican education, thereby learning skills to work in whatever job they choose. However, he pointed out, they need help to buy uniforms, school supplies and backpacks. 
Dago knows that the Maleku residents' future depends upon not isolating themselves, but rather learn to thread their cultures with others to grow together. His vision is to join with like-minded
people and share knowledge and experience so that everyone can benefit. Whether the sharing comes from face-to-face meetings, where people walk alongside each other, or from video courses, it is his dream that the Maleku traditions, language, and culture are not lost.
Dago and the Maleku have much the same goals as families everywhere — that their people prosper and enjoy the world's bounty.
We hope you will consider joining us at SoulGives, either to provide financial support through  purchases or donations, or by volunteering to help with causes like this.
Other SoulGives articles:
Learn more: SoulGives.org
See this article in the magazine:
See what SoulGives is doing for the Maleku community and others in Costa Rica (click photo)