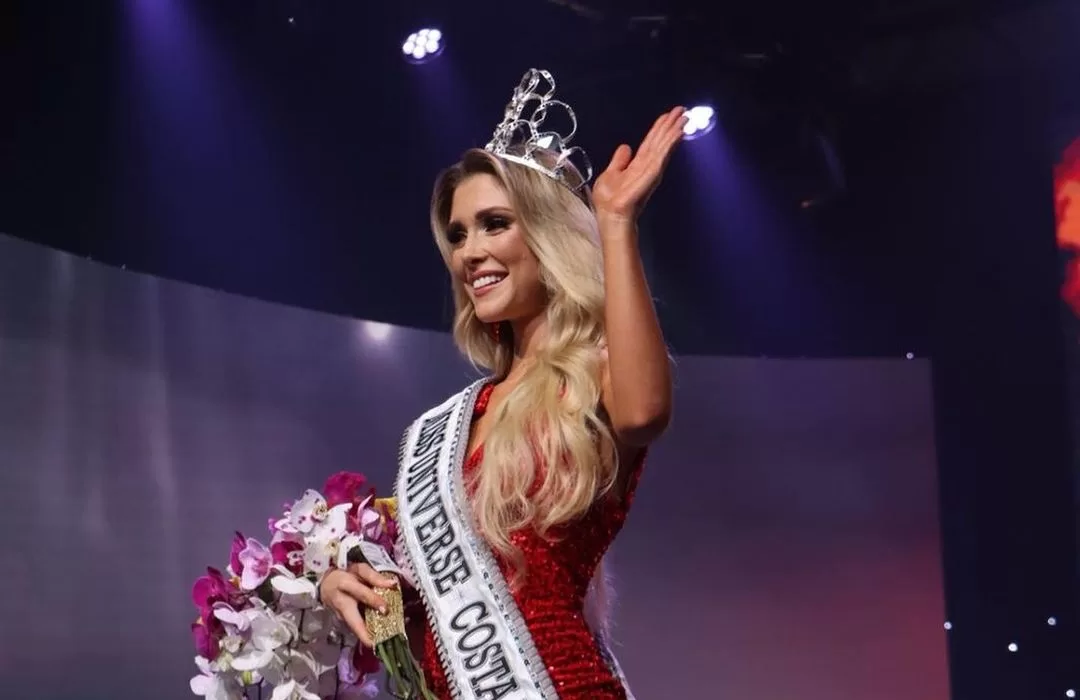 A Remarkable Achievement Miss Costa Rica 2023
In a dazzling spectacle that unfolded on the stage of Televisora de Costa Rica (Teletica) on August 16, Lisbeth Valverde Brenes emerged victorious, clinching the title of Miss Costa Rica. This exceptional 28-year-old, hailing from the charming town of San Ramón, has not only secured the coveted crown but also aims to illuminate her remarkable social endeavor, "Manos Unidas Costa Rica."
A Radiant Symbol of Costa Rican Beauty
Lisbeth Valverde, not only a symbol of Costa Rican beauty but also a beacon of inspiration, is more than just a titleholder. Her passion for her community shines through her commendable social project, "Manos Unidas Costa Rica," which underscores her commitment to making a positive impact. Beyond the dazzling exterior, her dedication to creating change truly sets her apart.
An Array of Prizes Await the Queen
Lisbeth's victory comes with a magnificent array of rewards, each signifying the admiration and recognition she deserves. Designed by the renowned Jorge Bakkar, her crown graces her with regal elegance. Alongside this, she will receive a substantial cash prize of ¢3 million, a new car, and access to specialized care. From the Kaver Dental Clinic to the Fumero Medical & Skin Center, her well-being is undoubtedly valued.
A Royal Wardrobe and Glamorous Transformation
The transformation into royalty doesn't end there. Lisbeth Valverde will step into her reign with style and grace, thanks to a wardrobe curated by Valesky Boutique, shoes by Daniel del Barco, and makeup by Kryolan. Marzú's hair care products and Joha Pérez Studio's eyebrow and eyelash designs will further enhance her elegance. Not to forget, Rosé will provide impeccable manicures, ensuring she's always ready to shine.
A Journey to Radiant Health and Fitness
Lisbeth's journey as Miss Costa Rica 2023 isn't just about aesthetics; it's about holistic well-being. A year's supply of Fit N' Tasty diet plan, swimming lessons at Crawl Swimming, and guidance from Nany Sevilla at Orange Theory Fitness guarantee her vitality and energy throughout her reign. This comprehensive care ensures that she's not only beautiful but also empowered from within.
The Grand Finale: A Night to Remember
The grand finale of the pageant, an event eagerly awaited, commenced at 8 pm in a burst of energy and excitement. As the enchanting tunes of Dua Lipa reverberated, the nine accomplished candidates showcased their rhythm through captivating musical choreography. The vibrant personalities of the participants came to life as they introduced themselves to the eager audience.
Grace Under Pressure: Personality Test Results
A pivotal phase of the competition involved a round of thought-provoking questions. This segment unveiled the essence of each candidate's personality, and the judges' discernment led to intriguing results. The remarkable Lisbeth Valverde secured the top spot, impressing with a remarkable score of 9.08. Yoselyn Porras and Natalia González followed closely, scoring 9.00 and 8.83 respectively.
Elegance in Motion: Parade of Confidence
The competition, multifaceted and diverse, saw the candidates embrace their confidence on the runway. Clad in bathing suits, they radiated elegance and poise. Lisbeth Valverde shone yet again, attaining a score of 9.17. Fabiola Calvo and Alejandra González displayed their flair, achieving scores of 9.00 and 8.83 respectively. This segment was a testament to their grace under the spotlight.
A Glamorous Culmination: The Evening Dress Parade
The pinnacle of the event was the enchanting parade in evening gowns, adorned with spectacular designs from Valesky Boutique. The trio of judges, comprising Diana Bonell, Véronique de la Cruz, and Rodolfo González, celebrated the elegance of the top three contestants. Lisbeth Valverde's elegance soared, achieving an impressive score of 9.67. Natalia González and Yoselyn Porras also stood out, securing scores of 9.13 and 8.67.
A Heartfelt Farewell and a Bright Beginning
The poignant moment arrived as María Fernanda Rodríguez, Miss Costa Rica 2022, bid a tearful adieu, making way for the dawn of a new era. With emotions running high, she passed the crown to the deserving Lisbeth Valverde, who is set to carry the legacy forward with grace, compassion, and determination.
Questions
Q1: How did Lisbeth Valverde stand out from the other contestants?
Lisbeth Valverde's exceptional commitment to her social project, "Manos Unidas Costa Rica," and her remarkable scores in various competition segments showcased her dedication and grace, setting her apart from the other contestants.
Q2: What were the prizes awarded to Lisbeth Valverde?
Lisbeth Valverde received a crown by designer Jorge Bakkar, ¢3 million in cash, a new car, and access to various specialized care services, including dental care, medical care, and beauty treatments.
Q3: How did the evening gown parade unfold?
During the evening gown parade, the top contestants graced the stage wearing stunning designs from Valesky Boutique. The judges acknowledged the elegance of Lisbeth Valverde, Natalia González, and Yoselyn Porras.
Q4: What was the standout moment of the grand finale?
The crowning of Lisbeth Valverde as the new Miss Costa Rica was undoubtedly the most impactful moment of the grand finale, symbolizing her exceptional journey and dedication.
Q5: How did Lisbeth Valverde's victory mark a new beginning?
Lisbeth Valverde's victory marked the beginning of a reign characterized by purpose, dedication, and positive change. Her focus on her social project signifies her commitment to making a meaningful impact on her community and society.