You might roll your eyes when you hear that certain celebrities have a platform for any number of things. Is it a way to get publicity for themselves or do they really believe in these causes?
Many celebrities come to mind when you hear about the environment. One that certainly stands out is Leonardo DiCaprio. He takes action. And that includes championing sea life protection initiatives that hit close to home for Costa Ricans and close to the U.S. film star's own heart.
"I spent the best five days of my life diving in Cocos Island," he told President Carlos Alvarado on November 2, 2021, when the two met to discuss ocean conservation measures during COP26, the United Nations Climate Change Conference in Glasgow, Scotland. 
Expressing to President Alvarado his desire to support the protection of what he called "a jewel" for humanity, DiCaprio reflected on the indelible impact of his experience at Costa Rica's renowned offshore national park Isla del Coco just over seven years ago.
Protected sanctuary

"I had the opportunity to swim with 15 different species of sharks," he recalled. "We stayed inside a protected marine area where it was technically illegal to hunt sharks and other marine species within 10 miles of the sanctuary, but every night we saw illegal fishing boats invade the waters just a mile offshore."

DiCaprio's recollections were a centerpiece for discussions with Alvarado and other marine conservation advocates on the same occasion, including Laurene Powell Jobs, social and environmental protection promoter. It was one of several meetings the Costa Rican President hosted during the COP26 event to discuss key issues on the country's environmental agenda. 
Also on November 2, DiCaprio expressed his excitement in a COP26 Twitter update announcing plans for Costa Rica, Colombia, Ecuador and Panama to create a biosphere reserve linking up marine-protected areas in the four countries. "A big step toward fully protecting at least 30% of the ocean by 2030," he tweeted. 
As a long-time vocal lobbyist on multiple eco-awareness fronts, DiCaprio has previously recalled his Cocos Island diving experience in the context of a global call to action for marine life protection. At the 2014 Our Ocean Conference in Washington, DC, the anecdote helped set the stage for his announcement of a $7 million pledge from the Leonardo DiCaprio Foundation (LDF) to "meaningful ocean conservation projects over the next two years."
Since its inception in 1998, the nonprofit LDF has generated more than $80 million in grants, funding over 200 high-impact projects in 50 countries. With a "now for decades" focus, collaborative LDF partnerships undertake grantmaking, public campaigns and media initiatives aimed at protecting at-risk wildlife, ecosystems and communities. Attention and funding is directed at six program areas: wildlands conservation, ocean conservation, climate change, indigenous rights, transforming California and innovative solutions.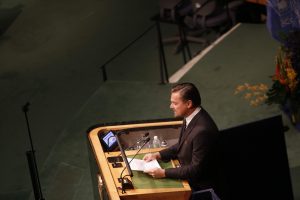 Celebrity influence
Even with media critics sometimes disparaging his lack of scientific credentials, DiCaprio has been forthcoming about the celebrity advantage that has helped him gain attention to advance  environmental causes. 
Interviewed for a Carbon Brief article about the feature-length film documentary he produced in 2016, Before the Flood, he spoke about his own initiation to once-unfamiliar subjects. "First time I heard of global warming was when I sat down one-to-one with Al Gore [in the early 2000s]. This is the most important issue of our time, he said. I had no idea what he was talking about." 
DiCaprio's activism has been widely applauded in eco-conscious circles. A Livekindly web article goes as far as suggesting he has done more for the environment than world leaders. 
Beyond the planet-saving initiatives that DiCaprio leads or participates in directly, his social media voice can readily amplify the recognition he feels is owed to others. Citing a CNN Travel article about Costa Rica's shining example of reforestation as a climate change-fighting strategy, the actor tweeted on July 29, 2020, "Costa Rica recovered its lost forest. Can the world learn from that?"
Commanding and energetic
Consistent with Howler's own proactive interest in regenerative projects, we are impressed with what Leonardo DiCaprio continues to accomplish and promote as a high-profile spokesperson who is comfortable in the spotlight and full of energy. We need people like him who can command and influence audiences to join in the change-making efforts needed to better our environment and regenerate what we have lost. 
We have invited DiCaprio to participate in Howler's regenerative movement summit in Costa Rica in 2022.
"I spent the best five days of my life diving in Cocos Island.'
See this article in the magazine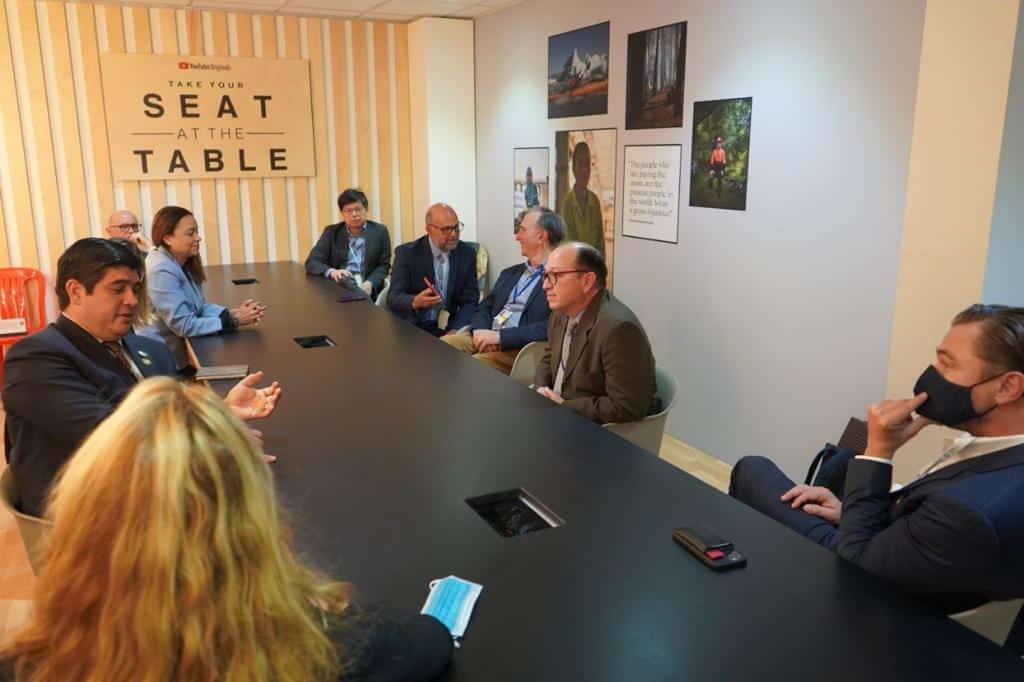 Photo courtesy of Casa Presidencial Costa Rica
Costa Rica President Carlos Alvarado (left) met with Leonardo DiCaprio (right) and other ocean conservation advocates during the recent COP26 conference in Glasgow.
United Nations statement by Leonardo DiCaprio, UN Messenger of Peace with a special focus on climate change, opening of the Climate Summit 2014.
Leonardo DiCaprio & Pres. Obama Talk Climate Change At SXSL