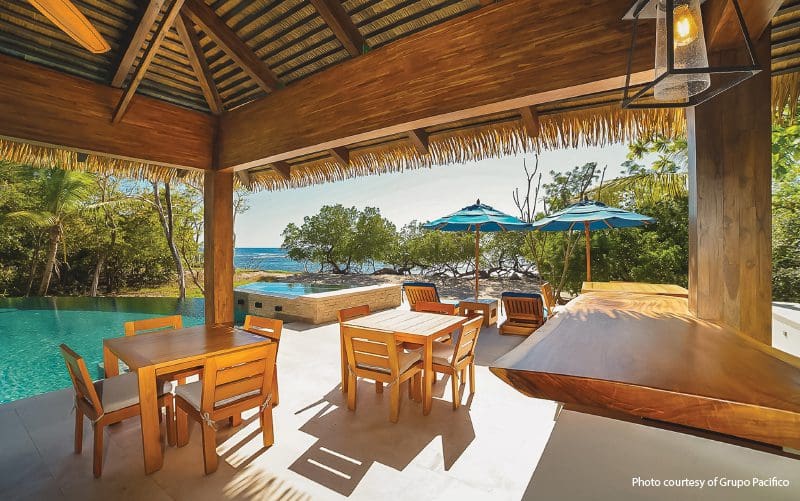 Building Your Dream in a Greener World
As one of the world's most widely recognized green-building certification programs, Leadership in Energy and Environmental Design (LEED) offers multiple assurances of satisfaction. Notwithstanding the eco-conscious motivations for building green, there are also long-term cost benefits related to energy efficiency, water use reduction, reduced greenhouse gas emissions, lower maintenance costs, and higher real estate value. Whatever you might envision for a dream property in Costa Rica, LEED-certified Grupo Pacifico strives to design and build better. Four specific project examples are as follows.
Main Photo Above:
Casa Costa Blanca
Let nature and luxury come together at Casa Costa Blanca's outdoor entertaining area while enjoying the sunset, steps away from the beach. Grupo Pacifico considered every detail and sustainable practice in this extensive redesign of an outdoor ocean viewing space. All materials were chosen with sustainability in mind: recycled plastic covering thatch for the beautiful palapa, hard surfaces composed of locally mined and manufactured materials, and wood recovered from fire debris.
Vistas del Pacifico
Cool off in Vistas del Pacifico's award-winning pool, built with LEED-applied concepts for energy efficiency, water use reduction and lower maintenance. Incorporating a lap lane, built-in swim-up bar, waterfall, island and multiple entertainment areas, it is the ideal centerpiece for weddings, receptions, parties and other special events.
Villa Mot-Mot
The best of both worlds is achieved through sustainable building and quality-of-life attributes. Villa Mot-Mot units feature an open plan living room, dining room, and open terrace to enjoy the ocean view. The pristine, stylishly designed chef's kitchen makes gourmet dining at home a pleasure.  Every detail, from construction materials to placement, was carefully planned to create a sense of ease and desired energy in the space.
Jaguar Village
Wake up to prime ocean views of the most luxurious Guanacaste bays. The newly constructed units at Jaguar Village offer an impressive return on investment. Climate-friendly features include natural cross-ventilation for reduced air conditioning consumption, dual-pane windows and fully insulated walls and roof. The drip-irrigation system for landscaping provides a lush green environment through the driest months of the year.
Read more about real estate in Costa Rica here.