From a very young age, Jaime Koss's visual interpretations have been deeply influenced by his remarkable ability to view life through diverse learning lenses.
"I felt magic in my hands when my artistic journey began in grammar school," Koss remembers, "as my teacher, Clemencia, taught us the alphabet using an ink well and a metal quill."
'I've developed a love for learning and exploring colors, which still exists to this day,'
It did not take long for the Costa Rican native to develop his extraordinary artistic style: a calligraphical combination of musical elements and special symbols to create a story.
During the decades he spent living in California, Koss worked as a graphic designer and educator in Sonoma and Silicon Valley. Additional experience as a chemist for several years gave him an understanding of surfaces and adhesions. 

Also during his time in the United States, Koss took opportunities to attend calligraphy seminars with Alan Blackman and other specialists. While benefiting from the enormous inspiration California offered, there was a downside to his all-consuming work and the hustle and bustle of large-city trappings. A search for physical and spiritual well-being led back to Costa Rica to let his artistic genius flow.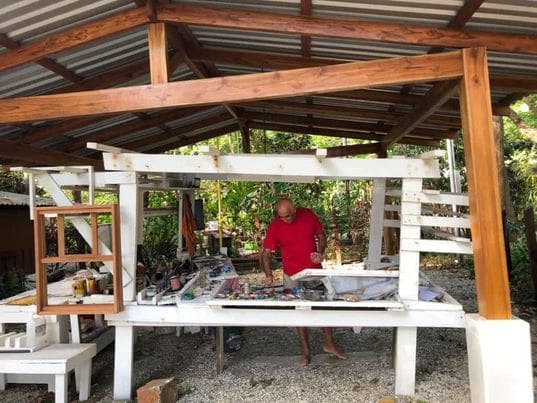 Profound imagery
Koss's paintings are full of powerful design elements: bold colors, matching and blending of shapes with an abundance of balance and profound imagery. Almost all of his pieces include what is sometimes seen as a child's toy — a top surreptitiously placed within the painting. As Jaime reveals, he regards the
 top as a symbol of searching for equilibrium in a world that is constantly spinning.
Musical elements are another hallmark of his paintings. Look closely and you will discover the shape of a guitar or a cello, perhaps a treble or bass clef or a staff and musical notes.  Koss's instrument shapes blend easily into the figures of men or women, the latter, he explains, being the givers of life and always lending the mystery of rambling secrets. His toucan becomes the symphony director, always in a good mood, with perhaps a woman in the background playing the cello.

"I've developed a love for learning and exploring colors, which still exists to this day," says Koss, now in his eighth decade of life.  
Listening to the classical works of composers like Mozart and Vivaldi, Koss feels the movement and zest while painting in his outdoor studio overlooking the beach under the shade of palm trees. 
Motivated by the works of well-known artists like Matisse, Modigliani and Tamayo, his joy is creating colors and shapes and the challenge to blend them together.
To delight your senses, see more of Jaime's art at the Hidden Garden Art Gallery. Visit us online at www.HiddenGardenArt.com; and follow us on Facebook, LinkedIn and Instagram. E-mail: info@HiddenGardenArt.com