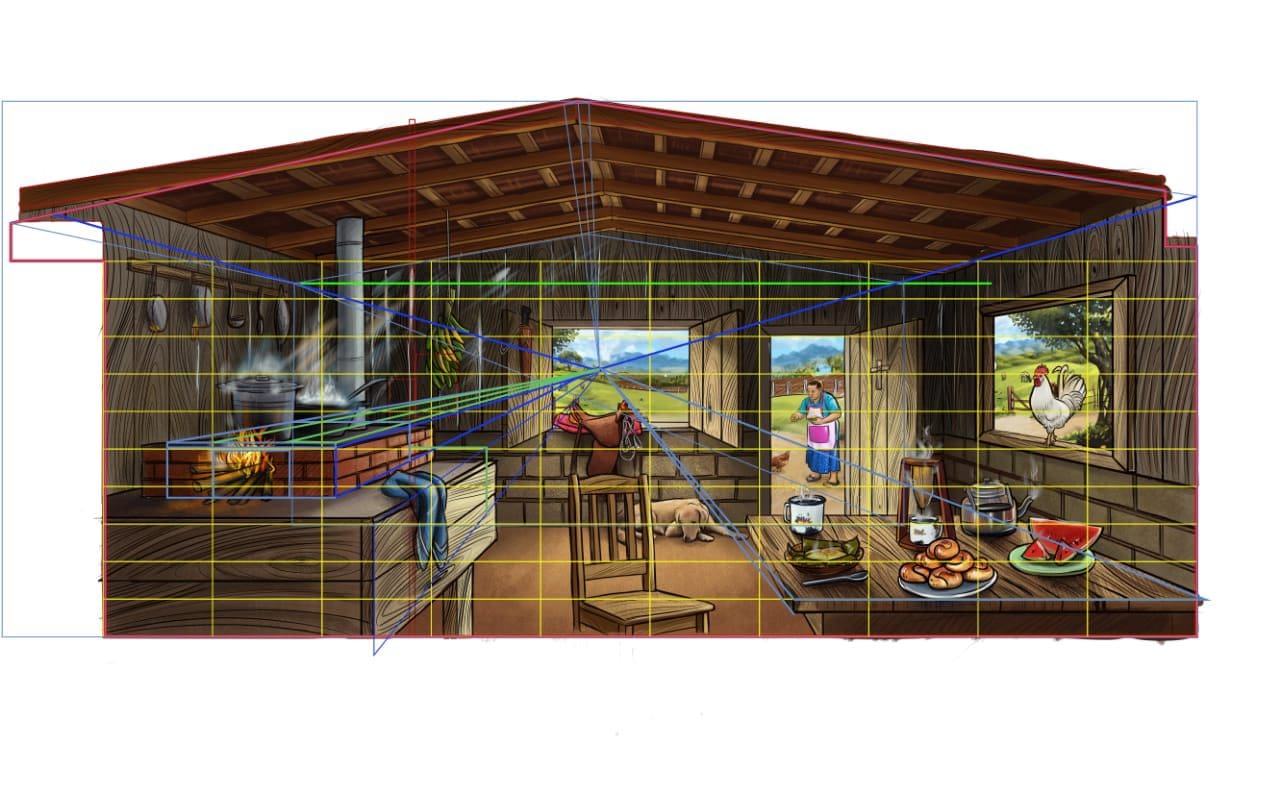 On a short, nondescript road in Jacó, you can find the post office, police station, government offices and the CCSS Jaco Clinic — the main medical facility in town. And in the parking lot at the end of the road, across from the soccer field, the weekly farmer's market pops up every Thursday afternoon and Friday morning.  
And yet, with all this local activity and pedestrian traffic, the area feels remarkably industrial. Chain link fences, parking lots and concrete walls in need of paint give the area a rather inhospitable vibe.
This bleak vibe was exactly what attracted Artify Jacó to the area, and to one wall in particular.  The wall of the Ministry of Agriculture & Livestock (MAG) faces the entrance to the local clinic and is in direct line with traffic due to a curve in the road. You couldn't ask for a better wall for public art: high visibility to an ever-changing local and tourist population in an area so central to the real heart of the community. A key objective of Artify Jacó is to connect more people to art and creativity in their everyday routine, so this wall checked all the boxes.
Considering the building's tenants, we looked for an artist who could bridge the contemporary work of previous Artify Jacó murals with an agricultural theme that would still feel fresh and interesting for viewers. A nostalgic look at farm life in a trompe l'oeil or 3-D style seemed to do just that.
For 15 days in November 2020, Pulun (Keilor) Pérez Barquero, with the help of his cousin Ariel Herrera, visited our town and created the latest mural for Artify Jacó. What follows are some of the artist's thoughts and impressions from this experience.
What is your background as an artist?
I am one of those few people who knew from childhood what I would become when I grew up. In my early years it was just a hobby, but art has such an enjoyable feeling when experienced, that you always want to learn a little more.
I am so immersed in my discipline that all my decisions revolve around my future as an artist. Working as a muralist has allowed me to get to know my country, discover new cultures and open my mind to understand new ways of thinking. Being an artist has made me the human being that I am.
What was the most challenging aspect of the mural in Jaco?
This mural made me leave my comfort zone. Those who know my work know that I enjoy painting flora and fauna, especially from Costa Rica. Creating a trompe l'oeil of a home, seen from the inside — it tested my little familiarity with painting in perspective. The most complicated part was making the sketch to ensure that everything fit well and created the desired effect.
What is your favorite detail or aspect of this mural?
The warmth that wall now projects … the feeling of coming home. I am from a rural area in Costa Rica and I feel that this painting depicts part of my childhood. Leaving aside the technical aspect of the work, I feel connected with this scene and it makes me think of my family: coming home on a summer afternoon, visiting my grandmother and sitting down to have coffee with her. I hope I can pass that feeling on to other people.
Explain your process for creating this three-dimensional effect. 
In the illustration process, the first thing I do is measure the wall and create on my computer a scale design of the wall.
Once I have the layout of the wall on the computer, the process of digitally sketching ideas begins and continues until I reach a final illustration. With this mural, the use of perspective was essential to achieve the three-dimensional effect and give depth to the scene. To transfer the illustration to the wall, the secret is to correctly locate the horizon line and the vanishing point. The rest is like painting any other mural.
As for my work style, the technique is called airbrushing. I work with spray equipment — paint guns — using quick-drying exterior enamel paint. Normally I work with a palette of 15 colors to create new colors as I need them.
What was your impression of Jacó, even though you mostly saw a small wall for most of your days?
My stay in Jacó was short — approximately 15 days was the time it took to paint the mural — but it allowed me to get involved with its inhabitants. I saw a different side of Jacó … I think a more authentic one, as this time I was not visiting as a tourist but here to paint, on the street. 
I got more involved with the locals due to the work. They were very kind and attentive to our needs and we are grateful to them.
Whenever we work in a new place, we attempt to try their food, talk to the people who live there and visit places that they recommend. I have to admit that we didn't know much about Jacó, but what little we experienced we loved. We hope to come back soon!
Any memorable moments while painting?
The people! 
I think it is important to mention the friends we made in those days painting, such as "Macho", a super-friendly man with whom I talked while he prepared me a granizado [slushie]. I am impressed by the affection that the residents have for him.
Also, a special mention to Lucas, a Colombian man with incredible energy that motivated us every morning, and the delicious food he prepared.
And I could mention many more people, who made our stay in Jacó something special. Thanks to all of them for their love.
Photos courtesy of Artify Jacó  and  Pulun Pérez Barquero