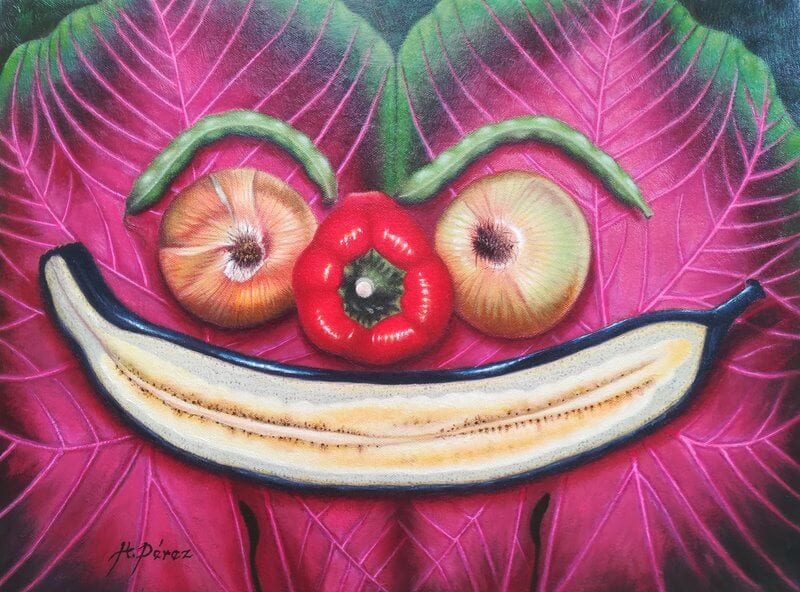 Hernan Pérez Pérez
Brushstrokes of Magic and Poetry
Hailing from the prominent port town of Puntarenas in the Gulf of Nicoya, Costa Rican artist Hernan Pérez Pérez grew up in a nautical environment of infinite imagery. His sketches as a youth depicted the ocean, estuary and mangroves, in colors extracted literally from nature. With no local art supplies, Pérez experimented with masonry pigments, mixing them with ground coal, scraped chalk, and pulverized shells.
"There wasn't a day without drawing and painting for me, "Pérez tells us. "I even extracted juices from climbing vines to obtain the appropriate vital colors. By collecting the soot of an oil lamp, I was able to learn to create the pigments."
The son of a jeweler, Hernan spent hours staring at jewel mountings and precious stones, watching artisans forge beautiful veined and highly polished pieces. With the richness of those details and surfaces etched in his mind, he learned how to mimic their essence on his canvases. He became proficient at finding the precise tones and blends of colors required in his contrasted images.
Urban evolution
Having mastered the use of available compounds to capture the shades and nuances of his subject matter, Pérez later moved to the large suburbs of San José. There his paintings evolved to rugged landscapes and portrayals of clustered and staggered cottages, from an almost Cubist perspective with exquisite details. It was during this time that Hernan studied painting essentials at the Escuela Casa del Artista. The diverse techniques he learned there included acrylic, watercolors, oil chalks, egg tempera (oil painting which uses a raw egg yolk as a binder, mixed with water and pigments), porcelain, and enameling on precious metal surfaces.
"Tourists travel for hours to visit Costa Rica to perhaps pass through our jungles and catch glimpses of wildlife," Pérez states. "Meanwhile, for me, it is all so close and easily accessible, and I am thankful every day for that. And in a magical and poetic act, I try to restore the world that my grandparents lived in and reinvent the promised land. I am convinced that my art must have a relation to this environment that shapes and molds us. Anything else would be going against the tide."
'I try to restore the world that my grandparents lived in and reinvent the promised land.'
Intertwined personal vision
Using a shopping bag as a visual resource, many of Perez's paintings, such as "Arenal" and "El Malinche," allow Perez to intertwine various images with his own personal vision. In them the viewer enjoys three paintings within one canvas. The bags, like the landscapes surrounding the central theme, have a technical treatment based on spilled paint. With pouring there is no use of brushes.  
In "Arenal," the central theme is a sabanero (cowboy) herding equines across a plain in the Arenal region of Guanacaste. It has traditional treatment based on brush strokes and transparent glazes, achieving a mix between modern and classic.
In his 2019 series, Hernan worked with color and movement to capture timeless stories and theater. "Romeo y Julieta" portrays on canvas a story full of love and passion, symbolized with reds in the background and flowers suggested in low relief. 
"Amusements in the Time of COVID-19," is a new series Pérez conceived while in self-quarantine during the current pandemic.  
"Here I try to represent images of fruits and vegetables, and human faces with various emotional expressions," he explains. "Although they are real diversions, their treatment is serious, with a very successful technique due to my many years of pictorial practice."
For more information on Hernan Pérez Pérez, please visit our website at www.HiddenGardenArt.com or contact us at info@HiddenGardenArt.com
Photo Credit : Photos courtesy of Hidden Garden Art Gallery