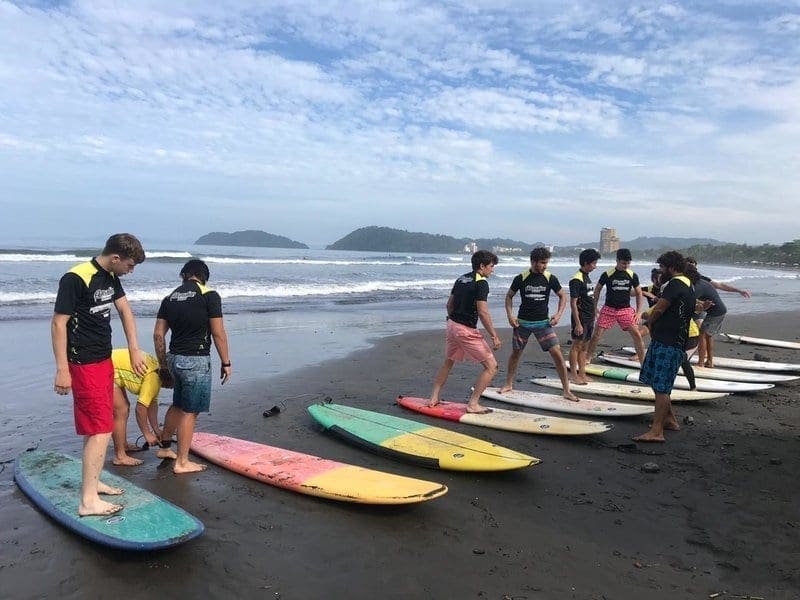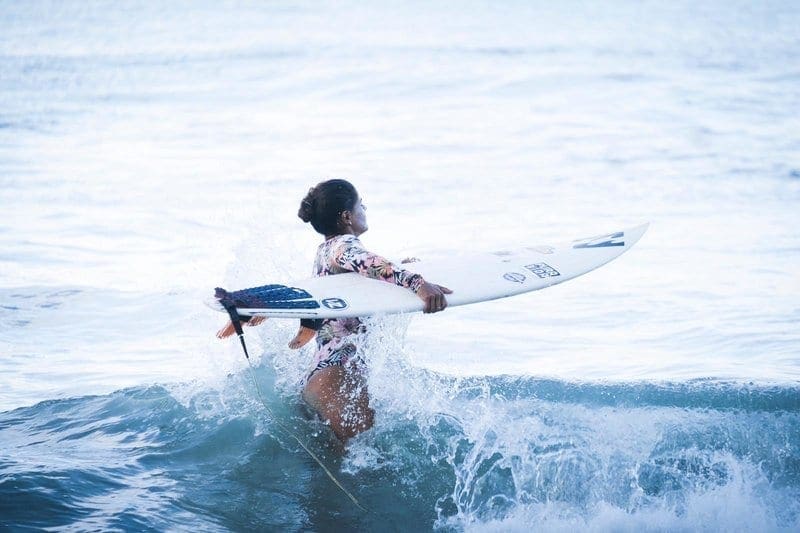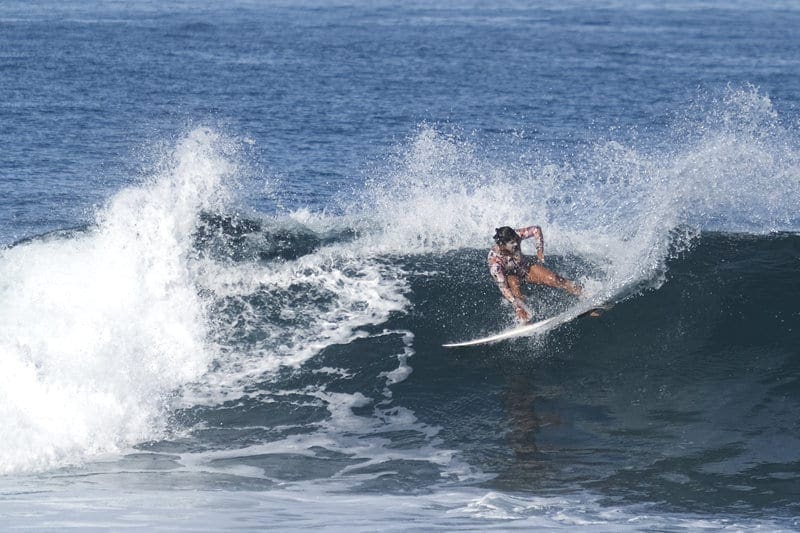 Fins Out: Lisbeth Vindas
National Surfer Launches Virtual Surf Classes
When the Coronavirus pandemic hit Costa Rica, extreme measures were taken nationwide to ensure the least impact to the country many call paradise. Likewise, restrictions were simultaneously occurring in other parts of the world. Along with the closing of Costa Rica's borders, national parks were suddenly closed and the country's well-known coastal beaches. As a result, many Costa Rican surfers were left feeling like fish out of water. 
National Surfer Lisbeth Vindas not only competes but runs a year-round surf school. The energetic, hardworking and talented Jacóbeña continued to train outside the ocean. Thinking of her many students and the classes that had to be cancelled, Lisbeth got creative. The 13-time Women's National Champion went live with Zoom classes based on the theory and practice of surfing.
I talked to Lisbeth right after surfers and local residents were once again allowed back in the water and on beaches. Effective May 18, the first phase of the reopening allows the beaches to be open weekdays from 5 a.m. to 8 a.m. 
The following are highlights of our interview.
Virtual Surf Classes 
Describe how you came up with the idea for your virtual surf school, giving classes on theory and practice.  
It began more than half a year ago. I created a presentation with a friend for a group of young people from San José on the theory of surfing. I believe it's the only presentation of this kind in Costa RIca on theory and practice. I never expected to benefit in so many ways from this. It has helped me a lot and keeps my students motivated. They have been able to learn and practice surfing at home during all the time the beaches have been closed. Additionally, it has kept me connected to surf and instruction. 
The virtual classes are something very new to me but I adapted quickly in order to accomodate my students. As a result, we have all learned through them.  
Explain what you can teach better during your chats than in the water.
The advantage of doing virtual classes is that people are paying attention. (Laughs.) Normally, when a student is in the ocean or on the beach he or she is thinking about the waves, focused on the waves, or waiting for waves to hit them on the head. Sometimes he or she is just trying to find confidence. Conversely, in a virtual class you can be very comfortable on your sofa listening to information, learning theory and practicing imaginary surfing at home. After repeating the same movements over and over again, when you finally get to the ocean to surf it's going to be much easier. The body will have memory of those exercises. 
Will you be teaching surf lessons in the ocean soon? Are there restrictions on that? 
Yes, we have to maintain the social distancing requirement on the beach and in the water. Because of this, students will need to know how to paddle on their own, look for waves and I'll have the opportunity to explain and teach them from inside the water. 
I have people scheduled and have had to cancel some classes because of the time restrictions. For now, we can only take up to two people per class because of the distance requirements, which are two meters outside of the water and five meters apart in the ocean. Depending on the tide, surf instruction may not be possible on a given day. (At the time this article was written, beaches were only open from 5 a.m to 8 a.m.) 
So many people during the pandemic have contacted me who want surf classes, not just virtually but in the ocean. I am very proud that the majority of my clients are Costa Ricans, and I take care of them. With Costa Ricans, I've had consistent work for more than three years.
The advantage of doing virtual classes is that people are paying attention.
National Pride and Call To Surfers
How proud are you of the way Costa Rica has responded to the pandemic, and Playa Jaco specifically? 
Costa RIca and all of its residents have done a spectacular job. The majority of people have been very respectful and responsible. Everyone here depends on tourism. National tourism is very important so if we do a good job, little by little the economy will pick up. Next, when the borders open, we will have the opportunity for international tourists to come again, enjoy the waves, nature and all of the excellent work that we have done in Costa Rica for the pandemic to have less of an impact. 
In Jacó, as well as all of the coastal beaches, we depend on everyone being attentive to the regulations so that the beaches will soon be open for more hours. Obviously people have to continue following protocol and being responsible. Consequently, we'll be able to enjoy more time on the beach and more waves. 
On the Reopening Of Beaches 
Describe your first day back in the ocean after two months of beaches being closed
All week I was cleaning surfboards, preparing myself. I trained and was just waiting for Monday to come. I couldn't miss the opening of the beach. I knew it wasn't going to be the right tide for Jacó to break, that it would be too low but I wanted to go paddle, duckdive, reconnect myself with the salt water that I missed so much. I was anxious, I woke up super early. 
I'm very happy and thankful for the opportunity to return again to the ocean. Just a few hours but it's ok to begin this way. The hours will get better as long as people going to the beach do a good job following the rules. There were a lot of manta rays, I took some close-outs on the head. (Laughs.) Actually, I felt very comfortable. I spent all of the past months training, so when I entered the water I felt really good. 
On the Future
What is your "new normal" outlook?
I love to surf, to compete, the atmosphere … and continue to enjoy it with a lot of passion. For as long as God allows I will surf in competitions. After that I'll continue surfing with my son. 
I like having my surf school, to teach and pass my knowledge of surf to my students so that they can enjoy waves with confidence in a responsible way. It's a project that has grown very rapidly but there we are, so people can enjoy the waves to the maximum. 
See you in the water! 
Contact Lisbeth: 
Facebook @Vindas Surf School
WhatsApp 7013-0865 
Read more about Lisbeth Vindas in this August 2017 Howler article: Super Surfer Mom
Photo Credits :
National Surfer Lisbeth Vindas ready for some Playa Escondida magic, Photo Dixiana Salas
Fabian Sanchez     Federation of Surf Costa Rica