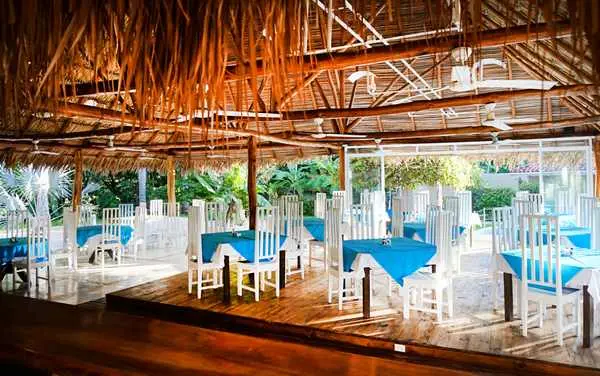 Featured Restaurant – La Playita
La Playita is designed for dropping in and being delighted time after time. That this may not be readily apparent to roadway passersby, newcomers or those who haven't visited in awhile speaks to the restaurant's undiscovered charm. But being a hidden treasure doesn't mean La Playita has to be a well-kept secret … at least not for long. Word of mouth is sure to take care of that.
In the same vein, unfailingly positive online reviews keep drawing tourists from all corners of the world to Seis Playas Hotel (formerly Best Western Camino a Tamarindo). That each and every Trip Advisor post generates a personal response from the general manager, Roberto Castro, shows how deeply client feedback is taken to heart.
Nestled into the loveliness of this aptly described "little oasis," La Playita is among the most commonly cited unexpected pleasures. It's part and parcel of hotel amenities that include clean, comfortable and modern rooms, a heavenly pool, serenely beautiful landscaping and exceptionally attentive service by dedicated staff. Just as many travelers are pleasantly surprised upon beholding the tropical sanctuary of Seis Playas, La Playita can be a reason they leave wanting to come back.
If the restaurant and bar can make the same impression on local patrons, so much the better for the owners, Richard and Rita Ashley, who are striving to do just that. This shift in target market has been a driving force behind recent changes they have implemented.
"Major purchases of new kitchen equipment meant our menu options could be expanded, Rita explains. "That is the heart of our restaurant. The soul is José Higinio Gutiérrez, our kitchen manager and chef."
Gutiérrez brings more than 20 years of culinary training and experience to La Playita. His first teacher was an Italian chef, Domenico, at Hotel Antumalal in Playa Junquillal. Subsequent mentor, Trevor Murphy had trained at the famed Le Cordon Bleu in France. Gutiérrez later traveled extensively in the United States, honing his skills and expanding his knowledge of gastronomic delights.
To attract people living in the area as well as tourists, La Playita is open to the public 365 days a year with a full menu. Breakfast choices are offered daily from 7 to 10 a.m., with both lunch and dinner fare served until at least 9 p.m. every night.
From a style and substance perspective, catering to appetites of all sizes, tastes and times of day is a lot to ask of a restaurant.Whether it's a breakfast quesadilla, all-American hotdog, shrimp and avocado-enhanced Caesar salad or build-your-own pasta bowl, La Playita offers the gamut of standard favorites infused with imagination. Friday night Texas barbecues have been a crowd pleasing winner since being introduced last year.
Satisfying more adventurous tastes and cravings can be less straightforward for even the most popular dining spots. With every page after eclectic page of meal selections — however customizable through sauce and side vegetable options – the bar is raised that much higher for delivering quality, freshness and originality across the board.
According to Rita, chef Gutiérrez's secret to making people happy is fresh, high-quality ingredients prepared with love. All sauces are made fresh in the kitchen, and no frozen products are used. Notably, the French fries are made from hand-cut potatoes fried to perfection.
Menu selections sampled during a recent visit inspire further confidence that La Playita's culinary team is up to the task. The perfect prelude was a piña colada, luscious liquid silk meant to be sipped leisurely as a taste bud awakening. Next came a generously shareable dish of ceviche — fresh, firm and fleshy chunks of fish tossed together with crunchy onion and sweet bell pepper in a sassy citrus marinade. Seldom does a gloriously succulent, done-just-right ribeye steak leave room for improvement, but Playita's peppered version kicked it up a notch to sublime. A heart of palm salsa topping enlivened each mouth-watering bite of chicken breast with an exotic, velvety flair. Even under the full-stomach circumstances, little arm twisting was needed to change our minds about passing on dessert. If ever a perfect marriage existed between wholly divine and just partly decadent (the non-superfood ingredients), it was the pineapple flambé finale to our delicious dinner.
As your ultimate destination from the hotel's humble gravel parking lot, La Playita is like the reality of a mirage you didn't see coming. Driving up to the front entrance, the brand new Seis Playas sign is your only indication of being in the right place. From the welcoming but unassuming hotel reception area, you are literally led down a garden path around the contoured edges of a magnificent pool. The enchantment is at once captivating and calming. Even in a downpour after dark, you're compelled to stroll rather than scurry for cover. A series of floral arches draws visitors towards the restaurant's unmistakable palapa structure at the far end.
La Playita, as its name suggests, has the look and feel of being on a little beach. Affording floor-to-ceiling exposure to the surrounding tropical beauty, the interior is glassed in for privacy and protection. While contemporary in design, it incorporates a mix of natural and rustic elements to unite the indoor and outdoor space for an al fresco dining experience. The bar, with its striking sandstone wall and warm wood counter tops, ties the modern and classic elements together.
Before turning their attention to the restaurant, the Ashleys' first priority was to complete major improvements and upgrades they had undertaken after purchasing hotel property from its original owners in 2015. As the project progressed, it became obvious that Best Western standards had been exceeded, prompting their decision to leave the franchise and choose a new name, effective July 1, 1917. Seis Playas says it all about the hotel's best-of-both-worlds location — close to six different beaches but away from Tamarindo's crowds.
[new_paper_ntx_wrapper wrapper_type="div" el_class="content" inner_container="yes" el_inner_class="container"]
[new_paper_ntx_paragraph]
La Playita, located at Seis Playas Hotel
Address:
3Km South of Huacas, Road to Tamarindo
Everyday 7:00 am to 9:00 pm
Breakfast 7:00am to 10:00am
Specialities: Friday Night Texas Barbecue[/new_paper_ntx_paragraph]
[new_paper_ntx_paragraph]
Omelette $12.00
Eggs, tomato, onion, sweet pepper, ham, mushrooms and cheese
Broken Yolk Sandwich $12.00
Sweet plantains and coconut milk cream
Breakfast Quesadilla $12.00
Eggs, tomato, onion, sweet pepper and cheese wrapped in a tortilla. Served with ranch sauce, sour cream and served with seasonal fruit
BLT La Playita $10.00
Always a favorite for a lite bit to eat bacon, lettuce and tomato
All our fries are hand cut
[/new_paper_ntx_paragraph]
[new_paper_ntx_paragraph]
Nachos $7.00
Nachos with chicken or smoked beef brisket
Cesar Salad $12.00
Cesar salad served with fresh shrimp and avocado
Hot Dog $12.00
The All American 100% beef hot dog with chili, onions and cheese served with fries
Pasta $14.00
Build your own pasta bowl, includes a mixed salad[/new_paper_ntx_paragraph]
[new_paper_ntx_paragraph]
Open Grill From $16
Pork tenderloin, chicken breast, Ribeye, New York Strip, Beef Tenderloin and catch of the day
Chicken Club Sandwich $12
Our most popular double decker sandwich with hand cut fries
Meat Ball Sandwich $12
Handmade meat balls in our homemade sauce served with hand cut fries or salad
Pineapple flambee $ 4
Our most popular dessert served hot with vanilla ice cream[/new_paper_ntx_paragraph]
[/new_paper_ntx_wrapper]