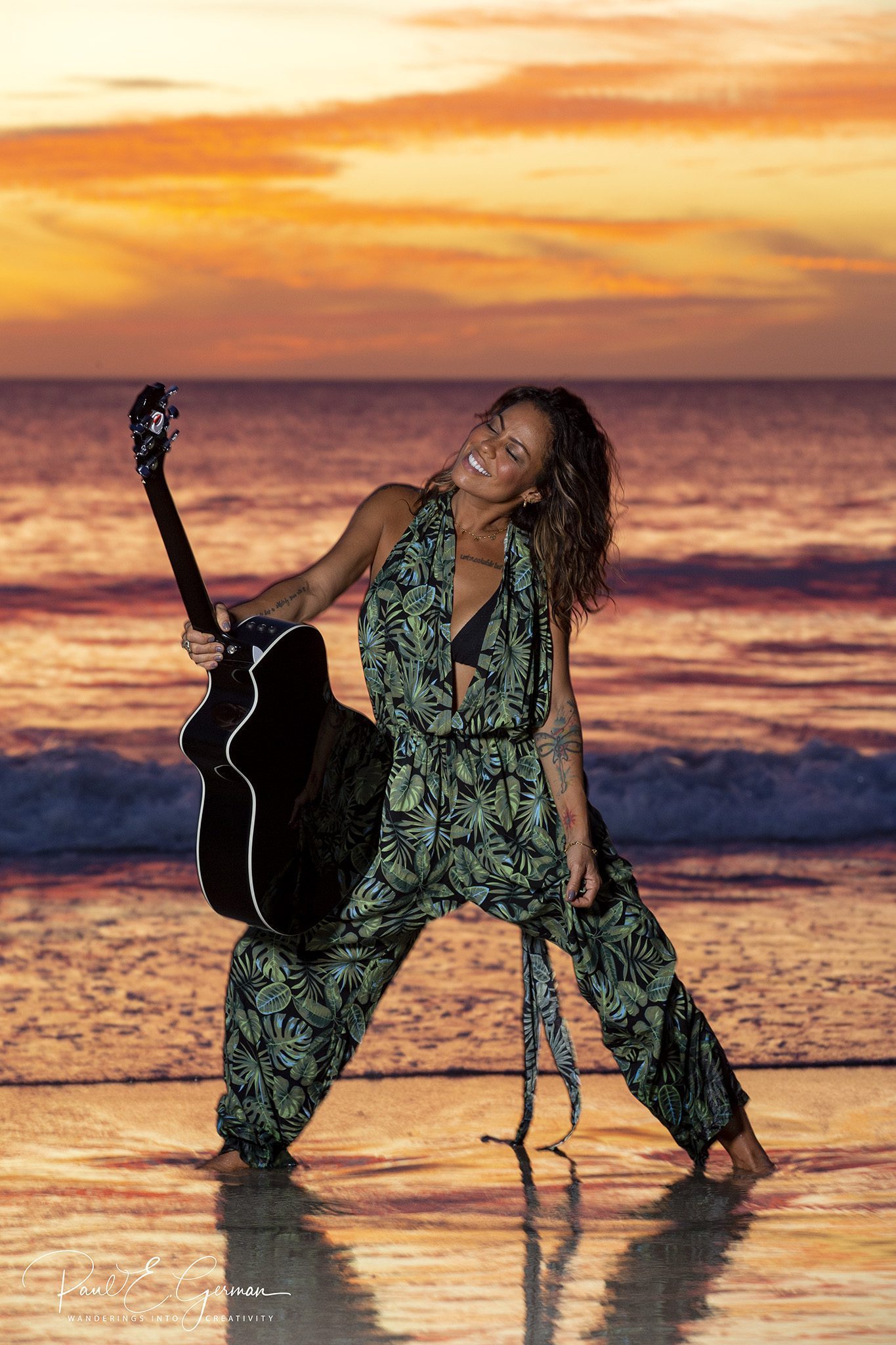 SPANISH TEXT BELOW.
When some friends said we were going to hear a great Latino singer at a local restaurant one night in 2019, my first thoughts were, "OK, we'll see how great."
The featured entertainer, Fatiniza, was already singing when we arrived. Before we even got to our table, I was captivated by her zesty and energetic performance. I'm not a music critic, but I do recognize someone who can do far more than just sound good and put on a "show."
For more than a decade, Colombian-born Fatiniza Gamarra has been capturing attention from ever-wider audiences across the world, from Costa Rica and the Mayan Riviera to Singapore and Dubai. Just reading about this vivacious stage and recording sensation will not do justice to her essence. Her passion as an artist comes across in the music videos she has produced. But it's when you see her perform live behind the mic that you can truly appreciate this dynamo of a musician.
The following are highlights of my recent interview with the wife, mother and full-time singer/songwriter. 
One of your songs was up for a Latin GRAMMY award in 2020. Tell us about that.
My last single, Hoy, was entered into the Latin GRAMMY 2020 selection process as Best Song of the Year. Hoy is a song of hope and unity that I wrote at the beginning of the pandemic, when I started to get involved with charity organizations in the Flamingo area, delivering food and cleaning products to those in remote areas most affected. It was a great Latin Grammy nomination run, which exposed the song to all of the Americas but this time did not result in a nomination.
So what was your response to this seemingly disappointing outcome?
We were able to gain so much more attention with the media and expand our fan base. I see everything as building blocks on the journey to accomplish my goals: more Latin American fans and reaching more American fans in Houston, Chicago, Florida and California. I desire to build a quality fan base, not just quantity.
Tell us about your newly released song, Stay Here.
Yes, I am so excited to start the year with this song and share the launch with Howler Magazine. Watch it first right here! The video was filmed locally in Tamarindo and features Pro Surfer Tomas King. There is also a cameo appearance by surfing legend Robert August. The storyline follows a similar track to the pop culture surfing movie Point Break. I don't want to give too much away but I am sure that the surfing community and locals will love it. It is a ballad in English and Spanish. 
Name some of the places where you've traveled to perform.
Dubai, Colombo, Jakarta, Mayan Riveria in Mexico, Singapore, Colombia, Chennai, Doha, Muscat, Amsterdam and The Maldives.
Special occasion plans?
Fatiniza is available for corporate retreats, weddings, family reunions and other private events that are tailored for your audience.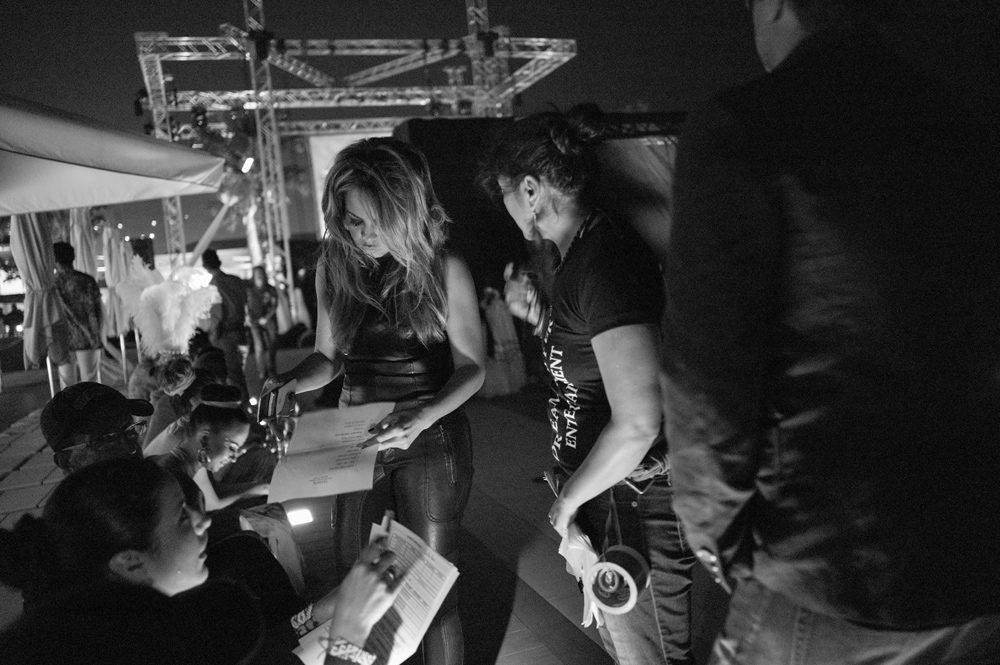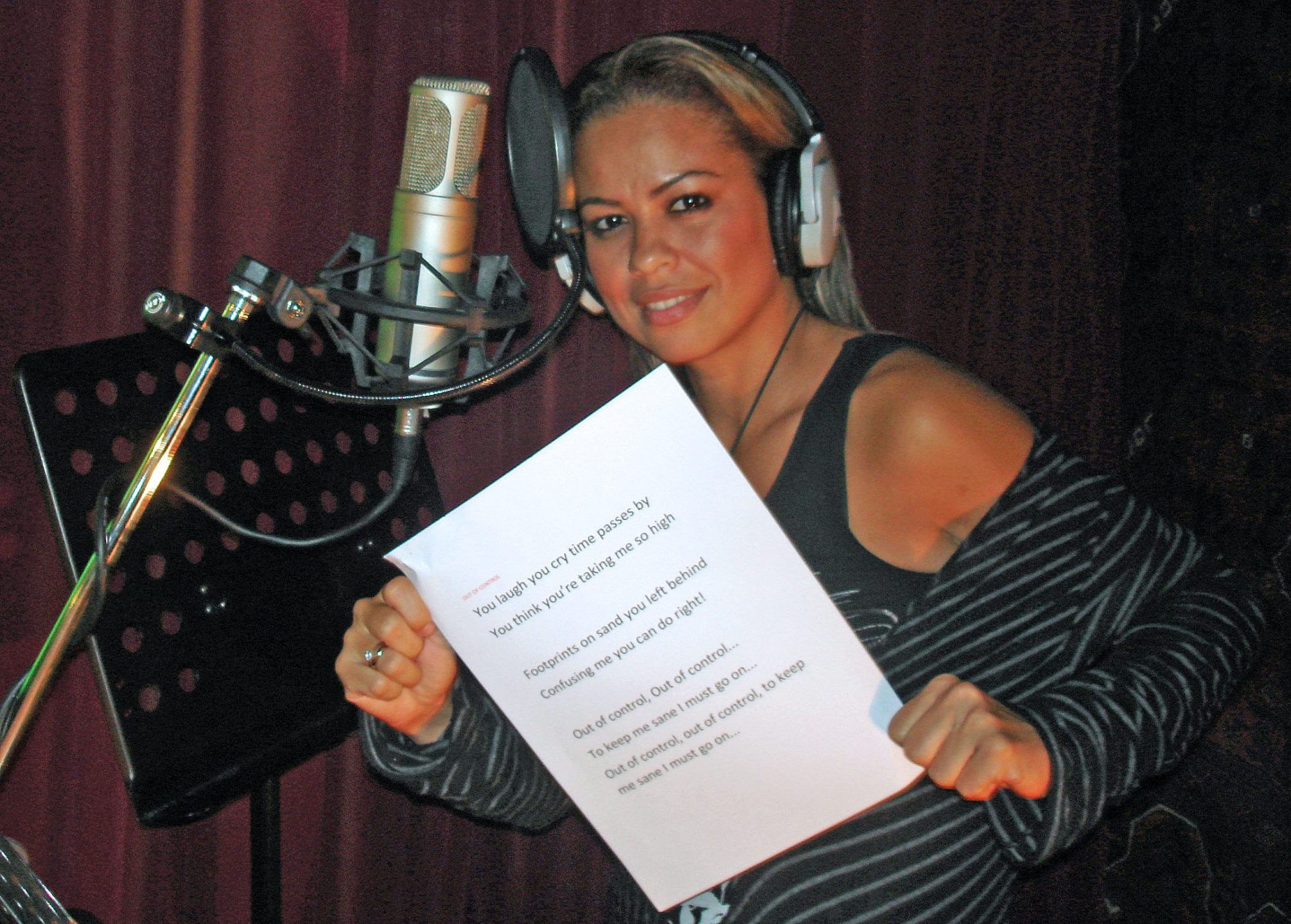 Fatiniza Live in Alpha Club Dubai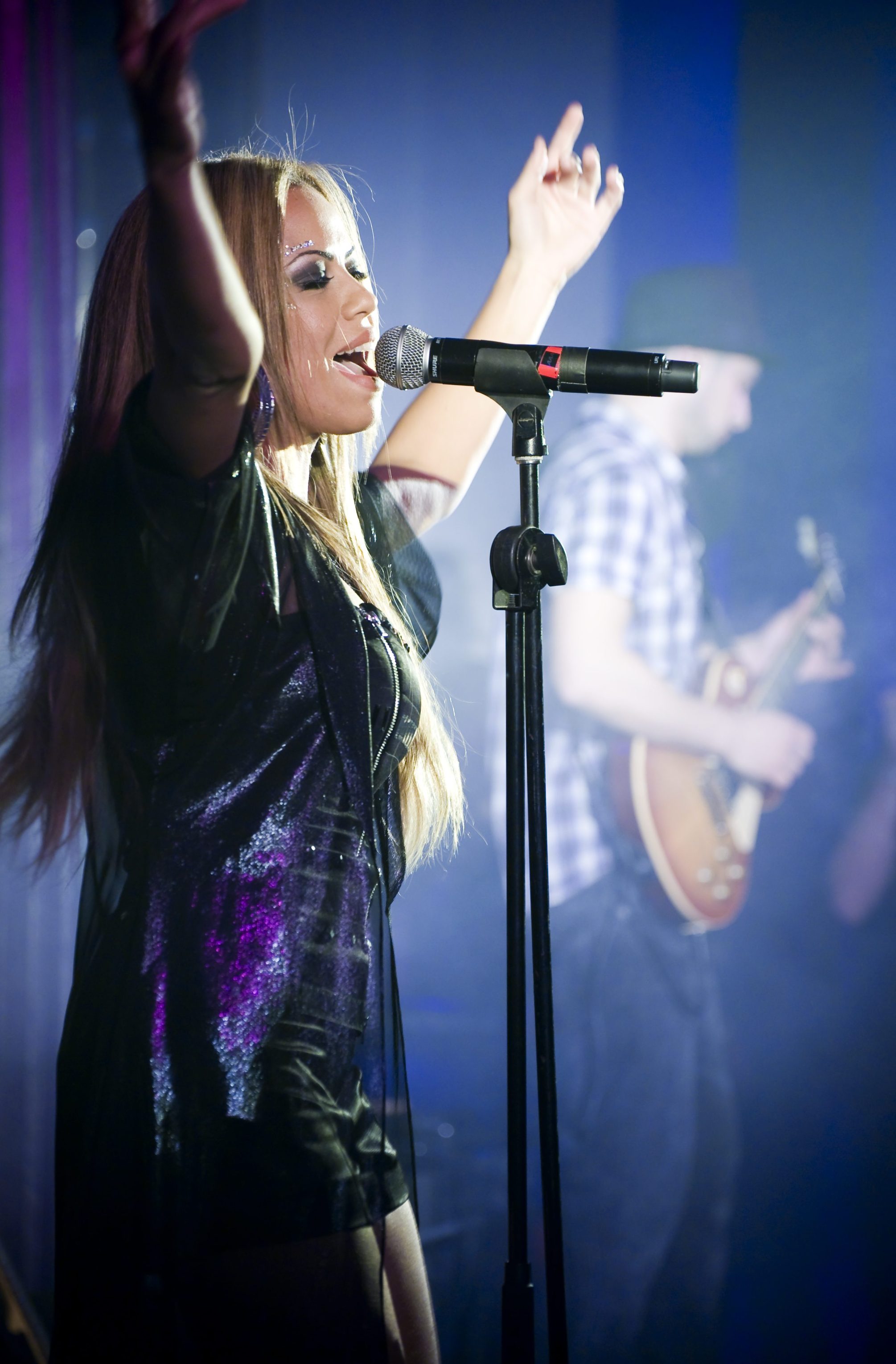 What wisdom would you offer that young Costa Rican who is thinking about singing?
Just do it! Keep in mind that it is not only about singing; you are choosing a career. What's your goal? Be an artist, want to be famous, want money? These things will lead you down different paths. 
Focus on what you want and don't get led away from your goals by people who would bend you to their goals. Get guidance and surround yourself with good people. I am represented in Costa Rica by Studio '71, a new production company that wants to guide new talent and give them exposure and a platform to be heard. If this speaks directly to you, get in touch with Studio '71!
With thousands of fans, how do you feel being transparent and a promoter of positive concepts?
One of my favorite songs is called Aqui Voy. That would define who Fatiniza is. This is my way, this is me. I'm not made of gold, for everyone else to like me. I am what I am. I help when and where I can. I am a positive person and I love to spread positivity and hope. The lyrics are like, "What you see is what I am, what I have is what I give, I give you my existence."
How do you like to interact with other artists?
I like to collaborate with local musicians. Working with those who may just be beginning to already accomplish some measure of success. It is a tough business and finding people who are sincerely loving this art form is essential to me. My goal is to create a music scene that is recognized as a 'must-see' while attracting people to Costa Rica. My last release in 2020 is with Stephanie Waltrip from Tamarindo. It's about collaboration, not competition, for me.
When did you first think, "I can do this!"
It was 2009. I had been performing for years in Colombia with tropical bands, singing cover songs, when I was offered an opportunity to go to Dubai. 
It was in Dubai that I wrote and recorded my first song, and to be honest, I didn't like it that much. I actually lost the song. Two years later I found it. When I played it again, I realized there was something in it that I liked. So I re-recorded it when I met Joshua F. Williams and that's when my songwriting really got started.
The song was Out of Control, or Confusion in Spanish. It opened up the door for me to continue to write and perform my music.
Every artist wants the standard checkmarks. I've been in Rolling Stone magazine and on MTV [Out of Control], but realized there's so much more to this art form.
As a songwriter, singer, wife and mother, how do you do it all?
We like to go as a family for singing engagements, whenever we can. I find the balance of being a good mother and wife while being an artist.
Have you had any training?
Not really. I chose music, or music chose me, and I jumped in and learned organically day by day. I knew what I wanted to do and I just found a way to do it. I have had help from other amazing professionals. I had the opportunity to meet or work with many along the way and I have learned so much from them. I am still learning and training my voice to do new things.
I notice your Facebook posts about supporting your music platform. What is that all about?
Patreon is a public platform for supporters of the creative arts … similar to crowdfunding but specific to the arts. A patron or fan on Patreon subscribes to a monthly contribution. Fans get direct benefits not available from the artist anywhere else. Benefits can include behind-the-scenes footage, early access to new video releases and other really cool stuff. The monthly subscriptions allow artists to continue to develop music and related projects that they would otherwise not have the income to support. It's not a brand new concept but it became really popular during COVID-19 times. 
What is your approach to preparing for any music event?
It really depends on the location and its regular customers. I prepare a repertoire that suits, so there is some background work on what cover songs we will play. Original music is a standard for my shows and I perform most of my singles, including other favorites. Plus I tease the audience with unreleased songs too.
I also have to think of the size of the band and then how the songs we perform may change in arrangement slightly. Then it's rehearsal time again until we have our show.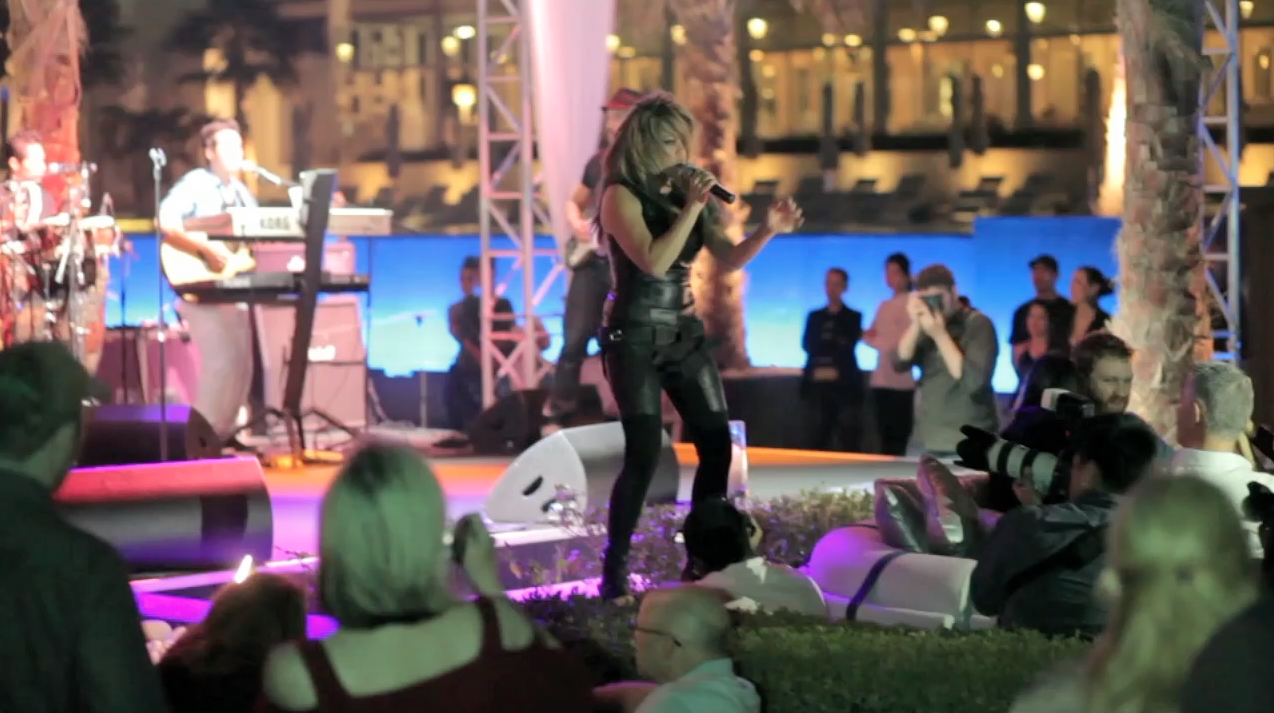 What is your 2021 goal/mission?
I am releasing at least four singles this year: Stay Here, Ojos Café, Apostándo and Hey. They are ready to go. I want to keep building a quality fan base. I'll be expanding my exposure in Costa Rica first, by taking my music to them. This means getting on the road as soon as we can, which is exciting, and then to the rest of the Americas and beyond. I'll continue to collaborate and create a music scene that allows people from all over to know there are talented artists in Costa Rica.
What is the largest audience that you've performed for?
That would have to be at a Formula 1 event in Abu Dhabi. There were approximately 5,000 attending that night. It was amazing to be a part of that event. I performed for two nights. The first was a public event at the beach and the second was an intimate private event with the British singer/songwriter Corinne Bailey Rae. Other special guests included Gabrielle and The Artist Formerly Known as Prince's manager.
Your most memorable performance?
The Nothing is Impossible album launch at Café Del Mar, Dubai Marina. It was my best show visually, with a ton of dancers and costume changes. I was flying at one point in the show, suspended above the audience. 
Locally, it would have to be LIVE at Janie's, which was a private performance to a small crowd during COVID times in Playa Hermosa. Loved it.
Did you ever have a "disaster" on stage, and how did you recover?
Ooooh, there have been a few. My favorite was one night at the Music Room in Dubai. My drummer, Francy, was not supposed to moonlight from her regular employment [funny Dubai rules]. We were about to take to the stage and she saw her boss in the crowd. She nearly died of fright and she could not play. So, after thinking about this for a few minutes, I told her to stay backstage and told my percussionist he had to play drums. He had never played these songs on drums before; he is not a drummer. However, he got up there and we played the first couple of songs with him until our regular drummer saw her boss leave the venue. When she was sure he was gone, she jumped back onto the drums and finished the show!
What do you feel is the biggest compliment you receive?
It's fans singing my songs at my shows. When I see them singing, I know they love my music and that is the biggest thing for me.
When writing a song, how does it all begin?
There is no consistency in how I start writing a song. They come when they want to. Sometimes I sit with my guitar, maybe just practicing and then something pops out. Other times I get a melody in my head and I have to stop everything and hum it into my phone and work on it later. I get inspiration from life events and other people and their relationships. My songs come from everywhere and usually with no intention; they just form themselves.
As an example, give us the background on one of your songs.
The Sailor, filmed in Spain, was nominated as best music video at the film festival Zaragoza, Spain. A woman fell in love with a sailor who comes and goes, till he never came back. Life lesson learned: no matter what, seize the moment that life presents.
What is your favorite song and why?
I have too many songs that I love, and I don't have any favorite genre. It is very hard to name the no. 1 favorite. Poem to a Horse, from Shakira, because of that song arrangement and the use of trumpets. This song gave me the courage to experiment with different instruments and push the arrangements of my own songs. I also love songs by Alicia Keys, Marc Anthony and Carlos Vives. 
If you could sing with just one person on stage, who would it be and why?
Alicia Keys, for her experience as an amazing musician, a strong woman and performer. Also, Pink. I love her strength.
Fatiniza Gamarra
Cuando los veo cantar, sé que aman mi música y eso es lo más importante para mí.
Cuando algunos amigos me dijeron que íbamos a escuchar a una gran cantante latina en un restaurante local en 2019, mis primeros pensamientos fueron, "ok, veremos qué tan genial es…"
Llegamos y ella ya estaba cantando y antes de llegar a nuestra mesa, fui capturado por la entusiasta y enérgica presentación de Fatiniza. No soy un crítico de la música, pero reconozco cuando alguien puede hacer mucho más que "sonar bien" y hacer un "show".
Aquí está una entrevista con la esposa, madre y cantante de tiempo completo.
Usted tuvo la oportunidad de  participar para un premio Grammy Latino en el 2020, cuéntenos sobre eso.
Con mi último sencillo "Hoy" que es una canción sobre la pandemia que trata de esperanza y unidad, entró como nominación a los Grammy Latinos del 2020 en la categoría de la mejor canción del año. Escribí la canción al principio de la pandemia cuando empecé a colaborar con organizaciones de caridad en la zona de Flamingo con la entrega de alimentos y productos de limpieza a los habitantes de las zonas más afectadas. Fue una gran carrera de nominación al Grammy Latino que expuso la canción a toda  América, pero esta vez no resultó en una nominación.
Entonces, ¿cuál fue su respuesta a este decepcionante resultado?
Fuimos capaces de ganar mucha más atención de  los medios de comunicación y ampliar nuestra base de fans. Ya que veo todo, como si fueran  bloques de construcción en el camino para lograr mis objetivos. Y que más fans de América Latina llegaran a más fans norteamericanos como de Houston, Chicago, Florida, California. Deseo construir una base de fans de calidad, no sólo de cantidad.
¿De qué se trata su nueva canción "Stay Here" que se lanzará aquí en The Howler?
Sí, estoy muy emocionado de empezar el año con esta canción y compartir el lanzamiento con The Howler. El video fue grabado localmente en Tamarindo y tiene como protagonista al surfista profesional Tomas King. También hay una aparición en cameo de la leyenda del surf Robert August. La historia sigue una pista similar a la de la película de surf de la cultura pop Point Break. No quiero revelar mucho, pero estoy segura de que a la comunidad de surfistas y a los locales les encantará. Es una balada hecha en inglés y español. ¡Mírenla primero aquí!
¿Cuándo pensó, "puedo hacer esto"?
Fue en 2009. Había estado cantando durante años en Colombia con bandas tropicales cantando canciones de covers cuando me ofrecieron la oportunidad de ir a Dubái. Fue en Dubái donde escribí y grabé mi primera canción y para ser honesta, no me gustó mucho. De hecho, perdí la canción y dos años después la encontré. Cuando la volví a tocar, me di cuenta de que había algo en ella que me gustaba. Así que la volví a grabar y sólo cambié algunas cosas.  Fue entonces cuando mi composición y mi canto comenzaron. La canción era Confusión y me abrió la puerta para seguir escribiendo e interpretando mi música.
Todo artista quiere las marcas de verificación estándar. He estado en la revista Rolling Stone y en MTV (Confusión) pero me di cuenta de que hay mucho más en esta forma de arte.
¿Ha tenido algún entrenamiento?
No, en realidad no. Elegí la música o la música me eligió a mí; me metí y aprendí orgánicamente en el día a día. Sabía lo que quería hacer, y encontré la manera de hacerlo. He tenido el apoyo de otros profesionales increíbles. Tuve la oportunidad de conocer o trabajar con varios a lo largo del camino y he aprendido mucho de ellos. Todavía estoy aprendiendo y entrenando mi voz para hacer cosas nuevas.
He notado en sus publicaciones de Facebook sobre el apoyo a su plataforma de música, ¿de qué se trata?
Patreon es una plataforma pública para los promotores de las artes creativas, similar a la financiación colectiva pero específica de las artes. Un patrocinador o fanático de Patreon se suscribe a una contribución mensual. Los fans obtienen beneficios directos del artista que no están disponibles en ningún otro lugar. Los beneficios pueden incluir imágenes detrás de las escenas, acceso temprano a nuevos lanzamientos de videos y otras cosas realmente geniales. Las suscripciones mensuales permiten a los artistas continuar desarrollando música y proyectos relacionados que de otra manera no tendrían los ingresos para continuar. No es un concepto nuevo, pero se hizo muy popular durante los tiempos del COVID-19.
¿Cuál es su rutina para prepararse para cualquier evento musical?
Realmente depende del lugar y de sus clientes habituales. Preparo un repertorio que se adapte, así que hay un trabajo de fondo sobre qué canciones de covers vamos a tocar. La música original es el estándar de mis presentaciones y toco la mayoría de mis sencillos, incluyendo otros favoritos. Además, me divierto con el público con canciones sin estrenar también. Así  que, tengo que pensar en el tamaño de la banda y en cómo las canciones que interpretamos pueden cambiar ligeramente de arreglo. Después, es hora de ensayar de nuevo hasta que tengamos nuestro espectáculo.
¿Mencione algunos lugares a los que ha viajado para cantar?
Dubái, Colombo, Yakarta, la Riviera Maya en México, Singapur, Colombia, Chennai, Doha, Mascate, Ámsterdam y las Maldivas.
¿Cuál ha sido la audiencia más grande para la que ha hecho una presentación?
Creo que fue  en un evento de Fórmula 1 en Abu Dhabi. Había aproximadamente 5,000 asistentes esa noche fue increíble ser parte de ese evento y me presenté durante 2 noches. La primera fue un evento público en la playa y la segunda fue un evento privado íntimo con Corinne Baily Rae (una cantante/compositora británica) y otros invitados especiales incluyendo a Gabrielle y agente de The Artist (Formally Known as Prince).
¿Cuál ha sido su presentación más memorable?
El lanzamiento del álbum "Nada es imposible" en el Café Del Mar en Dubái Marina. Fue mi mejor espectáculo visualmente, con un montón de bailarines y cambios de vestuario. Hasta estuve volando en un momento del espectáculo, suspendida sobre el público. Y localmente sería cuando estuve en LIVE at Janie's, que era una presentación privada para una pequeña multitud durante los tiempos de COVID-19 en Playa Hermosa. Me encantó.
¿Alguna vez ha tenido un "desastre" en el escenario, cómo te recuperaste?
Ooooh, ha habido algunos. Mi favorito fue una noche en el Music Room en Dubai. Se suponía que mi baterista Francy no debía tener otro trabajo fuera de su empleo regular (reglas particulares de Dubái). Estábamos a punto de subir al escenario y ella vio a su jefe entre la multitud. Casi se muere de miedo y no pudo tocar.  Así que, después de pensar en esto por unos minutos le dije que se quedara entre bastidores y le dije a mi percusionista que tenía que tocar la batería. Nunca antes había tocado estas canciones en la batería; no es un baterista. Sin embargo, se levantó y tocamos el primer par de canciones con él hasta que nuestra baterista habitual vio a su jefe salir del local. Cuando estuvo segura de que se había ido, saltó de nuevo a la batería y terminó el espectáculo.
¿Cuál cree que es el mayor cumplido que ha recibo?
Es ver a los fans cantando mis canciones en mis presentaciones. Cuando los veo cantar, sé que aman mi música y eso es lo más importante para mí.
¿Cuál es su canción favorita y por qué?
Tengo demasiadas canciones que me gustan, no tengo ningún género favorito. Es muy difícil nombrar la favorita número uno. Poem from a Horse, de Shakira por el arreglo de la canción y el uso de las trompetas. Esta canción me dio el coraje de experimentar con diferentes instrumentos y empujar los arreglos de mis propias canciones. También me encantan las canciones de Alicia Keys, Marc Anthony y Carlos Vives.
Al escribir, ¿cómo empieza todo?
No hay consistencia en cuanto a cómo empiezo a escribir una canción. Vienen cuando quieren. A veces me siento con mi guitarra, tal vez sólo practicando y entonces algo aparece. Otras veces tengo una melodía en mi cabeza y tengo que parar todo y tararearla en mi teléfono y trabajar en ella más tarde. Me inspiro en los acontecimientos de la vida y en otras personas y sus relaciones. Mis canciones vienen de todas partes y normalmente sin intención, se forman solas.
Si pudiera cantar con una sola persona en el escenario, ¿quién sería y por qué?
Alicia Keys, por su experiencia como increíble música, una mujer fuerte y  artista. Además, Pink también, me encanta su fuerza.
¿Cómo le gusta interactuar con otros artistas?
Me gusta colaborar con los músicos locales. Trabajando con aquellos que pueden estar empezando a tener cierto éxito. Es un negocio difícil y encontrar gente que sinceramente ame esta forma de arte es esencial para mí.  Mi objetivo es crear una escena musical que sea reconocida como "imperdible" mientras atraigo gente a Costa Rica. Mi último lanzamiento en 2020 fue con Stephanie Waltrip de Tamarindo. Se trata de colaborar, no es  de competencia para mí.
Con miles de fans, ¿cómo se siente siendo transparente y una promotora de conceptos positivos?
Una de mis canciones favoritas se llama "Aquí Voy", que definiría quién es Fatiniza. Esta es mi manera, esta soy yo. No soy monedita de oro para gustarle a todos los demás. Soy lo que soy. Ayudo cuando y donde puedo. Soy una persona positiva y me encanta difundir la positividad y la esperanza.  La letra es como, "lo que ves es lo que soy, lo que tengo es lo que doy, te regalo mi existencia."
¿Qué le diría a ese joven costarricense que está pensando en cantar…
¡Sólo hágalo! Tenga en cuenta que no se trata sólo de cantar, estás eligiendo una carrera. ¿Cuál es su objetivo? ¿Ser un artista, querer ser famoso, querer dinero?  Estas cosas le llevarán por diferentes caminos.
Concéntrese en lo que quiere y déjese llevar por sus objetivos por gente que se doblegue a sus metas. Consiga orientación y rodéese de buena gente. Estoy representada en Costa Rica por Studio '71 una nueva empresa productora que quiere guiar a los nuevos talentos y darles exposición y una plataforma para ser escuchados. ¡Si esto le habla directamente a usted, póngase en contacto con el Studio '71!
Una compositora, cantante, esposa y madre… ¿cómo lo hace todo?
Nos gusta ir en familia, siempre que podemos para los compromisos de canto. Encuentro el equilibrio entre ser una buena madre y esposa y ser una artista.
¿Cuál es su objetivo/misión para el 2021?
Voy a lanzar al menos cuatro sencillos este año. Stay Here, Ojos Café, Apostando y Hey, ya están listos.  Quiero seguir construyendo una base de fans de calidad. Primero expandiré mi exposición en Costa Rica, llevando mi música a ELLOS. Esto significa ponerse en camino tan pronto como podamos, lo cual es emocionante y luego al resto de  América  y más allá. Seguiré colaborando y creando una escena musical que permita a la gente de todas partes saber que hay artistas talentosos en Costa Rica.