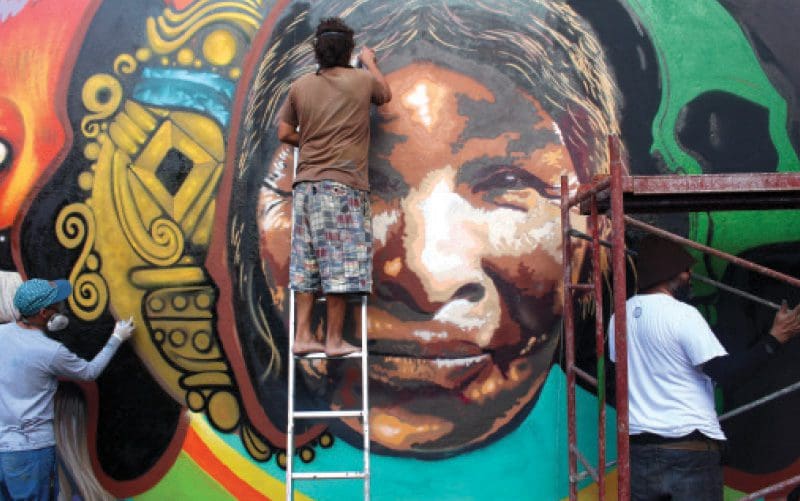 Calle de la Amargura – Night and Day: A Different Place
Calle de la Amargura – Night and Day: A Different Place.  With a Spanish name that literally translates to "Bitterness Street," Calle de la Amargura is a cultural landmark slated for a facelift. Packed with cafes, photocopy kiosks, shops and yoga studios, Calle 3 spans a four-block area in San Pedro, San José. Extending from the University of Costa Rica Campus (UCR) doors, it's the center of life for the student body. Some say the name and the street itself represent the temptations one must overcome to get an education. With more bars per square meter than anywhere else in the country, and a reputation for drug sales and violence, Calle de la Amargura transforms each day as the sun goes down.
From dusk 'til dawn
As soon as the photocopy shops close their doors and the cafe lights switch off, the street is set ablaze with neon signs from bars. What looked like a hamburger joint or a pizzeria by day is now a bar brimming with flannel shirts and long beards. Although driving down the road at night is not recommended, it is indeed an experience. People from the overcrowded bars spill onto the street. It's as if the entire four blocks become one giant nightclub, with different genres of music blaring from each entrance. It's a full-capacity party every night of the week, lasting until dawn on the weekends.
During the day
When the sun is out, the street is a vibrant hub where young people spend time between classes. Vegetarian and vegan cafes are intermixed with coffee spots and places that have been serving casados to students for decades. In between the eateries, thriving photocopy businesses equipped to duplicate textbooks and thesis papers in a matter of hours are filled with students until closing. In recent years, an inseparable blend of graffiti and street art has transformed the streetscape; from images of Indian deities to dazzling kaleidoscopes of color, the murals alone are worth a visit to Calle de la Amargura. You can also browse in little artisan shops that sell student-made soaps, jewelry and other natural products, or take a stroll through the university campus.
The future of Bitterness Street
In November 2018, the Costa Rican government announced big plans for this section of San José. With 38 million colones earmarked for the first project phase, the local municipality of Montes de Oca and the Costa Rican Drug Institute (ICD) are partnering to transform the area into  a pedestrian boulevard. A cultural center is also being built to offset the party atmosphere.
Although it is difficult to imagine eliminating the college town feel of Calle 3, a focus on the arts and culture that the university offers would be a welcome addition. So next time you are in San José, take a moment to experience the youthful vibe … maybe get some copies printed while you're there.
Jazz Cafe
Right around the corner from la Calle de La Amargura is a different musical staple, where some of Costa Rica's most talented musicians have been taking to the stage for more than 20 years. Known for its live music and craft brews, Jazz Cafe is where you can experience the benefit of having a world-renowned university music program right around the corner.