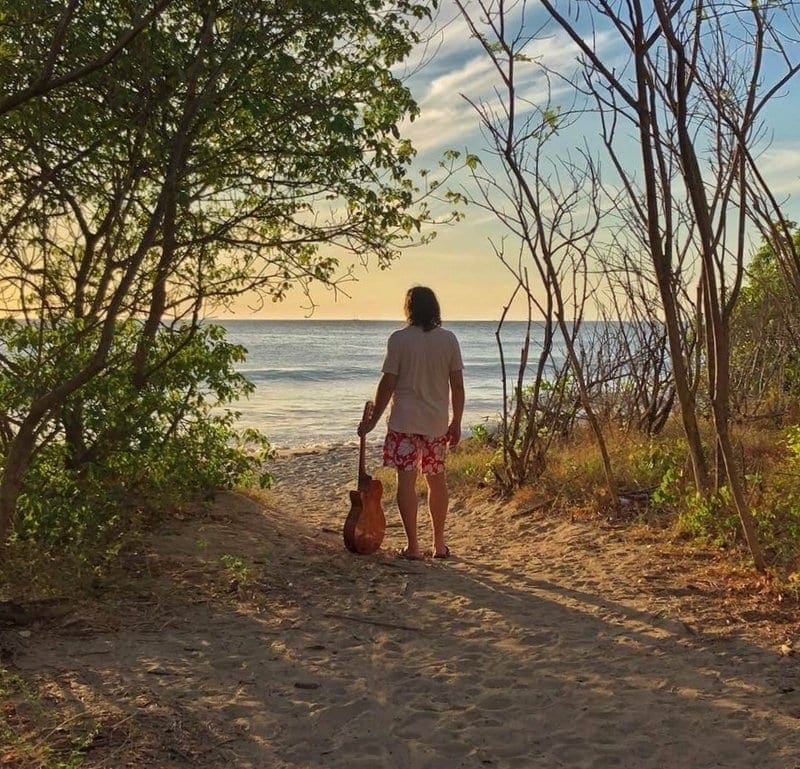 Dan Medakovic
Notes on a Wandering Minstrel
For some time now, Guanacaste has been claimed as a second home by adventurous Canadians seeking refuge from the snowy cold. Fiercely patriotic, Canucks have found a place in their collective hearts for this enticing Costa Rican province.
A surprising number of these "Costanadians," including Dan Medakovic, are musicians. He and his wife Cheryl made their first Costa sojourn nine years ago. That stay lasted about six months, when they sampled various microclimates including locales like Arenal, Atenas, Playa Flamingo and, ultimately, Playa Grande.
Medakovic is a singer/songwriter and versatile musician. The guitar is his main instrument but he is also accomplished at mandolin, ukelele, banjitar, violin, trumpet, piano, accordion and drums. Dan is currently learning to master the pedal steel guitar and the uilleann pipes, an Irish instrument similar to the organ.
A surprising number of 'Costanadians' are musicians.
Immigrant backstory
But let's back up to 1965, when Dan's parents fled communist-controlled Yugoslavia, immigrating with their three children to Toronto, Canada. Dan was born three years later. His family relocated shortly thereafter to the nearby suburb of Mississauga, where Dan went to school and met Cheryl. After receiving an accordion from his dad at the age of 11, Dan switched to guitar in less than one year's time. In 1986, just out of high school, Medakovic formed Admiral Byrd's Hollow Earth Band. The quartet's few performances included one "memorable Spinal Tap moment," opening for a puppet show.
Following that experience, Dan pursued a solo career for more than two decades. His affinity for the recording studio resulted in his other musical occupation: that of recording engineer and producer. He became a tangible commodity in Hamilton, a Canadian music mini-mecca, setting up a recording studio in his spare bedroom. He also began playing for a band called Fry Truck, but his heart was clearly in producing and pursuing an individual career. 
Medakovic's debut album, "Honeybucket," became a reality in 2002. With family and responsibilities taking precedence, his follow-up recording, "Jolley Cut," was released a dozen years later, in 2014. 
Dan's third solo album, "The Years", became available in 2019, both online as well as on vinyl as a two-disc set; one album is printed in blue vinyl, the other in red. Standout songs include "Second Hand Heart," "Porcelain Rose" and "The King of the Jungle."
Musical influences
Medakovic studies other songwriter's techniques, including Van Morrison, Cat Stevens, Bob Dylan, John Prine and John Hiatt. All of his studio songs are recorded in his home in Canada. He likes to write about everyday life events inspired by his family and immediate community. 
Similarly, in a recent interview, Medakovic told us that the songs he writes in Costa Rica are inspired by the people as well as the sights, sounds and smells unique to this area. "Yellow Moon," "Taco Star" and "Gringo In Paradise" are notable examples.
Even with "The Years" so recently in the can, Dan is already culling through about 40 songs to come up with 10 or 12 for his next album release. While staying at his home in Playa Grande, Dan has become a familiar contributor to the local music scene, particularly Friday night shows at Wilmart. He is proud to be able to play for charity events in the area and enjoys playing original music with other local musicians. 
Interested? Visit Dan's website: danmedakovic.bandcamp.com 
Photo Credit : Photos courtesy of Dan Medakovic
Video Links : Taco Star at Playa Grande :
https://www.youtube.com/watch?v=Yb08MZTxiyY