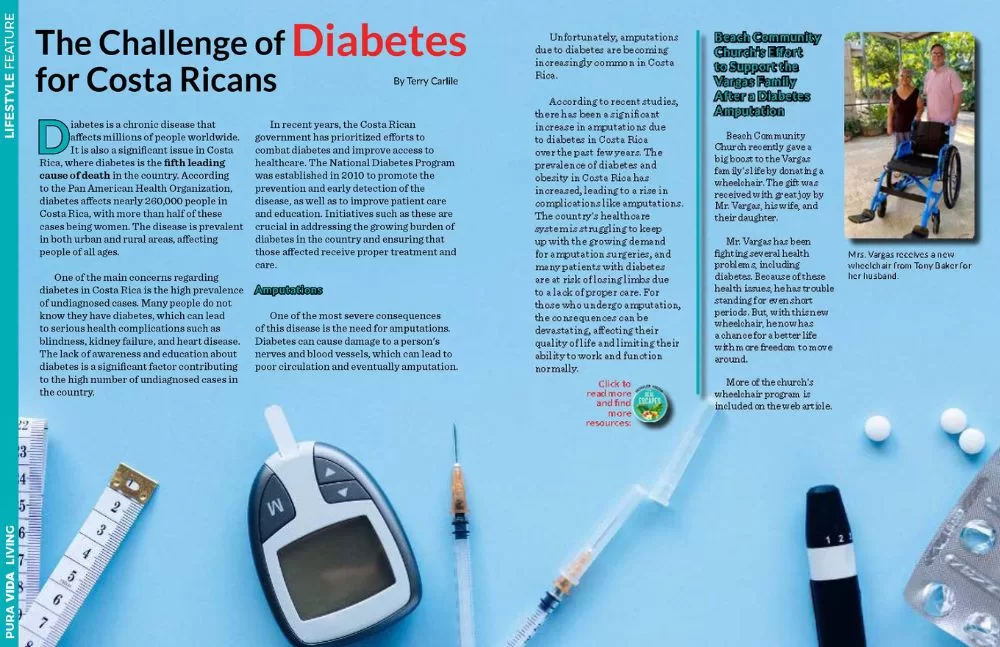 Beach Community Church in Brasilito, recently gave a big boost to the Vargas family's life by donating a wheelchair. The gift was received with great joy by Mr. Vargas, his wife, and their daughter.
Mr. Vargas has been fighting several health problems, including diabetes. Because of these health issues, he has trouble standing for even short periods. But, with this new wheelchair, he now has a chance for a better life with more freedom to move around.
Diabetes is a chronic disease that affects millions of people worldwide. It is also a significant issue in Costa Rica, where diabetes is the fifth leading cause of death in the country. According to the Pan American Health Organization, diabetes affects nearly 260,000 people in Costa Rica, with more than half of these cases being women. The disease is prevalent in both urban and rural areas, affecting people of all ages.
One of the main concerns regarding diabetes in Costa Rica is the high prevalence of undiagnosed cases. Many people do not know they have diabetes, which can lead to serious health complications such as blindness, kidney failure, and heart disease. The lack of awareness and education about diabetes is a significant factor contributing to the high number of undiagnosed cases in the country.
In recent years, the Costa Rican government has prioritized efforts to combat diabetes and improve access to healthcare. The National Diabetes Program was established in 2010 to promote prevention and early detection of the disease, as well as to improve patient care and education. Initiatives such as these are crucial in addressing the growing burden of diabetes in the country and ensuring that those affected receive proper treatment and care.
Amputations
Diabetes is a complex disease that affects millions of people around the world. In Costa Rica, diabetes is a growing epidemic, and one of the most severe consequences of this disease is the need for amputations. Diabetes can cause damage to a person's nerves and blood vessels, which can lead to poor circulation and eventually amputation. Unfortunately, amputations due to diabetes are becoming increasingly common in Costa Rica.
According to recent studies, there has been a significant increase in amputations due to diabetes in Costa Rica over the past few years. The prevalence of diabetes and obesity in Costa Rica has increased, leading to a rise in complications like amputations. The country's healthcare system is struggling to keep up with the growing demand for amputation surgeries, and many patients with diabetes are at risk of losing limbs due to lack of proper care. For those who undergo amputation, the consequences can be devastating, affecting their quality of life and limiting their ability to work and function normally.
To address this issue, there needs to be a concerted effort to promote diabetes prevention and education in Costa Rica. Healthcare professionals must work to identify early warning signs of diabetes and take appropriate action to prevent complications like amputations. This includes encouraging healthy eating habits, regular exercise, and appropriate medical treatment for diabetes. Additionally, investments in healthcare infrastructure are needed to help patients access better care for diabetes and other related issues. With a combined effort from healthcare providers, policymakers, and citizens, it is possible to reduce the prevalence of amputations due to diabetes in Costa Rica and improve the overall health and well-being of the population.
Despite diabetes not being listed as one of the top 10 causes of death in the period spanning 2009 to 2019, it is a prevalent risk factor in the two main causes: ischemic heart failure and cerebrovascular disease. Additionally, diabetes was listed as the second major cause of death and disability, alongside the third highest: high fasting glucose blood levels.
https://www.cureus.com/articles/158665-the-health-system-in-costa-rica-focus-on-the-management-of-diabetes-mellitus#!/
How does diabetes care vary throughout the country?
Each hospital has a different budget so you can have bad luck to be assigned to a hospital where the budget is low and there are less supplies for people than in other hospitals. The principal hospitals have a higher budget in comparison with hospitals of other provinces where there is a higher rate of poverty. The service in hospitals that are not in the capital city of San José or that are not principal hospitals of other provinces sometimes give poor education in diabetes to the patients and could give the wrong diagnosis.
https://www.t1international.com/Costa-Rica/
---
In Costa Rica, 26 people are diagnosed with 
diabetes
 mellitus per day In Costa Rica, 26 people are diagnosed with diabetes mellitus per day Monday, November 14, 2022. According to…
Deaths from 
diabetes
 mellitus increased 32.6% from 2019 to 2020 Deaths from diabetes mellitus increased 32.6% from 2019 to 2020 November 12, 2021. According to data …
---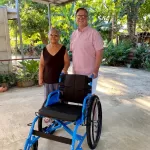 Local Church Provides Wheelchairs
The Vargas family was clearly delighted, showing how much this ministry of Beach Community Church meant to them. Acts of kindness such as these truly embody the Christian spirit of kindness and generosity, demonstrating the profound impact it can have on others' lives.
Tony and Francislyn Baker are in charge of the wheelchair outreach at the Beach Community Church. They typically give out one or two wheelchairs every month. They handle everything from putting the wheelchairs together to delivering them, and even teaching family members how to use and repair them. They're dedicated to helping local families who can't afford a wheelchair and likewise be a testimony of the Gospel of Jesus Christ.
Anyone interested in getting in touch with the Bakers can reach them through WhatsApp at +506-8792-3537 or by emailing tony@xeal.net. Their work shows Beach Community Church's commitment to helping families throughout the local region.
Note: Mr. Vargas was not in the picture because we delivered it in Portogulpe early in the morning. The woman in the picture is his wife.
Type 1 Diabetes in Rural Costa Rica Video