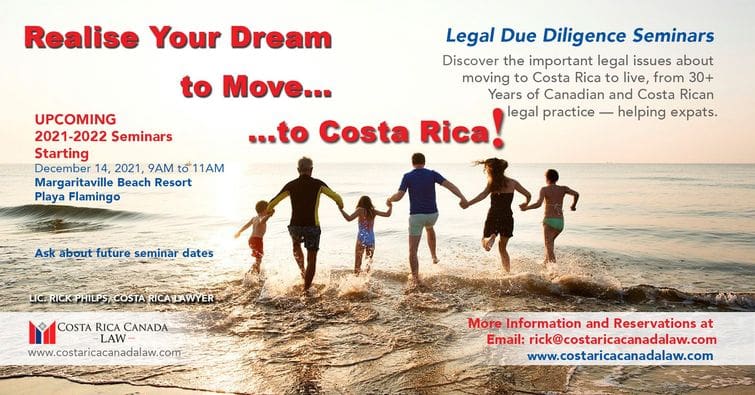 Costa Rica Legal Due Diligence Seminars
If you are an expat who is interested in understanding the pure legal facts and processes required for an efficient and trouble-free transition to a home-life in Costa Rica, this is the seminar for you.  An open Q&A Session is included. There is  no hidden sales agenda. Attendance is limited and by reservation only.
Just the Facts
There are many seminars, workshops, and blogs with cute stories about moving to and living in Costa Rica. A number of them will expound upon their favourite places to live in the country, where they like to shop, where the best fishing is, the best restaurants, and the best resorts and golf courses. This type of information is out there, but let's face it many of these things you can discover for yourself, and these choices are based on your likes and dislikes, not someone else's.
So while it's great to gather all this information about this beautiful country, inevitably you will make your own choices regardless of what you've read. But what about the real information, the information that is factual, useful, and difficult to obtain for the average person moving to a country where they may not speak the "native" language and even if they did, it would be a huge learning curve to find and absorb all the legalities necessary.
Here's a sampling of what will be covered:
• How to choose your optimal Costa Rica Lawyer or Realtor
• The differences between the Canadian/U.S. Legal System and the Costa Rica Legal System
• The Costa Rica Residency Categories and the Application Process, Residency Renewal, working requirements, and the path to Citizenship
• The Costa Rica Income Tax System
• The legal considerations and the process for renting or purchasing property
• The Costa Rica Banking System and the Escrow Account Process
• The benefits of incorporating and maintaining a Costa Rica Corporation and the regulatory consideration
• Costa Rica expat social integration considerations
• Requirements for expats to have a Costa Rica Will
Learn from a Qualified Professional
Many people have a dream to live in a country like Costa Rica but unfortunately, many of them come here blindly, without knowing some important basics, and as a result, they run into problems that could have been avoided entirely. There are few people that are living your dream, that also have the professional expertise and background that Rick Philps offers. Rick practiced law in British Columbia Canada for 14 years before obtaining his law degree here in Costa Rica. He has practiced law here for 17 years and is qualified to bring light to those gray areas of Costa Rican Law that many of us are unaware of. The best part is he is only interested in making sure you are equipped with the right information to make your transition a smooth one and he has no hidden sales agenda. It's all about the facts.
His seminars are divided into two parts; the first being an easy-to-follow presentation, followed by a Question & Answer session that allows you to ask about legal concerns you may have.
This is an exceptional opportunity to get the straight legal facts before you transition from your home country to Costa Rica. We strongly suggest you bring your questions and note pad with you for the Open Q & A session.
Seminar attendance is limited to 30 participants and is in compliance with Health Department requirements. Monthly legal due diligence seminars will be offered on the second Tuesday of each month, at the same time and location, until July, 2021. Cost $150 USD pp. Receive a $25.00 USD pp discount on all bookings made and paid for by the 15th day of the month preceding the seminar date selected.
All seminars are held at Margaritaville Beach Resort in Flamingo, Costa Rica from 9:00 AM to 11:00 AM on the following dates:
December 14, 2021; January 11, 2022; February 8, 2022; March 8, 2022; April 12, 2022; May 10, 2022; June 14, 2022; July 12, 2022.
To reserve your space which is by reservation only, please contact us by email: admin@costaricacanadalaw.com to receive a registration form and payment information.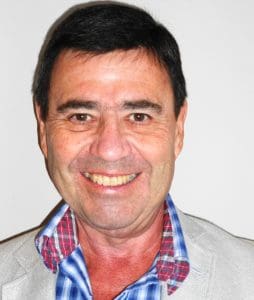 Rick Philps, provides insights into the modern pitfalls of archaic landowner provisions for squatters' rights in Costa Rica.
Rick is a Canadian citizen, naturalized as a citizen of Costa Rica. Before moving here in 1998, he practiced law for 14 years in his home city of Victoria, British Columbia. His further legal studies in Costa Rica earned him a Bachelor of Laws and Licensing degrees (Civil Law), with Honours, from the Metropolitana Castro Carazo University, and a postgraduate degree in Notary and Registry Law, from the Escuela Libre de Derecho University in San José. Rick is a member of the Costa Rica College of Lawyers, a qualified Notary Public. He has practiced law in this country since 2003, in the areas of real estate and development; corporate, commercial and contract law; escrow and banking; wills and estate planning; and immigration. Rick also offers legal due diligence seminars and consultations in the Gold Coast area for expats moving, or considering moving to Costa Rica.