More than 1.5 million tourists flock to Costa Rica each year to experience the créme de la créme of tropical paradise. Yet, tucked away in the hills above these emerald beaches littered with surfers and honeymooners, a 150-year-old tradition persists hidden from view.
Spanish below
Nestled in a picturesque valley that separates the coast from the Talamanca mountain range, hundreds of leathery-skinned cowboys make the annual pilgrimage down a dirt road to the tiny town of Caña Blanca with over 1,000 horses in tow to participate in the cabalgata – a 20-kilometer ride through the valley of San Juan de Dios. The dust kicked up from thousands of hooves and trailers is suffocating, but the food, music and wet bar manage to distract from the blistering heat, lulling you into a state of nostalgia where the old Costa Rica of caballeros and caballeras still reigns supreme. 
Rite of passage
Carlos Castillo Mora has been participating in the annual ride since he was 12. He grew up just a few kilometers away on a cattle grazing farm with his 14 brothers and sisters. Back then there was no road, just a trail one could travel by donkey or horse up to the tin-roofed cabin where his mother made tortillas from fresh ground corn. They lived off the land and walked an hour each day to the one-room schoolhouse. Carlos attended until third grade, which is about when most of his schoolmates began to take work on the farm more seriously.
Today the trail to his mother's house has evolved into a bumpy dirt road that is passable most, but not all, of the year. Carlos spends his days building beautiful vacation homes for foreigners from Canada and the U.S. who have slowly populated the area in the last 20 years. He is an expert in exotic wood finishes and solar water heaters. But Carlos' passion is his cows. He keeps roughly 25 at a time on the land surrounding the old schoolhouse, which now functions as a stall for his herd when the heavy rains come. Whenever a calf is born he tends to the mother day and night, rain or shine, and then lets his daughters take turns naming the babies.  
The ride offers Carlos a day of uninterrupted cowboy bliss. There are no Canadian snowbirds here, just horses, guaro, and ranchera girls. He and his buddies proudly swap stories of saving baby calves born in impossible circumstances and of purchasing rare horses at a great price. For Carlos the cabalgata is the social catalyst that allows the old way of life to persist amidst an ever-changing world. Today his 12-year-old daughter will ride with him for the first time. His stoic demeanor cannot fully conceal the pride he feels as he hauls Samantha up into her saddle. It is, "Como podemos compartir nuestra cultura a los jóvenes." (How we can continue to share our culture with the young people.)  
Celebrated battle
The cabalgata traditionally commemorates a famous battle or historical event, a custom dating back to the Roman Empire. The cabalgata of Caña Blanca honors the decisive Battle of Rivas in 1857, when Costa Rican soldiers beat back and defeated William Walker. The notorious American lawyer, journalist, physician and mercenary had attempted to seize large portions of Central America and establish his own personal English-speaking colony. 
Walker's story is fascinating to the point of utter disbelief. It is littered with insane details like the time Walker was convicted in California for conducting an illegal war with Mexico. Undeterred, he headed back south, eventually conquering Nicaragua where, as its newly inaugurated president, he legalized slavery. For Costa Ricans, the Battle of Rivas is their "Beaches of Normandy" moment — at the last minute they banded together and managed to save all of Central America from the tyranny of a crazy gringo.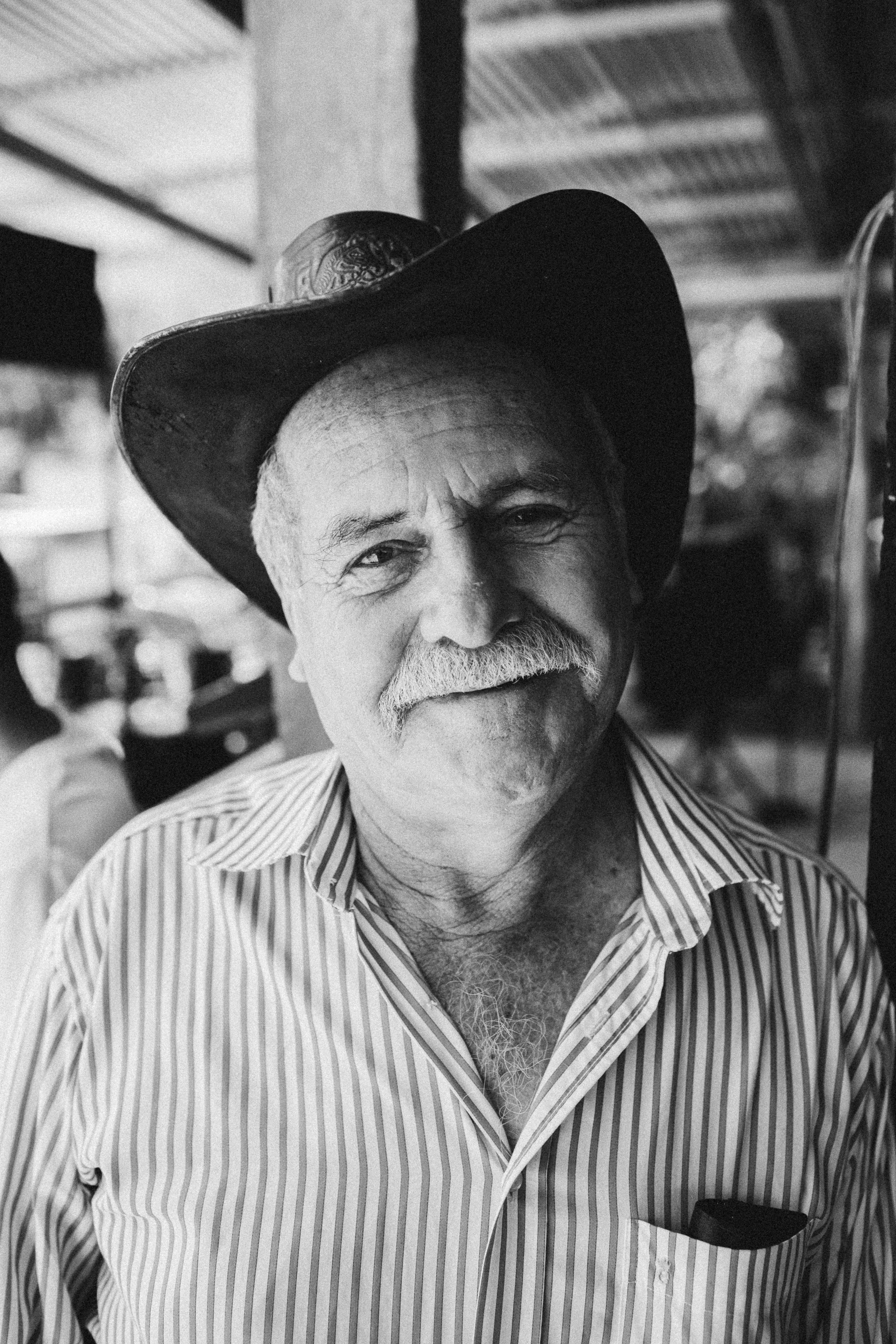 Today, there is hardly any reference to the Battle of Rivas at the rancho where young couples, old men, and young families have gathered to participate in the cabalgata. Perhaps the only remaining nod to Walker is the noticeable absence of gringos present at the event. 
While a number of hotels and resorts claim to offer "cabalgata experiences," it is really just their fancy way of saying horseback ride. Costa Ricans guard their local tradition from tourist traffic.  Announcements for the ride circle through private WhatsApp chats and a hand-painted sign in Spanish on the side of the road. Despite this low-key publicity, people flock from all over Perez Zeledon to Caña Blanca, sometimes with as many as 1,500 horses in tow.  
When you first lay eyes on the scene, it is impossible to escape the overwhelming presence of cowboy hats, boots, tight jeans, and ladies in rockabilly shirts tied up in a knot just above the waist. It feels like a kind of wild west fashion show where people take pride in keeping it real ranchera. 
The kitchen bustles with men and women preparing casado (a traditional rice and beans dish) alongside a vat of chicharron (fried pork) prepared the traditional way over an open fire. The makeshift bar in the old corral serves cerveza and chill guaro (a local rum served with hot sauce) to a packed clientele of cowboys. 
Women and children sell raffle tickets for various prizes consisting of rope, food grain, beer and a handful of brand new riding saddles and bridles. In the sunbaked parking lot, riders tend to their horses, warming them up for the big ride while trading stories and local dramas.
Understated pride
The emphasis is on participation more than show. Costa Ricans are known for being understated, yet a few still take pride in trotting around the camp with a shiny muscular steed performing a paso fino — an impressive four-beat gait in which the horse appears to be dancing.  
Black stallions, painted pintos, and silky palominos grace the otherwise banal parking lot, impatiently circling as they wait for the ride to begin. In classic Tico fashion, the start time for the ride gets pushed back 30 minutes, then another 30 minutes, then another … until finally the announcement is made over the loudspeaker: "Ya!"  
Hundreds of riders trot their way from the lot up to the trail as a cloud of dust envelopes anyone on foot. The cabalgata begins and the riders make their way into the majestic valley of San Juan de Dios for a chance to remember, forget or just enjoy a special piece of Costa Rica that time and tourism has not yet captured.
Follow Annika Beaulieu on Instagram and Facebook
Visit her website
La Cabalgata:
Los vaqueros ocultos de Costa Rica
Fotografía y ensayo por Annika Beaulieu
Más de 1,5 millones de turistas acuden a Costa Rica cada año para experimentar lo mejor del paraíso tropical. Sin embargo, escondida en las colinas sobre estas playas color esmeralda llenas de surfistas y parejas en luna de miel, persiste una tradición de 150 años. Alojado en un pintoresco valle que separa la costa de las montañas de Talamanca, cientos de vaqueros de piel curtida hacen un peregrinaje anual por un camino de tierra al pequeño pueblo de Caña Blanca con más de 1,000 caballos para participar en la cabalgata – un de viaje de 20km a través del valle de San Juan de Dios.
El polvo levantado por miles de cascos y remolques es sofocante, pero la comida, la música y el bar se las arreglan para distraer del calor abrasador, arrullándolo en un estado de nostalgia donde la vieja Costa Rica de caballistas sigue reinando de manera suprema.
Carlos Castillo Mora ha estado participando en la cabalgata anual desde que tenía 12 años de edad. Creció solo a unos pocos kilómetros de distancia en una granja de pastoreo de ganado con sus 14 hermanos y hermanas. En aquel entonces no era un camino, solo un sendero que uno podía recorrer en burro o caballo hasta la cabaña con techo de hojalata donde su madre hacía tortillas con maíz recién molido. Vivían de la tierra y caminaban una hora cada día de la casa a la escuela de un solo salón. Él asistió a esta hasta el tercer grado, que es más o menos cuando la mayoría de sus compañeros de escuela comenzaron a tomar el trabajo en la finca de manera más seria.
Hoy en día, el camino a la casa de su madre se un camino de tierra lleno de baches, que es más transitable, pero no todo el año. Carlos pasa sus días construyendo hermosas casas de vacaciones para extranjeros de Canadá y los EE.UU. quienes han poblado lentamente la zona en los últimos 20 años. Él es un experto en acabados de maderas exóticas y calentadores solares de agua, pero la pasión de Carlos son sus vacas.
Él mantiene aproximadamente 25 a la vez en el terreno que rodea la antigua casa de la escuela que ahora funciona como un refugio para su ganado cuando llegan las fuertes lluvias. Siempre que nace una cría, él se ocupa de la madre día y noche, lluvia o sol, y luego deja que sus hijas se turnen para nombrar a los bebés.
La cabalgata le ofrece a Carlos un día de felicidad vaquera interrumpida. Aquí no hay canadienses vacacionistas, solo caballos, guaro y rancheras. Él y sus amigos intercambian orgullosamente historias de cómo han salvado a terneros bebés nacidos en circunstancias imposibles y han comprado caballos únicos a un gran precio. Para Carlos la cabalgata es el catalizador social que permite que la antigua forma de vida persista en medio de un mundo siempre cambiante. Hoy, su hija de 12 años de edad cabalgará con él por primera vez. Su comportamiento estoico no puede ocultar el orgullo que siente al subir a Samantha a su montura. Según Carlos, "Es como podemos compartir nuestra cultura con los jóvenes."
La cabalgata tradicionalmente conmemora la famosa batalla o evento histórico; una costumbre que data al Imperio Romano. En Costa Rica, la cabalgata de Caña Blanca conmemora la decisiva batalla de Rivas de 1857, en la que los soldados costarricenses derrotaron a William Walker; un estadounidense, abogado, periodista, médico y mercenario que trató de apoderarse de grandes porciones de Centroamérica y para establecer su propia colonia anglo hablante.
La historia de Walker es fascinante hasta el punto de la incredulidad total. Está llena de locos detalles como la época en que Walker fue condenado en California por llevar a cabo una guerra ilegal con México. Sin embargo, él se dirigió de nuevo al sur, eventualmente conquistando Nicaragua, donde en su recién proclamación como presidente, legalizó la esclavitud. Para los costarricenses la Batalla de Rivas tiene el equivalente a la batalla que se dio en las playas de Normandía, momento en el que en el último minuto se unieron y se las arreglaron para salvar a todo Centroamérica de la tiranía de un gringo loco.
Hoy en día, apenas hay referencias de la Batalla de Rivas en el rancho donde las parejas jóvenes, hombres mayores y familias jóvenes se han reunido para participar en la cabalgata. Tal vez la única sensación que queda de Walker es la notable ausencia de gringos presentes en el evento.
Mientras que un número de hoteles y los centros turísticos dicen ofrecer "experiencias de cabalgata" es realmente una forma elegante de decir un paseo en caballo. Los costarricenses protegen su tradición local del tráfico turístico. Anuncios de la cabalgata circulan por chats privados de WhatsApp, letreros en español pintados a mano y colgados a un lado de la carretera. A pesar de sus anuncios de bajo perfil, la gente acude en masa desde todo Pérez Zeledón a Caña Blanca a veces hasta con 1,500 caballos en sus remolques.
Cuando miras por primera vez la escena, es imposible escapar de la abrumadora presencia de sombreros de vaquero, botas, pantalones de mezclilla ajustados, y mujeres con camisas estilo rockabilly atadas con un nudo justo por encima de la cintura. Se siente como una especie de desfile del salvaje oeste donde la gente se enorgullece de mantener el verdadero estilo ranchero.
La cocina se llena de hombres y mujeres que preparan casados (platillo tradicional costarricense con arroz y frijoles como base principal) junto con cubetas de chicharrón (cerdo frito) preparado de la manera tradicional, o sea, sobre un fogón. El bar improvisado es un viejo corral donde se sirve cerveza y chiliguaro (un ron local mezclado con salsa picante) a una clientela de vaqueros.
Las mujeres y los niños venden números para rifas de varios premios que consisten en sogas, comida de grano para los caballos, cerveza y una cantidad de montaduras y bridas nuevas. En el estacionamiento soleado los jinetes cuidan sus caballos, calentándolos para el gran paseo mientras intercambian historias y chismes locales.
Se hace hincapié en la participación más que en el espectáculo. Los costarricenses son conocidos por ser subestimados, pero algunos todavía se enorgullecen de trotar por el campo con un corcel musculoso y brillante que hace un paso fino – un impresionante paso de cuatro tiempos en los que el caballo parece estar bailando. Sementales negros, pintos y palominos sedosos adornan con impaciencia la otra parte del estacionamiento dando vueltas mientras esperan que comience la cabalgata.
De manera clásica en la modalidad tica, la hora de inicio de la cabalgata se retrasa 30 minutos, luego otros 30 minutos, luego otros… hasta que finalmente el anuncio se hace por el altavoz: "¡Ya!"
Cientos de jinetes trotan desde el lote hasta el sendero mientras que una nube de polvo envuelve a cualquiera de a pie. La cabalgata comienza y los jinetes hacen su recorrido al majestuoso valle de San Juan de Dios para tener la oportunidad de recordar, olvidar, o simplemente disfrutar de un pedazo especial de Costa Rica que el tiempo y el turismo aún no han capturado.
Article Translation courtesy of: