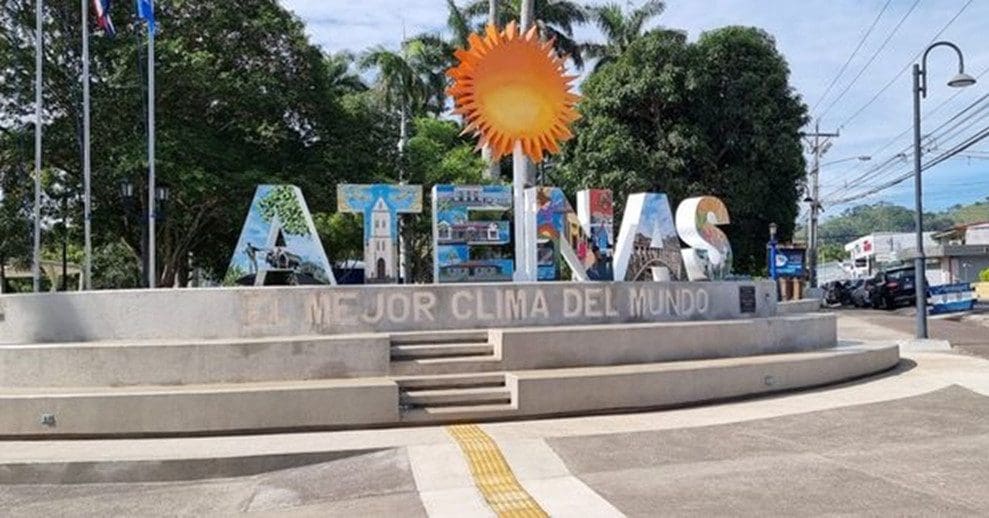 For several years, the talk of the town of Atenas, Costa Rica has been an ambitious overhaul of the historic park in the center of the town. The idea was spearheaded by Rafael Salazar Senior and his friend Antonio Castro seven years ago. They convinced the city planners to revamp the park to create a trademark to attract tourists and reflect the pride of citizens. 
Early efforts included creating a central covered stage with seating. Unhealthy trees were replaced. A new well was dug to water the plants, an effort that entailed closing the park for months.
As residents returned to enjoy the space, rumors abounded about one corner of the park. Late at night and throughout the day, trucks arrived with workmen to work in an area that was hidden behind a fence. Finally, on April 30, 2022, the barrier was removed to reveal the town's name spelled out in colorful letters. 
While many Central and South American cities and towns have constructed similar markers, this version artistically veers from the norm. The designers opted for smaller-than-usual letters that sit atop a pedestal, inscribed with the hallmark of Atenas: Mejor Clima del Mundo. 
Mention Atenas and invariably someone will say, "That is the town with the best climate in the world." Erroneously credited to a National Geographic article that never existed, the catchphrase came from a marketing committee who, over 30 years ago, capitalized on the pleasant weather that has historically attracted visitors.
Leandro Vega Muñoz, as artistic director, enlisted a group of young Atenas graphic artists, mostly graduates of the University of Costa Rica. Under his guidance, each letter portrays the town's history and traditions, including some surprises. So popular is the signage that people await their turn for photo ops, most discussing the content inside the various letters.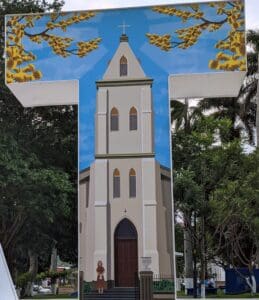 On the "T," the town saint and most colorful character, Carmelina, stands by her beloved San Rafael Catholic Church, where she visits daily in her barefooted pilgrimage from her hut.
One of the "As" depicts the Boyero Monument, a tribute to the origin of the town that was once a rural rest stop for oxcarts laden with coffee, en route from the mountains into San José. 
The "N" reflects the weekly feria and Zopilota, a rock named and famed for its vista of the valley below. 
A second "A" shows the trestle bridge with a train atop, a throwback to the days before rust and time took over this landmark. 
Coffee plants and cows decorate the "S." Local historic buildings on the "E" include El Colegio Viejo, the Escuela Central de Atenas, an
d the Municipalidad. A sun, designed by Muñoz, perches above those two letters.
Accordin
g to Rafa Salazar Senior, the project is only half completed. One idea being explored is to construct an updated playground. Whatever future additions may be made to El Parque de Atenas, the new signage perfectly captures the essence of the town.