Welcome to Howler's recently introduced Artist Spotlight series called "Making a Scene." In every issue, we'll feature the selected works of a different artist, sharing personal insights into the inspiration and creative process behind each one.
Next up is Susan Adams, whose paintings have been showcased in previous Howler articles. We hope you enjoy catching up with Susan and her amazing backstories of the images she has brought to life on her painted canvases.
Pointed in the Sun
(see art below) Frequently I travel to various animal parks and reserves. On one trip I went to a macaw and jaguar refuge in Puntarenas, and from there drove to Puerto Calder to explore further. As it turned out, the jaguars were sleeping and the macaws were flying very fast and seemed to be fighting with each other. Good inspiration for another time.  
On the drive back home there was a huge flood! I drove for over an hour where I couldn't even see the road with the water above the bumper. Once the rain stopped and the water receded, I spotted the most beautiful sunset ever! From this, Pointed in the Sun was inspired and created.
Jungle Primp
Originally on a quest searching for orchids to use as inspiration for my next piece, I went to La Garita, in Alajuela, very near the San José airport. There are many viveros (nurseries) here full of orchids, and an extravagant event center with lakes and acres of orchid gardens and arches for weddings. 
While there, I saw these gorgeous macaws and was told that they probably had flown over from "Zoo Ave," just down the road. Now called Rescate Wildlife Center, it's a 35-acre rehabilitation and rescue center with wildlife enclosures. 
In Jungle Primp, the bird on the right is actually a hybrid of a scarlet macaw and a great green macaw. It seemed like there were macaws everywhere around this place. Currently there is a program in our area that is reintroducing scarlet macaws back into their natural habitat! Simply amazing!
Ritmo Azul
A long time ago, while snorkeling on the Caribbean coast of Costa Rica, I came across this rock which, for some reason, fascinated me. It was a high tide and a rocky shoreline, not sandy like in Guanacaste. Maybe I liked the rock because it had a profile that reminded me of my dog, Lily!  
One day recently, I had been hiking with Lily and came across some quartz stones near my house. It brought back memories of snorkeling and that big rock, so I decided to do a little study.  Then I liked it so much that I created a large painting.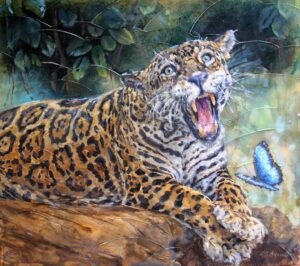 Jaguar Feliz
Crawling across the ground on my belly underneath some barriers, I was able to stick my camera under the fencing of the large forested enclosure to snap photos of my favorite jaguar, Rafa, at Las Pumas Rescue Center and Sanctuary. Back in 1989, I met the founder, Lily Hubner, and back in the day she allowed me to enter some of the enclosures with her when she worked with the jaguars. Rafa loved for her to scratch his ears. What a sight to behold!  
Of course, the passage of time and new regulations ended that perk for me, but it's thrilling to walk through the sanctuary, which has been greatly improved, with enlarged habitats for the animals being rehabilitated. In this painting, Rafa was sunning himself on a log, sniffing the deer in the adjoining enclosure, when he seemed to have this huge smile — for some unknown reason to me. I just had to capture the scene on canvas. I added a blue morpho butterfly because they were flying all over the enclosures that morning!