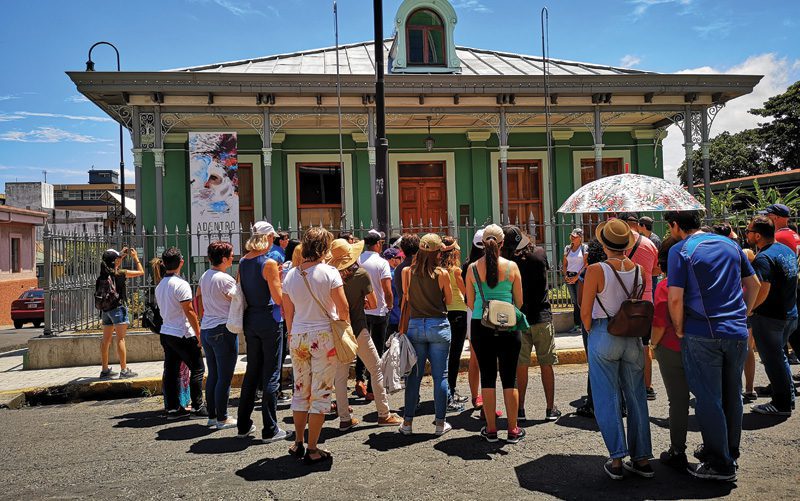 Chepe Cletas – Stroll, Cycle, Experience San José
Chepe Cletas was created in 2010 for the main purpose of enhancing perceptions of San José. Other goals were to promote the use and appreciation of public spaces and transportation alternatives to the automobile. The three founding members were a civil engineer, an industrial engineer and a biologist.
The name translates to "Chepe" — a popular or slang reference to San José (along the lines of "Joe") — and "Cletas," meaning bicycle, or more commonly bike. However, our activities have never been restricted to cycling. Initially, we offered historical walks and bike tours, both at night.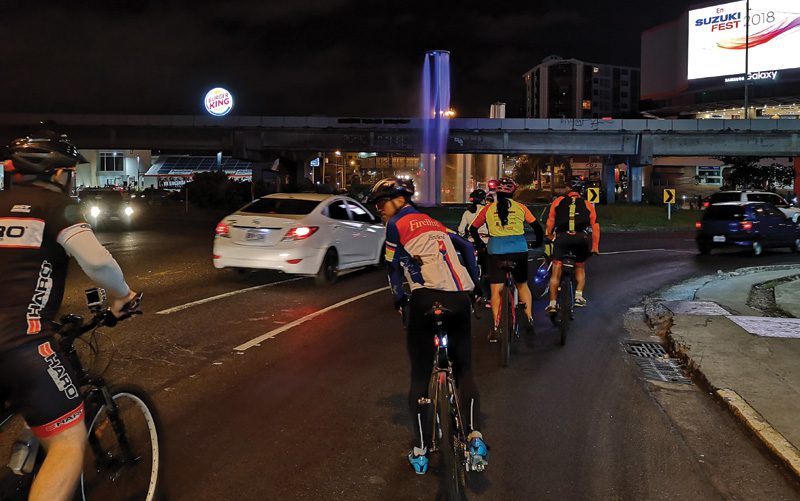 Eight years later, we continue hosting both walking and cycling tours to the public on a regular basis. Wednesday evenings, we take a bike ride through different areas of San José, starting at 7 p.m. at Spain Park. The tour is free; you just need to bring a bike. Almost every Sunday, our historical tours on foot start at 10 a.m. from Morazán Park. The themes vary, including historic neighborhoods, specialty coffee, ex-presidents, urban art, bakeries, canteens and lots more. It costs 5,000 colones per person to participate, with no charge for children.
What all our tours have
in common is the
historical aspect.
Additionally, we carry out private tours for groups, companies, tour operators and educational institutions, both on foot and by bicycle, in English and Spanish. In these instances, we adapt to the date, time, preferences and needs of each group. The cost depends on group size. These private tours have been very well received by a wide range of businesses, municipalities, embassies, universities (national and international), schools, colleges and other institutions.
What all our tours have in common is the historical aspect. We enjoy sharing information about the history of our city, but especially certain curious facts that may surprise people. For example, San José was the third city in the world to have electric lighting.
One of our most requested tours takes a historical journey of coffee and markets. We visit the Bourbon and Central markets, walking through several historically important spaces between Morazán Park and Central Avenue. Tour participants stop at a specialty coffee shop where the barista gives a short talk, followed by an opportunity to taste some specialty coffee. This tour lasts about two hours.
Another tour includes stops at three traditional canteens in San José, where participants can sample liquor produced at the FANAL, Costa Rica's national distillery. Other historic sites are visited along the way during this three-hour tour.
Chepe Cletas also offers a two-hour bicycle tour through different historical neighborhoods of San José. Suitable for people in any physical condition, it includes a guide, bicycle and helmet.
One of our tours integrates nature with the history of San José, with a visit to a butterfly garden and a small regenerated forest along the Torres River banks.
The cost for these tours depends on the number of participants. The larger the group the lower the cost, ranging between $15 and $40 per person and also depending on the route.
When asked to name the top three most iconic places to visit in San José, I find it impossible. Some of my favorites include Mercado Central (Central Market) and these parks: Morazán, Jardín de Paz, España and Nacional. The National Theater, Barrio Amón and Barrio Otoya are highlights too, as well as the urban art in the surrounding area of the Legislative Assembly building and Barrio La California.
Contact:
Whatsapp: 8849-8316
Email: info@chepecletas.com
Social Media: Facebook, Instagram, Twitter
Visit: chepecletas.com