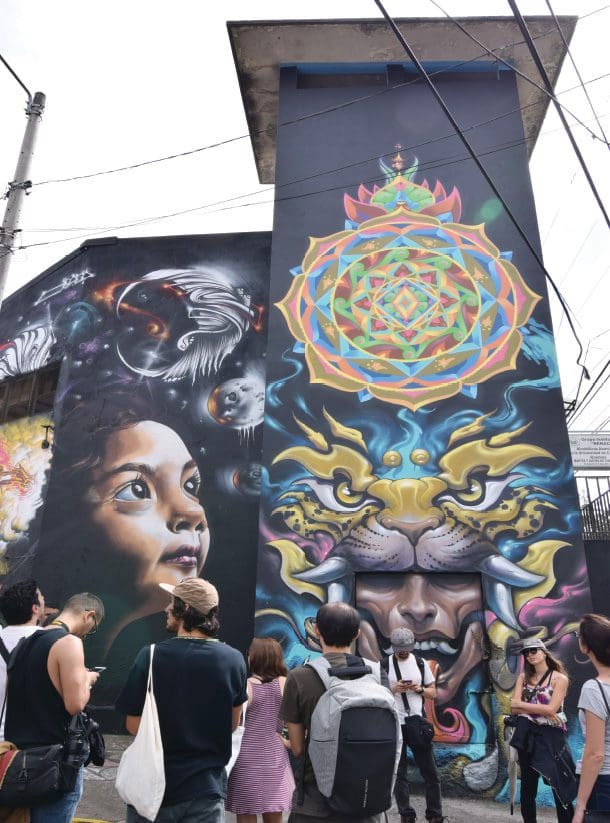 Arts – Entertainment – Exploring San José Through Urban Art
Mario Molina Salazar is the founder and administrator of an innovative project called Costa Rica en la Pared ("Costa Rica on the Wall"), which leads four-hour tours showcasing graffiti, murals and other public art on the streets of San José. He says the artworks on these walls are a window into the culture and history of the country. This Q&A with Mario about his unusual tour has been translated from Spanish and edited for length.
"For the tourist, it means,
'Don't skip San José!' For the resident,
it means, 'Let's experience the capital"
Explain what "Costa Rica en la Pared" is. Who started it and how, and what was the idea behind it?
Costa Rica en la Pared is a platform for tourism and cultural development through urban art. Art is an agent of social transformation in which, by means of documentation on walls, Urban Safaris and other types of mobilization all over Costa Rica, we seek to raise awareness and generate cultural experiences.
With a background in tourism and cultural management, I started the project and I run it. Its origins were in February 2016, arising from the language of the streets on my daily travels from Alajuela to San José, and once in the capital, my walks down the streets and boulevards.
Photography and social intervention became media for self-expression. It's a constant analysis, recovery and conservation of the culture of Costa Rica.
For the tourist, it means, "Don't skip San José!" For the resident, it means, "Let's experience the capital."
Explain this concept of an "Urban Art Safari." It's new for a lot of people, especially those who live far from San José, or for visitors to Costa Rica who are primarily focused on ecotourism.
The Urban Art Safari is a way of exploring and getting to know San José, to see how space has been appropriated for cultural recovery. On these guided tours you can appreciate all kinds of urban artwork: graffiti, murals and city art. The package includes a meal and a workshop on creative expression.
San José should be a beloved capital; its origins led to our current Costa Rican democracy, and it should be a quality point of arrival and departure. It takes a few days to explore it and let yourself be surprised by the wealth of culture it offers. Everything is art!
The safari is a conscious tour: Part of the earnings go to social action projects, the local economy is stimulated by alliances with gastronomic establishments, artists from this urban stage are highlighted, it leaves no environmental footprint, and it generates a sense of belonging to the way of life of the city.
What does the tour consist of, what places do you visit, how long does it last, and how often do you do it?
This expedition in the concrete jungle covers stretches from Avenida Central to Calle de la Amargura in San Pedro de Montes de Oca. We visit the neighborhoods of Amón, Otoya, Aranjuez, La California, Escalante, Dent and San Pedro, near the University of Costa Rica.
Through urban art, you learn the history of the barrios of the capital and what their context is in the history of Costa Rica. You also acquire information about the artists who are part of the urban stage, their techniques and their initiatives, and you see how social problems are featured on controversial walls as a means of expression.
The cost of the Safari is between 10,000 and 15,000 colones. This includes a guided tour through the cultural meccas of San José, a meal at a restaurant and an arts workshop dedicated to the quest for creativity.
The tour is about four hours, and we're currently doing two per month. People can find out when new tours are happening by visiting our social networks on Instagram or Facebook (@costaricaenlapared), or through other sources like GAM Cultural.
Tell us about some of the most iconic places you visit.
Among the cultural meccas are Barrio Amón, Otoya and Aranjuez. They were pioneering barrios in their heyday, toward the end of the 19th century and the beginning of the 20th, in the economic development of the country thanks to coffee plantations, education, politics and art.
Barrio la California and the Saprissa building in San Pedro are places that over the years have seen a lot of color splashed on their walls, used as a means of expression of urban Costa Rican culture.
On the walls of the Contemporary Art and Design Museum, the National Museum and around the Legislative Assembly, home-grown art can also be found that is full of critical messages meant to raise awareness.
For more info: Look for Costa Rica en la Pared on Facebook and Instagram, write costaricaenlapared@gmail.com, or call 8706-6502.