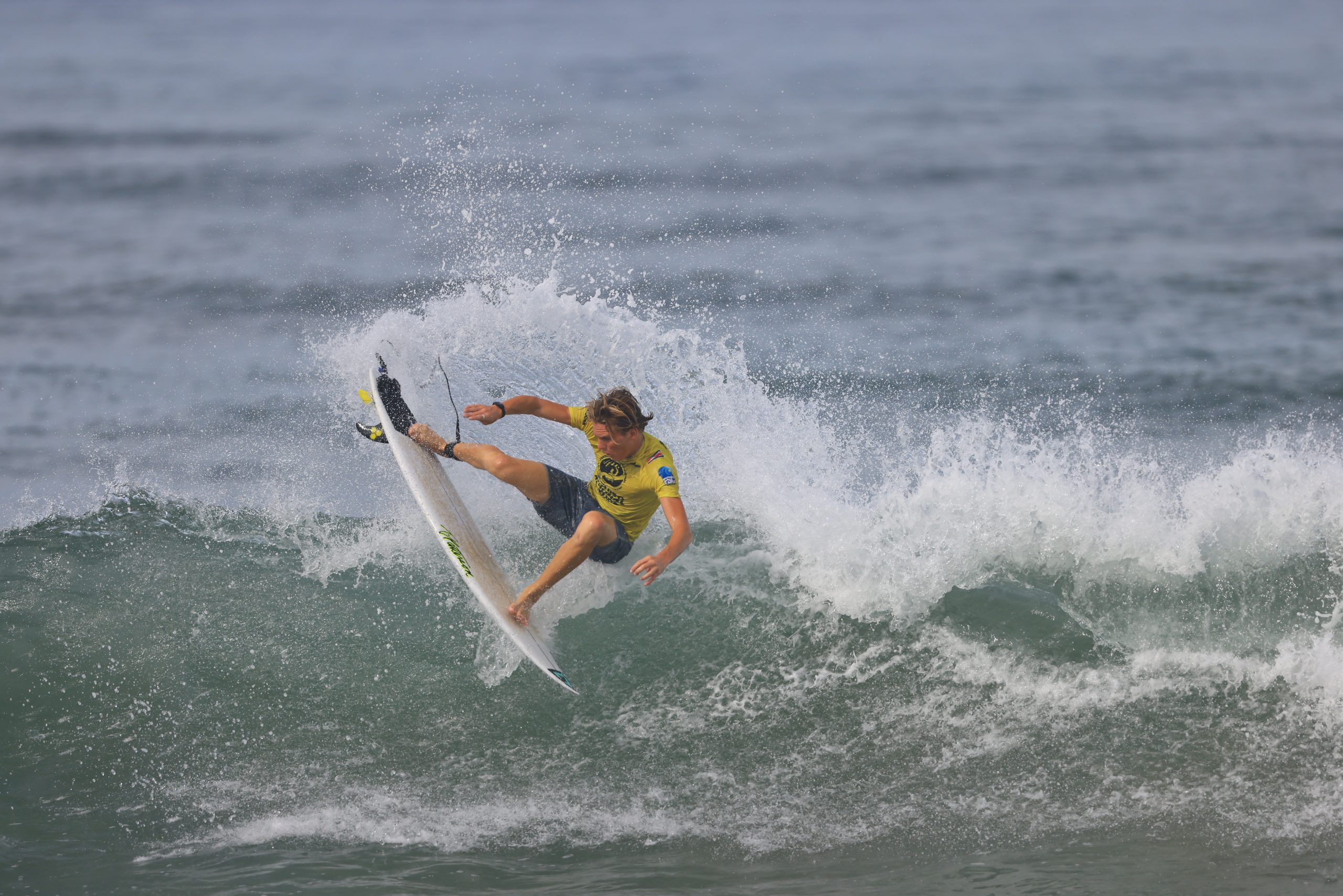 National Surf Circuit Open Championship: Sam Reidy and Coral Wiggins Crowned Champions
Following a four-year hiatus, the 2023 return of the National Surf Circuit Open Championship saw Sam Reidy and Coral Wiggins take top spot in the Men's and Women's rankings, respectively. It's the first national Open title for both. Their emergence as champions wrapped up the season's fifth and final event at Playa Guiones de Nosara, July 21-23. 
Sam Reidy, a local from Playa Dominical, reached the semifinal round and added 1,220 points to secure the first position in the ranking. In just five months, this 19-year-old surfer went from winning an Open category date for the first time in his career to obtaining the coveted national title.
"Now I want to represent Costa Rica in the World Cup and hopefully in the Olympic Games," said Sam.
During the Championship, Reidy won the events at Playa Hermosa de Jacó and Dominical, as well as advancing to the semifinals in Santa Teresa and Nosara. The winner of the last date was Tosh Talbot (local from Matapalo), who achieved his second victory of the semester.
In the women's category, Coral Wiggins Pavones won three CNS 2023 events in a row — at  Santa Teresa, Dominical and Guiones, respectively.
"I still can't believe it, there were a lot of emotions this weekend." Wiggins said. "I started the Circuit with no expectations of being champion. But little by little I felt better and it's incredible to have won the last rounds."
More than 250 athletes competed in the return of the 2023 Social Protection Board National Surf Circuit. Throughout the five events, tournaments were held on the north, central and south Pacific coasts of Costa Rica, as well as the Caribbean.
Erika Berra and Mikela Castro from Limón dominated the youth female categories. Berra is the national champion in the Junior Under 18 and Girls Under 16 categories. Castro led the ranking in Dolphins Under 10 Female and Male, as well as Grommets Under 14 Female. The longboard champions were Lía Díaz and Anthonny Flores, both medalists at the Central American and Caribbean Games the previous month in El Salvador.
Men's Open
1) Sam Reidy   5135 pts
2) Tosh Talbot   5090 pts
3) Jason Torres   5080 pts
4) Oscar Urbina   4270 pts
Women's Open
1) Coral Wiggins   6095 pts
2) Rachel Agüero   5095 pts
3) Lisbeth Vindas   4850 pts
4) Lia Díaz   4715 pts
Junior Male Under 18
1) Nadav Attar   6095 pts
2) Leonardo Apreda   5260 pts
3) Tomas Pathenay   4410 pts
4) Noah Arce   4300 pts
Junior Female Under 18
1) Erika Berra   5885 pts
2) Rachel Agüero   5840 pts
3) Tamaya Murphrey   4508 pts
4) Zoe Dayman   4325 pts
Boys Under 16
1) Ethan Hollander   5830 pts
2) Tomas Pathenay   4925 pts
3) Romeo Stone   4795 pts
4) Simon Ruiz   4640 pts
Girls Under 16
1) Erika Berra   5845 pts
2) Mikela Castro   5600 pts
3) Tamaya Murphrey   4995 pts
4) Lucia Cristi   4445 pts
Grommets Male Under 14
1) Nicolas Boos   5885 pts
2) Amets Garai   5555 pts
3) Eduardo Rugama   5300 pts
4) Kian Jirón   5050 pts
Grommets Female Under 14
1) Mikela Castro   6290 pts
2) Lucia Cristi   6040 pts
3) Nazareth del Mar Velasquez   4385 pts
4) Kalena Brayant   4085 pts
Mini-Grommets Under 12
1) Dario Vargas   3095 pts
2) Koa Brayant   3040 pts
3) Axel Obando   2960 pts
4) Jaziel Torres   2345 pts
Dolphins Male Under 10
1) Mikela Castro   5885 pts
2) Ian Brito   4960 pts
3) Kelian Brenes   4221 pts
4) Jaziel Torres   4095 pts
Dolphins Female Under 10
1) Mikela Castro   6500 pts
2) Kalena Brayant   5545 pts
3) Isabella Vargas   4385 pts
4) Summer Hidalgo   3218 pts
Male Master
1) Gilberth Brown   6290 pts
2) Diego Naranjo   6040 pts
3) Thomas Lange   4730 pts
4) Christian Boos   4475 pts
Female Master
1) Lisbeth Vindas   3500 pts
2) Leonie Awad   3040 pts
3) Zephyr Robb   2435 pts
4) Romina Cejas   1460 pts
Men's Longboard
1) Anthony Flores   6500 pts
2) Maikol Álvarez   4378 pts
3) Marcell Oliveira   4305 pts
4) Diego Naranjo  4303 pts
Female Longboard
1) Lía Diaz   6250 pts
2) Cristina Rojas   5045 pts
3) Taylor Bradley   3635 pts
4) Delilah Hutchins   3095 pts
SUP Surf
1) Marcell Oliveira   6290 pts
2) Juan Manuel Bernini   5140 pts
3) José Ruiz   5083 pts
4) Allan Azofeifa   4730 pts