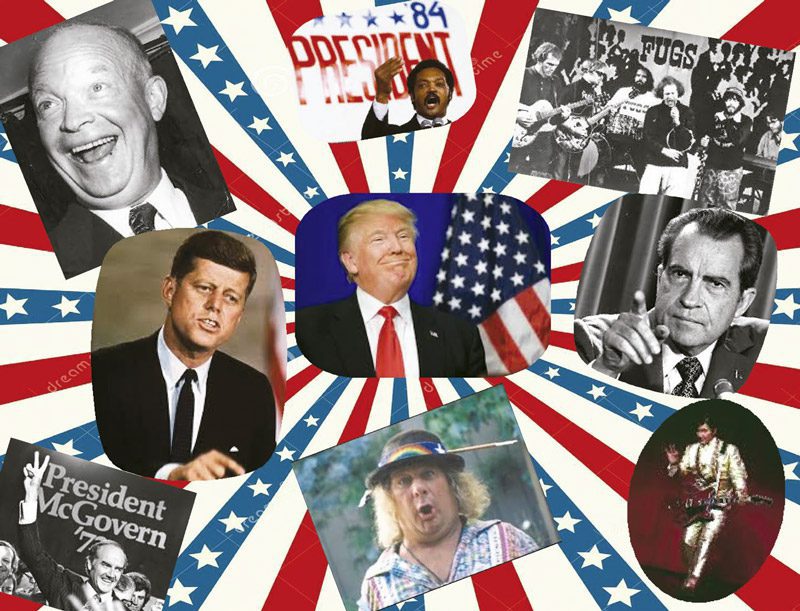 Surviving Costa Rica – Presidents I Have Known
My first recollection of a U.S. president is from around 1955. On a black and white TV screen we watched then-President Dwight Eisenhower — until recently, the only "non-politician" president I've known — boarding a propeller-driven airplane. I also recall one of my first visits to a barber shop with my dad. When asked what kind of haircut I wanted, my response was, "one like the president's." Everyone present found this hilarious, as the president was bald. Now, some 62 years later, I finally have the one I wanted … at least on top.
A few years later, when Dad was stationed in Pearl Harbor, Hawaii, we were living in flag officers' quarters next to the base swimming pool. As it happened one day, visiting President John F. Kennedy was taking advantage of the pool, otherwise emptied of swimmers but surrounded by a large Secret Service contingent. The agents had overlooked the pool exit door next to our house, so upon finishing his swim and leaving, President Kennedy was confronted by yours truly. As his security phalanx looked on in dismay, I extended my 10-year old hand and said, "Good morning, Mr. President." He took my hand and responded, "Good morning."
All people of my generation remember where they were on the sad day when President Kennedy was assassinated. For me it was a sixth grade classroom in McLean, Virginia, three miles outside Washington, D.C, where I grew up. I later attended high school just blocks away from CIA Headquarters. All the signs leading there said "Virginia Department of Highways," presumably to fool the Russians.
The 1960s were a time of political extremes, first with LBJ in the Oval Office and then everybody's favorite boogeyman president, Richard Nixon. Being a young fledgling hippie, I jumped on the anti-establishment bandwagon, attending Nixon's "Counter Inaugural Ball" on the Washington Monument grounds. A three-ring circus tent stage featured performers like the Fugs, Phil Ochs in his famous silver lamé suit, and Wavy Gravy of Haight-Ashbury and Woodstock fame, getting all 10,000 participants to hyperventilate. Younger readers can check Wikipedia to find out who or what I'm talking about.
Then came my first chance to vote for a president — George McGovern. My track record for presidential picks is nothing to boast about — about 50-50 overall — and 'ol George was my first losing candidate. Nevertheless, I've tried to keep up with elections over the years.
My home base was Port Aransas, Texas, during the last local Democratic primary before they changed the rules. I was one of two delegates for Jesse Jackson. When it became obvious that Gary Hart was going to carry the town with 16 votes, yours truly and the one other Jackson delegate left in disgust, smoking a joint outside in protest.
Casting a vote was more difficult once we moved to Costa Rica. Ballots were collected at our old gallery location in downtown Tamarindo, forwarded from there to the U.S. embassy in San Jose and then on to the appropriate districts back in the States. In the 2016 election, we were able to vote online. The fact that our votes were cast in Texas will tell you it was for naught.
Last year's election campaign was the most entertaining one I ever witnessed. The historical observer in me resists being critical. President Trump is providing some of the most interesting times the United States has ever known. It seems safe to predict that history books 200 years from now will have a lot to say about it!