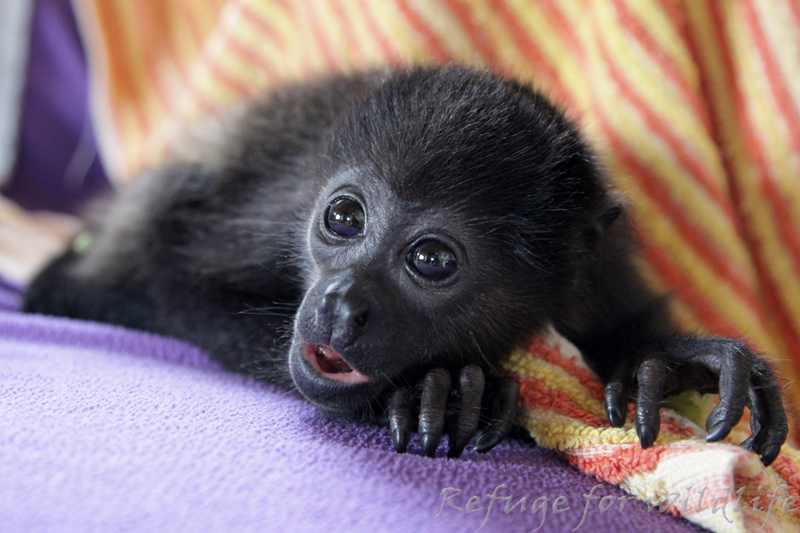 SalveMonos – From Tragedy to Hope
SalveMonos. It is a play on words in Spanish. When spoken as two words, it means "Save monkeys." When spoken as one word, it means "Save ourselves."
SalveMonos is also the name of a small nonprofit organization in Costa Rica that was born out of tragedy. It was a human response to the horror of howler monkeys being electrocuted on power lines and transformers. There are no quick or simple ways to make the coexistence of animals and electricity safer, but SalveMonos is striving to make a difference.
Our call to action was a community meeting discussion in 2004. Simona Daniele, the owner of Luna Llena Hotel, and I, owner of Azul Profundo Boutique, along with our husbands, Pino and Larry, came together with a plan. We each donated $500 to cover the cost of printing souvenir T-shirts, proposing that sales profits would be used to develop monkey bridges bypassing power lines. Gradual but steady progress over the past 13 years adds up to thousands of T-shirts, hundreds of bridges and tens of thousands of monkeys saved and/or relocated.
Howler bridges
Howler bridges are designed to hang from trees on each side of the road and cross over top of the power lines. Initially, they were made from interconnected strands of thick, braided twine. Proceeds from the first T-shirt sales covered the cost of 12 bridges at $200 each, installed at a local animal rehabilitation organization. Unfortunately, they turned out to be unsuitable as well as cost-prohibitive — too heavy to hang properly and not durable enough to withstand local climate conditions.
Help in building a better type of bridge came from Nosara Wildlife Rescue and the electricity providers Coopeguanacaste and ICE (Instituto Costarricense de Electricidad). The resulting polyethylene ropes proved to be much stronger and longer-lasting than the twine prototypes, and could accommodate plastic netting for added stability. ICE, which traditionally has hung the bridges free of charge, now manufactures them as well and absorbs the cost.
Currently, there are well over 500 monkey bridges in key areas throughout Guanacaste. More are being added all the time through our coordinated efforts with concerned citizens reporting an electrocution or trouble spot, the electric company and MINAE (Costa Rica's Environment and Energy Ministry). Many communities have joined in the effort by buying bridges and placing them throughout their local areas.
An added benefit has been the significant decrease in howler deaths or injuries due to road collisions or animal attacks.
SalveMonos has also helped create a plan for placing cones on all the electric pole guy wires to prevent animals from accessing the cables and transformers. Another project involves working with the electrical company to isolate or insulate one or both of the two "hot" wires throughout the province, and insulate all transformers.
Other initiatives
Beyond our efforts to protect wildlife from electrical hazards, SalveMonos has worked tirelessly to address other kinds of risks to animal health and safety. Initiatives include the following:
Road signs to promote reduced driving speeds.
Reforestation initiatives to create corridors for animal movement and feeding. Target areas were identified by a research team of biologists engaged by SalveMonos to study local howler populations. Food source trees grown in local school-run nurseries serve as science projects for the children but are then used for reforestation.
A new community effort to eliminate plastic straws through sponsored subsidies to participating vendors who currently use plastic straws. This will enable them to purchase paper/carton straws, printed with the SalveMonos logo, at no extra cost.
What can you do?
Here are some ways to help Guanacaste's howler monkeys and other wildlife.
Purchase SalveMonos T-shirts, mugs and stickers at one of these Tamarindo locations: Azul Profundo Boutique, Luna Llena Hotel, Veterinario Cavallini and Veterinaria Carvajal, as well as every Saturday morning at the Tamarindo feria (market). We will gladly sell these items to other interested souvenir shops in the area. All proceeds beyond exact production costs go directly to the organization.
Donate a little or a lot. It costs thousands of dollars to rehabilitate orphaned baby howlers and return them to the wild.
When you identify an injured or dead animal, call in the location and describe what you believe happened.
Bring injured to animals to Veterinario Cavallini.
Drive slowly on the roads!
Donate pet carriers. We can't get enough of them.
Make a volunteer commitment to our injured animal taxi service.
Help us develop an app for receiving geolocations of injured animals to begin a large database.
Help finance key transformer insulation projects. The cost for just one transformer is around $400.
Plant a tree today! We are constantly seeking tree donations by public and private entities. We have a list of trees that serve as primary food sources for howlers and other animals.
Donate green spaces to help us acquire large tracts of land for creating permanent ecological corridors. We welcome donations from developers of large and small projects.