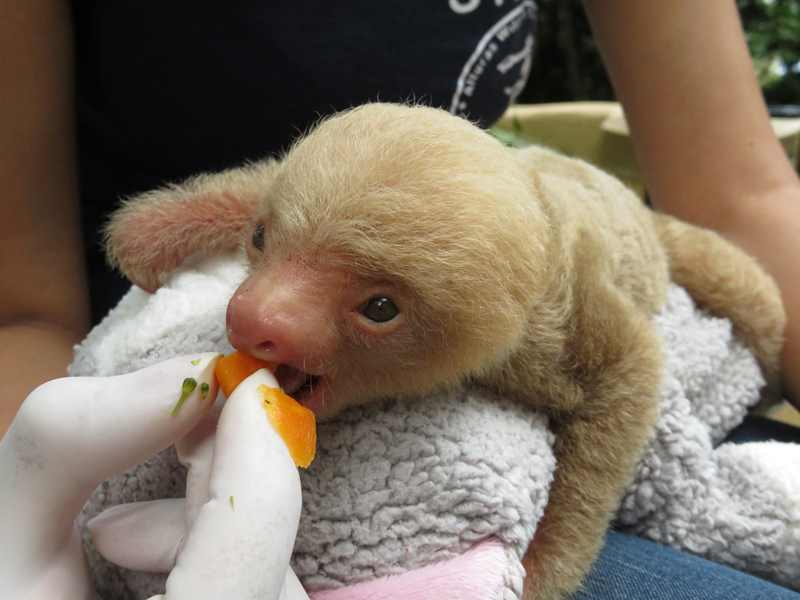 Baby Sloth Alone But Not Abandoned
Nugget is a female, baby two-toed sloth, found alone on the ground in Playa Zancudo. She was only a few days old, still having pieces of placenta on her fur and the umbilical cord attached. She was found by tourists, who were attracted to her cries.
Baby sloths fall off their mothers quite often. Normally, they suffer no harm and the mother quickly comes down from the trees to pick them up. However, there are other times when this does not occur for a particular reason. Twin births or local sloth overpopulation may be a reason for maternal rejection of young sloths. This has been observed by biologists in areas such as Matapalo, where many of our orphans come from.
Furthermore, although it is not known how, mother sloths can detect certain congenital diseases or malformations in their newborn babies. In such instances, they reject their young to save energy and be able to reproduce again with the result of healthy offspring. These neonates often seem in good health when they arrive in our care, eating normally. It is during the first month of life that their congenital problem becomes obvious and the babies often end up dying.
On other occasions, a baby sloth that falls to the ground is healthy, but the mother cannot retrieve it. This often happens because of a human or dog presence nearby and the mother is afraid to leave her place of safety.
It is common for tourists or locals to find babies in this situation. Not realizing that the mother sloth might be in a tree nearby, waiting for the onlookers to leave so she can retrieve her baby, people pick up the baby, thinking it's been abandoned. This is why it's essential to educate local residents, and whenever possible our tourists, about the appropriate protocol when finding a young sloth on the ground. Whenever in doubt, it's always best to consult an expert or contact your local rescue center about the situation before touching the animal. There is a chance it could be reunited with its mother, which, in fact, we believe would have been possible in Nugget's case.